If you look around the place you live, you know the buildings standing around you are built by architects. These people are the ones who make the buildings we see. Architecture is considered both an art and science, which comes in the form of buildings and houses. It involves a lot of drawing, planning, and measurements. Architects often study for more than five years to get a license. They can work for a firm or start their own business. You may also see proposal templates.
Architectural Proposal Template
An architectural proposal is a very specific document since it includes a lot of things. Writing a proposal like this should be done carefully and backed with supporting documents. It should be realistic and meet the goals stated in the proposal.
Architectural Proposal Template

owensarchitects.com
Architectural Service Proposal Template

opendoorarchitecture.com
A big part of an architect's life is making proposals for their prospective clients. These proposals are usually for the construction of new buildings. There will be an agreement samples between the contractor and the architect, or in another case, the architectural firm. Architects usually make a lot of money out of these. It is an opportunity for them to showcase their talent in making stable buildings and play a little on the design. You may also see proposal samples.
These things should be included in writing an architectural proposal:
1. Cover Page
The cover page is the first thing that is seen in any proposal. Architects should have a good design on their cover page, may it be colorful or minimalist. The cover page has some kind of power in attracting a reader's interest. In cases of architectural firms making a proposal, their usual cover pages contain logos of their company. In cases of self-owned business firms, the design varies on their taste and branding. 
2. Introduction
The introduction is another thing that matters in a proposal. In here, the company and its background are introduced. The services offered are introduced as well. The company should include its mission and vision in the introduction to give clients a clear concept of your intentions of signing a contract with them. This is where you also begin to introduce your proposal on the upcoming construction. You give them some sort of a sneak peek at the construction and how it will generate revenue for the company and to you as well. You may also see thesis proposal templates.
3. Detailed Design Specification
Pick up where you left off in the introduction. Now is the time to give details on the proposed building. State how many stories to be constructed and where to build it. This part includes the exact measurements and the parts to be built as well such as the comfortable rooms, parking area, lobbies, elevators, and fire exits. Include the materials needed for construction, how many people are going to work on it, and the total cost of the project itself. This is a specific breakdown of the project and it should be written in an organized way. You may also see work proposal templates.
4. Process and Timeline
This part discusses the steps in the construction and how long it's going to take. In this one, you need to discuss with your clients about how to get the work done. Present a clear timeline of the whole construction process. Put a specific time span on a construction phase – let's say a few months to more than a year, to even more than two years. Be specific in this part. Clients and investors would not waste time, money and effort on a project that does not have a target completion date. You may also see proposal templates.
5. Case Study
Research on case studies related to your project. Compare it with the project you want to work on and see the differences. Try to see what you can learn and improve your research and use it to your advantage. Present the data and your conclusions to your clients. Focus on the positive aspects and occasionally include the negative ones. This will make them think your project is worth the risk. It's all about comparison and how the project will be different this time around. You may also see construction business proposals.
6. Investment and Guarantee
Proposals are an avenue to strike a two-way deal with clients. So in this part, you need to give your clients a guarantee that your project will make it through. They will invest money in your project so it is better to give them an assurance. You also have to prepare some measures if ever the project does not go as planned or encounter some problems along the way. You may also see sales proposal templates.
7. Pricing
Setting the prices for your architectural services can be quite confusing. With this, you can give your clients multiple fee packages. Clients will get more options and choose the package that suits them. This will also add up to your revenue regardless of the package they avail. Charge extra fees for the extra value that you provide, if possible. In pricing your architectural services, it pays off to keep each part of it simple and easy to understand for the clients. Explain each package well for them to make a good decision. You may also see construction proposal templates.
8. Terms and Conditions
Lastly, lay out the terms and conditions of the proposal that works well for you and your clients. Make sure it is fair on both sides. Include the possible sanctions if the terms and conditions are not met. The terms and conditions is a legal contract for the both of you.
Below are some of the architectural proposals that you can use. You can model your proposals after these or make them an inspiration in writing your own.
Architectural Proposal Sample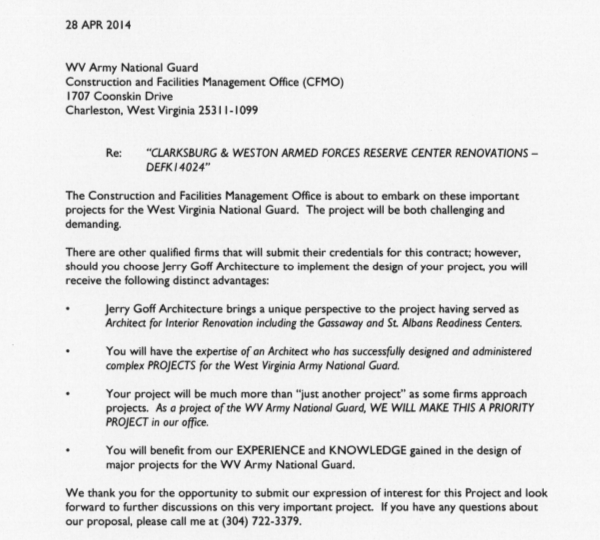 state.wv.us
It is not easy writing and handing out proposals and convincing clients to take a chance on your project. It's something that requires patience, confidence and a big load of hard work. Prepare yourself for questions and answer them confidently. It also helps to anticipate the questions and prepare answers in advance by reading through the proposal. You can find loopholes and improve them to make it look professional and flawless to anyone who reads it. Nothing beats a prepared soul, as it always leaves a good impression on the clients. You may also see sales proposal templates.
We hope our information about architectural proposals is helpful. If you need more information, just go to our site and read some articles to help you get through the proposal writing stage.