Businesses always keep themselves up-to-date with the latest fads, and it is a great idea to prepare ahead of time and look out for future trends. Restaurants, in particular, always find new ways to invite and engage with customers, and that is all possible with WordPress. WordPress offers various themes with attractive designs and there is an almost overwhelming variety of choices for website owners. Luckily for you, we have curated the best WordPress themes that you can use for your restaurants in 2018. Take a careful look at each of the themes below and choose which among them suits your style the best.
Being responsive is a standard in websites because of its accessibility across multiple devices—from desktop, to mobile phones, to tablets. This template is fully responsive and built on Bootstrap v3. The included Visual Composer has a frontend and backend editor making the code fully editable. The Drag and Drop interface allows for an easy customization of the layout. Using the powerful and user-friendly Admin Panel can help you conveniently manage the layout of the template. A child theme is also included so you can customize the theme without worrying about ruining the original one. Give this one a try so your customers can access your website from any device. A stream of positive feedbacks will come your way if you try this theme out.
663+ Restaurant Templates in PDF, Word, Excel, PSD, Google Docs, PowerPoint, InDesign, Apple Pages, Google Sheets, Publisher, Apple Numbers, Illustrator, Apple Keynote, Google Slides, HTML5 - START DOWNLOADING
Italian Restaurant WordPress Theme
La Food offers the perfect aesthetic for an Italian restaurant. The sleek and modern design gives off an elegant and sophisticated vibe, just like the dishes that are served. Built with Cherry Framework 5, this theme will help you have fun in using all the features and functionalities of your website. With the pre-built Power Page builder, you can easily create powerful layouts for your mouthwatering menu. Want to add an option for online reservation? This theme has an appointment booking function to help you manage the reservations. The installation is hassle-free and the user-friendly interface will help you get acquainted with the website in just a short amount of time. You will definitely gain more customers once you use this captivating theme.
Giulia Multipurpose Restaurant Theme
Vegetarian Restaurant WordPress Theme
Plantables is a breath of fresh air from all the excessively decorated websites out there. The bright colors give a light feeling to it. You can use this theme to showcase all your healthy dishes in a stylish way. The WordPress Live Customizer helps you change the button's colors or the text's font style and size at your preference. And as usual, the included Power Page Builder lets you fully customize the layout so you can maximize the website functionalities. Hop in and let people know the wonders of being a vegetarian.
Piece of Cake Food WordPress Theme
Restaurants and bars make quite a pair, just like how beer and food match each other. Liber's layout is fully customizable with the default WordPress features. If you want to cater to an international audience, there is no need to worry because Liber is translation-ready. Full responsiveness enables your website to be accessible on any device so your customers can access it anywhere. The slightly golden color scheme that somehow resembles beer is spread all throughout the design, most noticeably on texts. If you want a fast and solid theme for your restaurant, then this is definitely it.
Artica Restaurant WordPress Theme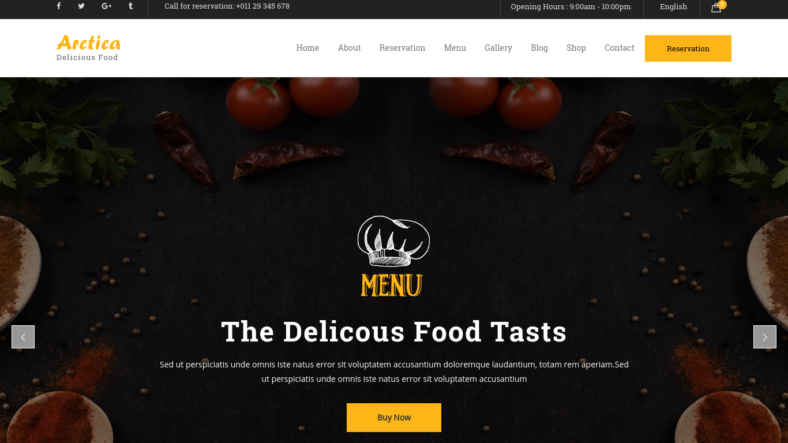 Cafeteria WordPress Theme
Cafeterias can be as stylish as fancy restaurants, and this template can help you bring your cafeteria to that level. Delicia offers custom widgets that you can use to improve the experience of site visitors. WordPress' Live Customizer allows you to see the changes immediately without reloading the page. Included with this theme is an easy-to-follow documentation for a hassle-free installment. The ravishing menu puts your wide-ranging variety of dishes in the spotlight. To make your website look special, the multiple blog layouts, sidebar settings, and different header and footer styles will certainly do it for you.
Fast Food WordPress Theme
Chow Recipe and Food WordPress Theme
1366
Bistro WordPress Theme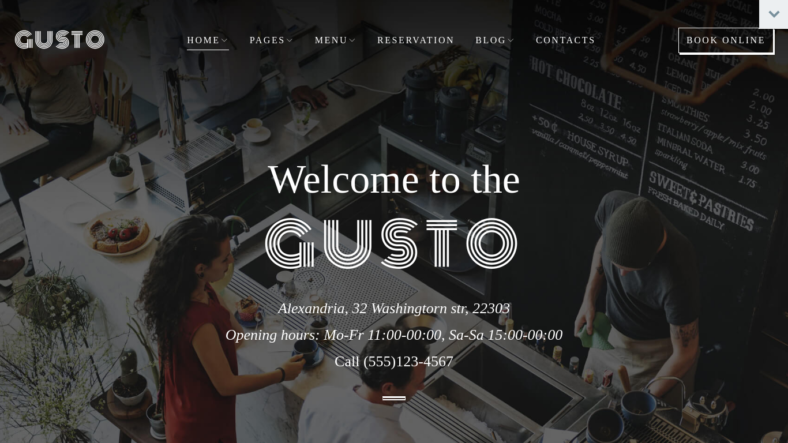 Gusto is a theme that will equally showcase the aspects of both the cafe and restaurant. The theme does not only let you see the menu but it also gives you the option to look at the exterior, interior, and kitchen. It is like taking a tour around the bistro without even having to leave your seat! This theme will give you an idea about how the surroundings would look like and how it would gauge in your style-meter. The blocks are laid out with enough space between each other so they do not look cramped. The white background, meanwhile, makes a clean impression on the overall look of the theme.
Sukar Restaurant WordPress Theme
Food and Beverages WordPress Theme
Restaurants sometimes create blogs to show the recipes and steps involved in making their famous dishes. In this case, the layout lets you display scrumptious cuisines from different countries. It is an international convention of dishes well-represented by the best from each country. The carousel gives you an option to feature some of your dishes, be it the most sought-after ones or the ones that need more love and appreciation or a mixture of both. It will add to the reader's engagement with your content. The minimalist approach drives all the attention to the content and images so the customers can concentrate on reading their desired blog post. If you want to know more, just click the demo button below!
CookingPress Recipe and Food WordPress Theme
Candia Bar and Restaurant WordPress Theme
Mexican Food Restaurant WordPress Theme
Hidalgo is a toned-down version of the usually festive mood of Mexican restaurants. But, nevertheless, you can still feel the Mexican vibe in it. From the get-go, you can tell that this website is a Mexican restaurant just by looking at the photo on the carousel. The dishes on the menu are neatly placed side-by-side. The animation effects based on HTML5 and jQuery adds fun as you hover over each menu category. Also, a tour around the interior section of the restaurant gives you an idea of how it would look like once you visit the place. The simple and easy-to-use Drag-and-Drop Page Builder will let you have a fun time in editing and customizing your layout. There are a lot of features stored in this template, so better check them out!
Dina Restaurant, Bar, Cafe, and Food WordPress Theme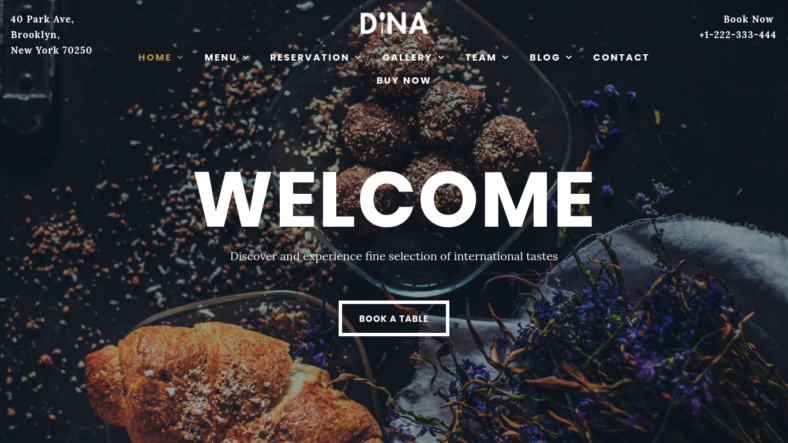 Chinese Restaurant Responsive WordPress Theme
The flavorful Chinese cuisine dishes backed up with the parallax effect create a perfect mixture of traditional and modern taste. The theme's powerful Drag-and-Drop Page Builder has again made it easier to edit the layout and carefully place the blocks in the arrangement you prefer. Should you want to experiment with your page's structure and speed up your building process, you can use the built-in library that has been provided. An appointment manager will help you organize and track the reservations easily. This modern design made for a menu of traditional cuisine will certainly attract both those of the old and new generations.
FlyFood Food Blog WordPress Theme
Pizza Restaurant WordPress Theme
This theme is covered with photos everywhere. All of the blocks are occupied by pictures with the accompanying overlaid texts. There is more than enough space to flaunt the variety of pizzas that your restaurant offers with the grid layout. It is minimalistic in a way because not a lot of animations were applied to the elements. Despite its simplicity, the functionalities that this theme contains are more than enough to to make you fully enjoy editing and customizing the design. The Power Page Builder partnered with the Live Customizer make for a powerful team that provides easy and simple features for adjusting your website's layout to your preference. There are a lot of features to choose from, so click the demo button below and witness all of its wonders!
QuickFood Delivery or Takeaway Food WordPress Theme
Meat and Barbecue Restaurant WordPress Theme
Steaks will always look beautiful no matter what anyone says. And with this steakhouse theme, they would look even more tasteful. The layout sets large enough spaces for contents to fully expand as much as they can. The photos, meanwhile, will look great with the carefully-aligned grids. This template comes with the typical features such as Live Customizer, Power Page Builder, Custom Widgets, Appointment Manager, and more. This website will mostly appear in the upper section of the search results because it has Search Engine Optimization in it. Well-coded and well-documented, this theme will give you full control over editing the code should you want to reprogram it.
Agricom Agriculture and Organic Food WordPress Theme
Blogetti GPL Restaurant WordPress Theme

The layout of this theme resembles a typical blog site. The carousel lets you feature your prominent recipes so people can immediately seek them out. The blocks for the blog posts are evenly spaced apart from each other so the space will not look cramped. Finally, the white and grayish background colors mix well with each other and create a neat and clean appeal. If you are looking for a minimal design, try the demo version of this theme.
Have you found the perfect theme? This extensive list can be too overwhelming, but do not worry. You still have enough time to get your site ready before 2018 comes.