Restaurants and cafes are constantly growing and expanding even to this day. Companies and entrepreneurs always have a plate full of ideas for their own restaurant businesses to stand out and be a success. From themed cafes to luxury bars, everyone's got a go-to food place not just because the food is great, but the ambiance is just as superb. And that has a lot to do with branding.
When you establish a brand for your restaurant or cafe business, you have to make sure it's solid enough to be received well and perceived accurately by your customers. A brand is a concept or idea you send out to your customers through tangible things related to your business—store interiors, official documents, business cards, menu cards, packaging, and more. In order for you to effectively establish your brand, it's best for you to undergo the process of creating a restaurant branding mockup to see the initial impact of your designs.
We've listed some of the best and highly customizable branding mock-ups fr your restaurant or cafe. Every bundle is packed with special design features to help you create your own look, and to easily incorporate your own designs and logo.
Organic Restaurant Branding Mockup
Download this branding template and design your organic restaurant cafe in beautiful marble patterns or floral illustrations. This Organic Restaurant Branding Mockup offers a clean and highly editable template for your restaurant packaging, stationery, and product designs. You can incorporate your own choice of colors and easily add in your logo to see the full effect of your branding designs.
Rustic Restaurant Cafe Branding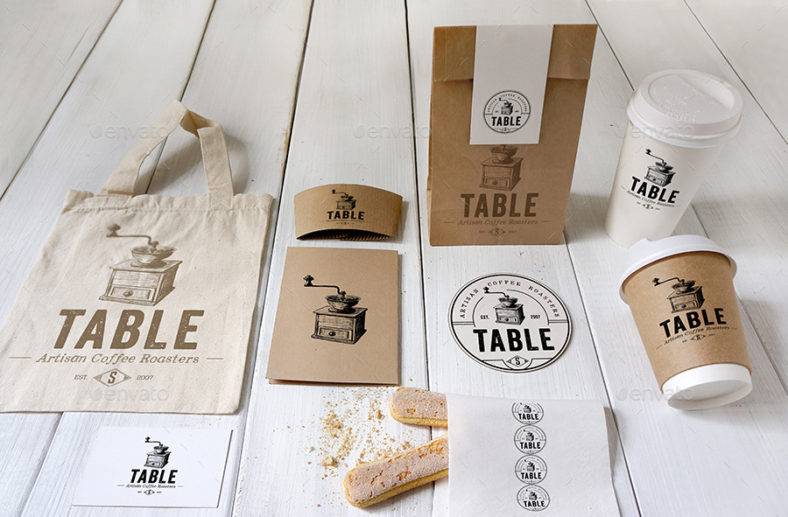 Keep it classy and clean with this Rustic Restaurant Cafe Branding. This bundle is packed with easy-to-edit layouts and designs to make sure you achieve your desired look. You can design your mock-up through different perspectives, and see your brand come to life by putting in your company logo and colors in different platforms.
Italian Restaurant Branding Mockup
Get this Italian restaurant template design and make it your own by editing the designs with your official colors, logo, and design elements to showcase your brand. This template can maek designing so much easier for you as it supports both complicated and minimalist design ideas. You need only a few tweaks and clicks to see your brand translated on this restaurant template.
Flat Restaurant Branding Template
Seafood Restaurant Branding Identity
This branding identity template is perfect for any type of restaurant or cafe branding. If you want to see how your seafood restaurant mock-ups will look, download this template and be as creative as you can. You can add in restaurant vectors, unique typefaces, and graphics for your menu cards, napkins, brochures, and even on your plates.
Doughnut Branding Mockup
Create a solid and completely chic brand with this bakery branding mock-up for your doughnut cafe. You can cutomize the different templates like product packaging, flyers, and menus with so much ease. Put in charming illustrations, uniqe typefaces, and your official logo on any of the mockups of your choice.
Luxury Cafe Branding Mockup
Your branding identity design is not just about sticking your logo to any of your products and documents. Effective branding designs are those that create a coherent image of your company even without the aid of your official logo. These could be through your choice of typeface, or your stationery and packaging colors and material. It's the entirety of your designs that make up the whole brand.
Restaurant & Bar Branding Design
This Restaurant & Bar Branding Design effectively translates the branding design onto its coffee cup mockup, packaging, envelopes, and business cards. Use striking patterns, logos, and icons to make your brand distinct from any other bar or restaurant. Oversee your designs by creating mockups and using templates before the final run.
Flat Cafe Branding Identity
Farmer's Market Branding Template
Even a farmer's market can take full advantage of branding mockups. Download this branding template specifically designed for the farmer's market—with produce packaging, stationery, cards, and more. You can customize these mockups to see your brand come to life through designs.
Burger Cafe Branding Design
Your burger cafe will definitely look awesome with this branding design. Make creative menu designs, business cards, and bar stationery with this Burger Cafe Branding Design. It's equipped with various design tools, textures, and images to help you create a realistic scene of your own burger cafe.
Browse through inspirational brand designs and download as many templates and branding identity mockups for your own branding strategy. You can easily edit these templates with your own brand designs, logos, and elements. Creating a branding mockup is essential for you to oversee the potential impact of your designs. Download the restaurant mockup design of your choice, and see your brand come through in realistic designs.