3d
27+ Inspiring Examples of 3D Art Designs & Paintings
Art has been the most inspiring revelations of all time. Art always helps one know the true value of skills and intelligence at the same time. Art is something that most people are fond of. Art is a growing profession as well as a flourishing industry. Beautiful Art has been the taste of learned, important and influential men all over the world. Art helps people bring closer together too. It helps say a lot of things unknown and also expresses actions and feelings that one cannot necessary convey easily. With the evolving digital trends over time, art has also evolved. High definition art has been some new category as well but there is also a new type of art known as the three dimensional art or 3D art. Two dimensional or 2D Art Design has become almost lesser attracting now. 3D art has been much more inspiring, fairs much more while also giving out more thoughts. 3D art also helps reveal ore techniques and methods while also showing lot more skills at the same time. This type of art also takes quite a lot of tricks and not most artists who are otherwise good or even best at normal art, can do justice to this skill.

There are many different types of templates available over the internet as this skill is continuously evolving and more and more libraries are getting updated over time.
Attractive 3D Art
Beautiful 3D Art
Building Firing 3D Art
Frog 3D Art
Unique 3D Art
Tennis 3D Art
Dolphin 3D Art
River 3D Art
Nature 3D Art
Car 3D Art
Football 3D Art
Turtle 3D Art
Awesome 3D Art
Olympic 3D Art
Titanic 3D Art
Street 3D Art
Green Frog 3D Art
Swimming Pool 3D Art
Tiger 3D Art
Cameramen 3D Art
Street Flood 3D Art
Cocktail 3D Art
Eiffel Tower 3D Art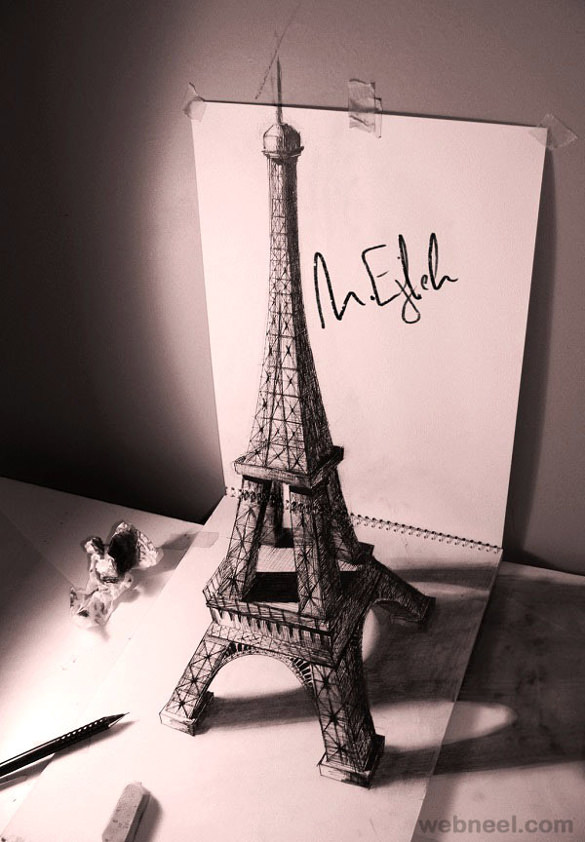 Winter 3D Art
Cartoon 3D Art
> 3D Street Art Templates
This includes the ever famous three dimensional chalk art that is incorporated in templates and reusable every time. One would mostly feel that they are falling somewhere down by the street or walking over something furious. [100+ Amazing 3D Street Art Paintings]

> 3D Art Movie Templates
People are always crazy about movies and their promotions as well as scenes. In this category all movie related images seem as if they are about to come out and happen to you.

> 3D Scenic Wallpaper Templates
This category refers to the most beautiful and intelligent se of 3D. One feels as if those mountains or rivers are for real and can enjoy them at a whole new level.

> 3D Art Abstract Templates
This includes all types of 3D art pattern/texture using the digital phase of the designers to incorporate the effects seem as if they are growing over time.

> 3D Art Model Templates
These include arts of all three dimensional objects which seem like outgrowing from the picture. They are either held in hands or dripping set in a pattern with appropriate matching ambience.The uses of these 3D art templates are that you could stay very skillful while also standing above the rest. While two dimensional art or simply art templates remain very old school and common, you could strike the difference by going to opt for the three dimensional stand-apart skills. You can also use these three dimensional art templates at any generic event to impress people instantly. These can also be used to show one's distinguished taste of art according to the latest trends. You can save time by using already made three dimensional design templates without having to learn or expert the skill. If you are still not happy about using already made three dimensional templates then you can even learn a few quick tips in order to know how to create one of your own three dimensional templates for easy later use. You could use an already made three dimensional template and customize it according to your needs. This could be done by using the Adobe Photoshop tool and enhancing the effects where any placed object or the three dimensional effect is the darkest. You can solidify or darken that area by selecting that area with the magic wand tool. Next you can use that area to increase the opacity to the maximum you can. You can also darken some part of the area by adding a layer and then adding a black color to it. Later the layer can be adjusted for reducing any effects that have gone outside. You can also make a 3d drawing, take its picture with your camera and then just enhance it by using a simple autofix in your smart phone's editor. This way you have your own three dimensional photo template which can also be later uploaded on the web. You have the copyrights and anyone can use it if by your name. In order to create your own three dimensional image on paper, you can best start with any object place under the light. This is the basic that you can make, but with much more practice, you can even advance to a greater level of three dimensional drawing. Lighting is the most important factor while drawing any 3D image. You need to consider how much farther the object is from the light and where the most and the least amount of shadow shall be created in real. If the object or photo that you have includes patterned things like bricks, leaves etc then you should pay even more detailed attention to lighting factors. There is a simple concept to three dimensional drawing. The further the object is, the smaller it shall look, the nearer the object is the bigger it should look.Considering the angle of the drawing is also very important, you should first decide whether the viewer is going to view the drawing from the side or from the front. You can later draw the whole image from that perspective. One should also make sure that they are not thinking out of the box but outside the page. This will let them explore more and add objects to the drawing in perception.

> Tips
It is important to consider naming each Photoshop layer name wise and work-wise so that forgetting isn't an option at all.
One should have the best tools which include having the best sketching pencil in order to have a good three dimensional drawing since that affects your template directly.
> Dos and don'ts
Do make sure that each layer that you have worked at in the Photoshop section is locked after you are done with it.
Do make sure that the picture you take of the 3d photo is straight and HD enough to be used in Photoshop.