Bingo is a game where a player is given a card containing a predetermined set of twenty-four numbers. Once the game starts, the winning pattern is displayed to the players then a person in charge picks out random numbers one by one from a pile of numbers. The players will then start marking their cards according to the numbers picked out. The number picking continues until one player is able to form the pattern on their respective cards and shouts "Bingo!"
This games relies purely on luck to win. Every part of bingo is randomized and every player has to put everything in chance to win a game. Bingo is still considered a gambling game since you'll have to gamble your way and spend some money for cards without any assurance that you will win. But some people play bingo without putting any money on the line but purely for fun. So if you're looking for downloadable bingo cards, our website contains a collection of bingo templates for you to choose from.
Blank Bingo Card Template
Bingo Game Card Template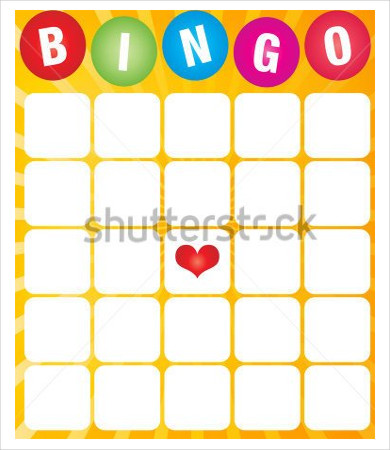 Printable Bingo Card Template
Baby Shower Bingo Card Template
Free Bingo Card Template
A Timeless Game
Here are some amazing facts behind the game:
Empty bingo cards were first used by Germans to help students learn multiplication easily.
There are actually 552,446,474,061,128,648,601,600,000 possible number combinations in a bingo card.
The top reason of people playing bingo is to find enjoyment. Winning the jackpot only comes fifth.
Bingo was first played in 1530 but was only popularized on 1929 by Edwin S. Lowe.
Around 70 percent of the total bingo players are women.
The game was originally called "beano" because players would use beans to mark their cards.
The United Kingdom has their own version of the game called Housey-housey.
Playing bingo has been shown to have therapeutic effects on a person's cognitive abilities, and it can also relieve stress.
Many bingo players are superstitious, and they would bring their own lucky charms when playing.
Some bingo cards contain 5×5 boxes, some have 3×3, and the UK bingo cards have 3 rows and 9 columns.
The usual bingo game makes use of 75 numbers, while the UK version uses 90 numbers.
For a different kind of bingo experience, check out word bingo and download from our website's collection of word bingo templates.
Bingo Playing Card Template
Vintage Bingo Card Template
Bowling Bingo Card Template
Vocabulary Bingo Card Template
Periodic Table Bingo Card
Whether you're organizing a bingo event or simply want to play it for fun, then we have what you need. We have templates for the bingo cards that you're looking for, so you don't have to look anywhere else.
Our templates can be accessed and downloaded easily for anybody who has good Internet connection. These can be downloaded in PDF, JPEG, and AI vector format for your convenience. These templates are also fully editable to provide you with the freedom to make all necessary changes in accordance to your preferences.
You may also make use of our collection of blank bingo templates, if you want a more personalized look on your bingo cards.