Coloring has been a favorite pastime that knows no age. Nowadays, it is even being used for therapeutic purposes. With anime's vast popularity that entices all ages with its interesting stories and graphics, it has made millions and billions worth of franchise to help supply every fans' collecting desires to keep a memento of their favorite series.
The anime industry has been venturing in coloring books for long years now, and now with the help of evolution in technology, even digital Anime Coloring Pages are booming. If you are interested in jumping in to they hype, read on to see various samples.
Anime Cat Girl Coloring Page
Download
Anime Girl Coloring Page for Adults
Download
Vampire Anime Girl Coloring Page
Download
Anime Wolf Girl Coloring Page
Download
Anime Girl Face Coloring Page
Download
As someone who enjoys interesting story plots and great graphics design, anime would be something you should really put in your must watch list. When you are someone who appreciates motion graphic arts and a good story plot, hearing coloring pages would definitely get you excited. Venturing into anime coloring pages could bring you business as well.
The Fun in Creating Anime Coloring Pages
Not only are you able to rewatch the series your anime girls are in without needing to justify the hours you use in watching, you are able to appreciate the time and effort the artist put into creating them. It also allows you to have a more open perspective in the arts of designing. There is always something new to learn in the world of arts and in the world of anime. Arts and anime together is the melting point of all creativity. Not only are you able to exercise your mind and challenge yourself it is also a good way to relieve stress.
Here are some tips on how to draw your anime girl:
You must study real anatomy. Even though anime girls are considered fictional beings, they still have their own anatomy just like a real human being you see in television. You have to make sure not to make them invalid just because it's a drawing. You have to show that they they have limbs, feel, hands, ears, and neck, which are parts we mostly avoid to draw when drawing anime.
Use reference and guidelines. Rewatching the anime in itself is already a good reference and guideline. It is the most and fun reference to use.
Enjoy. Nothing makes a drawing perfect without enjoying yourself while doing it. Most of the time, it's frustrating due to the fact that you have to be tedious and focused to have better attention to details.
Check out this collection of Coloring Pages For Girls your little girl might be interested in.
Anime Pop Corn Girl Coloring Page
Download
Chibi Anime Girl Coloring Page
Download
Anime Girl Coloring Page for Kid's
Download
Free Printable Anime Girl Coloring Page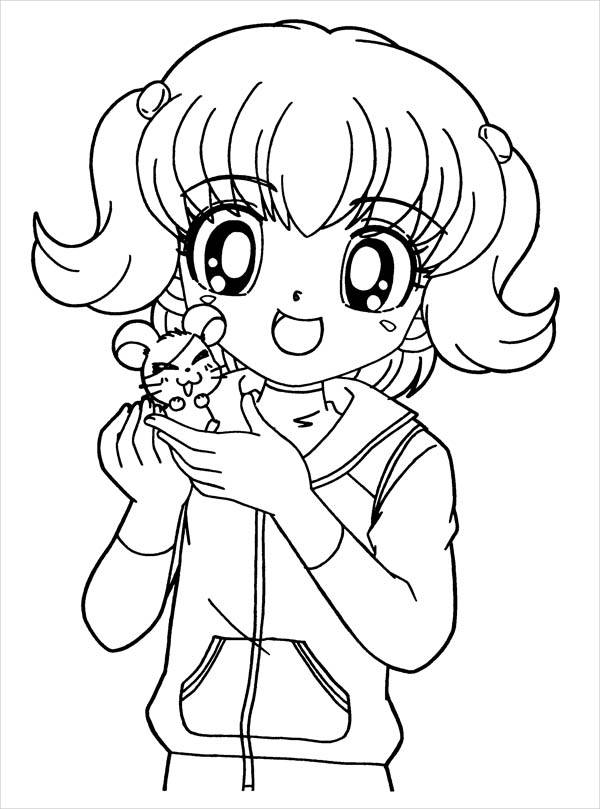 Download
It does not matter how old you are; if you have the passion and time in making one, you should give yourself a chance in creating one. Doing new things and learning new things are both—you should not deprive yourself. If you are interested but unsure on how to make your anime girl coloring pages, samples that are free to download are provided in this article and more from our website that you can use as reference material.