Dogs are, without a doubt, man's best friend. They are loyal, sympathetic, and fun to be around. I personally feel relieved when my dog greets me at the door every time I come home from work. They are the kind of animals who love you more than they love themselves. And with puppies, they are just twice as fun since all they do is play around, eat, and sleep a lot.
Coloring pages, on the other hand, are similar to coloring books but are in a single sheet/page form. These are sheets of paper containing colorless line art of images, patterns, and designs; and all that is asked from you is to apply the colors according to your preferences. Even the coloring materials to be used depend on your preferences. Take a look at this web page for an entire collection of puppy-themed Printable Coloring Pages that you can use.
Puppy Face Coloring Page
Download
Puppy Dog Coloring Page
Download
Bubble Puppy Coloring Page
Download
Christmas Puppy Coloring Page
Download
Puppy Coloring Page for Adults
Download
Facts about Dogs and Puppies
An adult dog has around forty-two (42) teeth.
A dog's sense of smell is around a million times more sensitive than that of humans, and their sense of hearing is around ten times more accurate.
Clinical studies show that spaying or neutering your dog can actually prevent certain types of cancer for the dog.
A dog's nose print acts similarly to that of a person's fingerprint.
The female dog carries her puppies for about sixty (60) days before they are born.
Dogs do have sweat glands, and they are found in between their toes.
Dogs are mentioned in the Bible fourteen (14) times.
Dogs are actually omnivorous, they need to eat more than just meat.
Facts about Colors
Visible light is made up of seven wavelength groups: red, orange, yellow, green, blue, indigo, and violet, which are the colors of the rainbow.

Red, orange, and yellow are considered as warm colors. Violet and blue, on the other hand, are cool colors. Green is said to be a neutral color.

Approximately seven million different colors can be seen by the human eye.

Most people can see colors very clearly, but there are some people who are color blind. They are unable to differentiate between reds and greens.

Black is defined as the absence of color and is therefore not a color. White is the combination of all colors and is therefore a color.
Also, check out our collection of Coloring Pages For Girls.
Realistic Puppy Coloring Page
Download
Puppy Outline Coloring Page
Download
Free Printable Puppy Coloring Page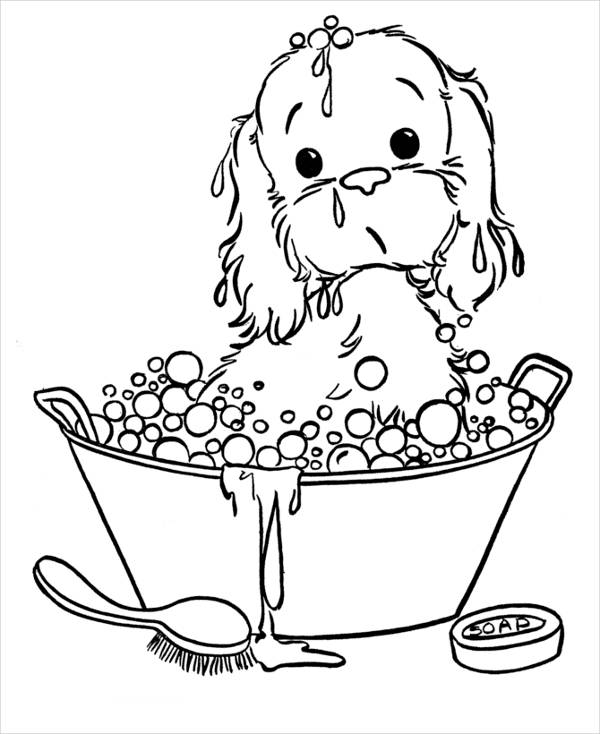 Download
Puppy Valentine Coloring Page
Download
Puppy Coloring Page for Kid's
Download
Did you find the coloring pages that you were looking for? We hope you did, and we hope you enjoyed looking through our gallery of cute puppy illustrations. These fine coloring pages were drawn by creative and skillful graphic artists and can be downloaded without hassle for a fairly reasonable fee. You can choose to download it in either JPG, PDF, or AI format, which are all in high resolution to provide you with the best-quality printable coloring pages.
The Web Slinger and Even More Coloring Pages
If you're into comic books and you're a fan of our friendly neighborhood web slinger, then check out our collection of Spider-Man Colouring Pages. If, however, you couldn't find what you were looking for on this page, scroll down to the bottom and feel free to check out the suggested links to some more related content found all around our website.