For working parents, there is a dire need for a babysitter. And as a babysitter, it is a great challenge for you to stand out from the hundreds of babysitters willing to temporarily look after the children of busy parents. You may also see flyer designs.
Having problems with getting clients as a babysitter? All you need is a dashing babysitter flyer design that will attract more parents to trust you with their children. We can help you gain access to more clients by providing you with our babysitter flyer templates  that will make you more trustworthy and credible.
Babysitting Flyer Template
Day Care Flyer Template
Daycare Flyer Template Design
Daycare Center Flyer Template
Kid's Day Care Flyer Template
Adult Day Care Center Flyer Template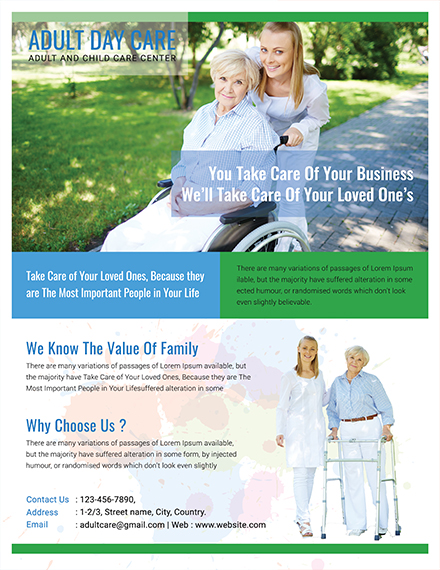 Customized Baby Sitting Flyer
Download
Daycare Flyer Template
Download
Personalized Babysitting Flyer
Download
Catchy Babysitting Flyers
One way of standing out is designing marketable and great flyers. For those who do not have enough time planning and designing flyers. Here are some of the available templates we have in stock:
Customized Baby Sitting Flyers
Daycare Flyer Template
Personalized Babysitting Flyer
Babysitting Advertising Flyer
Colourful Babysitting Flyer template
These are some of the designs you can use to ace your flyers. As you can see, these flyers are not just designed for freelance babysitters, per se, but also for day-care facilities.
After choosing a design that suits your interests, you need to strategize where you are going to distribute or market them. You can try these two ways:
Sharing and distributing them via social media. This is the benefit of choosing our designs because after you download them, you can easily edit them to add your details and thereafter post them on social media.
Manual distribution. Nothing beats a day spent outside working hard. The feeling of accomplishment is incomparable when parents hire you on the spot to look after their children. The traditional way of door-to-door distribution of flyers also works. Just make sure to provide a brief introduction to which services you offer and your contact information in your flyers.
Babysitting Advertising Flyer
Download
Colourful Babysitting Flyer Template
Download
Baby Sitting Flyer Ad Template
Download
Gain More Clients
Indeed, the flyers you make must create a positive statement of you. They are critical because they give potential clients a glimpse of yourself. Here are some tips that you can use in designing your babysitting flyers:
Adopt a friendly theme that will connote how kind, patient, and trustworthy you are.
Use positive language in wording your flyer. It must be pleasant and must include relevant information about you.
You can also consult your parents or any person you know to ask for their suggestions or opinion on your flyers. It is a good way of testing the value and degree of marketability of your flyers.
You can either make a customized flyer for specifically targeted clients or disseminate general ones such as daycare flyer templates.
Now you know the dynamics of making a babysitter flyer that stands out. To escape from all the hassles of designing, you can truly rely on our printable and downloadable designs that will let your personality shine through.