For a daycare advertisement, flyer is an effective marketing tool, if properly used. While scanning through a number of daycare flyer templates available online, you need to choose according to your need and preference. You can download the already given formats and can use them as it is and further edit them to suit to your day care's requirement. Before using the flyers for advertising, you need to design them perfectly suiting your company's facilities and services. You can also see Babysitting flyer template.
These free download Daycare Flyer Templates are structured by professionals and offer you a pre-defined structure to present your daycare ad in an attractive and appropriate manner. Some of these templates even come with pricing table. No doubt the free download Daycare Elegant Flyer Templates make your promotional campaign whole lot easier, saving you great time which you can deploy in better daycare activities.
Well Designed Daycare Center Flyer Template

Buy Now
Quality Child And Adult Care Flyer Template

Buy Now
Adult Daycare Center Flyer Template

Buy Now
Children Daycare Flyer Template in PSD Format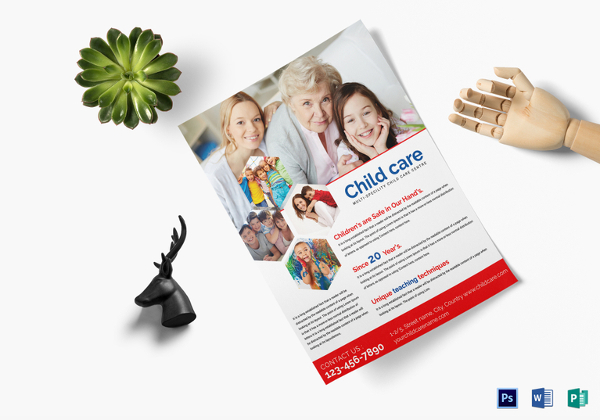 Buy Now
Customizable Daycare Flyer Template

Buy Now
Designed Daycare Flyer Template in Word Format

The flyer includes the objective of the company along with the opening and closing dates of admission. You can also mention the discount schemes, if you offer, to attract parents.
Buy Now
Kindergarten Daycare Flyer Template

While opening a daycare you can be specifically oriented for some age group only. Hence, this needs to be mentioned on the flyer like in this template. Its postcards and posters are also available.
Buy Now
Best Child Care Flyer Template

This type of daycare flyer template includes basic information about the company and its services offered. You can buy it online for less than $7. The contact number of the company should be mentioned on the flyer.
Gorgeous Day Care Flyer Template
This is a ready to print flyer in size 8.5X11 inches. All you need is just to add your details to the already included images. The files contained are in high resolution.

Multipurpose Daycare Flyer Termplate
Kids Daycare Flyer Template
Baby Daycare Flyer Template
Colorful Daycare Flyer Template
Corporate Daycare Flyer Template
Fun Daycare Flyer Template
Babysitting & Daycare Flyer Template
Tear Sheet Full Color Babysitting Day Care Flyer
Special Adult Care Flyer Template
Old Age Home Care Flyer Template
Premium Kids Care Center Flyer Template
Best Service Kids Care Center Flyer
Simple Daycare Flyer Template
A daycare flyer template can include the activities that are being carried after school for engaging kids and helping them in physical development as well. It focuses on increasing child's performance.
Sunshine Daycare Flyer Template
Daycare facility that exhibits all kinds of provisions ranging from education, baby sitting to food is what the template deals with. The curriculum vitae are given on the template itself from the cover to the inside.
Jardin Angelical Daycare Flyer Template
Music class to art and craft, dance and pre-k classes are what the daycare flyer template deals with. It is truly a place where young minds grow and learn. Fee structure, timing and days when the class is held are given.
Child Care or Daycare Flyer Template
Aarley Daycare Playgroup Flyer Template
Multipurpose Daycare Flyer Template
A collage of pictures is the theme of this flyer. Through pictures you can show how well you keep children at your center. This flyer can be used for a daycare as well as a kindergarten.
To attract more parents to your center show the best services offered at your center through flyers. Mention the age group and also the time of admission. You can have any daycare flyer template which allows you the facility to mould it as per your need.