Have you ever been in charge of a summer activity or event? It's not easy. From organizing to the promotion and making sure that you've got enough sponsors on top of competing with the dozens and dozens of other summer events—boot camps, fun runs, summer parties, concerts, and festivals, coming up with ways to get people to attend is where the real work starts. Your answer to this challenge? Summer flyers.
5 Steps to Design a Summer Flyer
Step 1: Define Your Goals
What are your goals and why do you need a marketing tool that you can mass produce? How big is the activity to warrant the design and distribution of a summer flyer to a wide audience? Asking the right questions and answering them help you understand your flyer design's purpose better.
Step 2: Organize Your Information
An effective player fits the key information of an event in the limited space of one page. Make sure you have the name of the event emphasized. The date and time also need to be readable from a good distance as well as the venue. If you have entertainers headlining the event, you can include their names too.
Step 3: Add Color To Make It Stand Out
Make the flyer pop through the use of contrasting colors or evoke some beach vibe by adding vibrant, bright colors to the design if it's going to be a beach party or summer sale. Incorporating the right colors to the layout would make the audience notice your flyer easily especially since people are always in a hurry.
Step 4: Use Bold Typefaces
Typography, when used well, makes a great difference in any design. Don't be afraid to set your text to bold, large typefaces and never mind that it may take up the majority of the layout. The goal is to make it more visible and attention-grabbing, which is often only possible if the type is big. You just have to ensure that the flyer is still readable.
Step 5: Create A Campaign
So you have a stack of printed flyers, ready for distribution, which also means you have to get them seen by your intended audience or get them mailed to your leads or people in your list. You can also extend your summer event's marketing campaign to posting the flyers in places where they can easily be seen.
10+ Summer Flyer Templates
1. Kids Summer Fest Flyer Template
Download
Are you preparing for a summer activity but want to make sure that your promotion for it would get enough visibility? This flyer template would make a perfect addition to the rest of your marketing plan. Just click on the download button and print in any or all of the available formats!
2. Summer Cookout Flyer Example
Download
Organizing a summer event featuring performances doesn't guarantee a crowd but using marketing tools such as the summer flyer design templates on this website can help you spread the word out to a wider audience. Download any of these templates and just customize the content.
3. Youth Summer Camp Flyer Template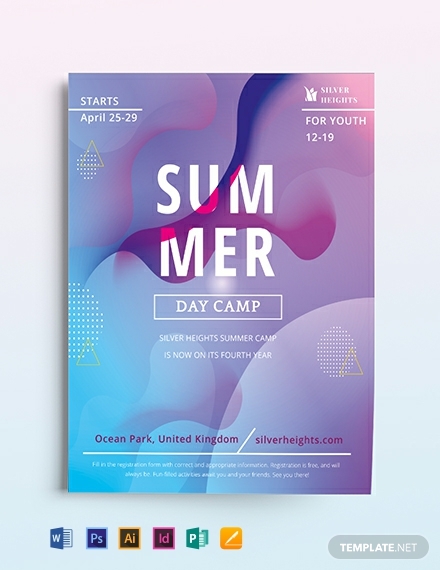 Download
Getting ready to welcome guests for a summer boot camp? Don't be too sure because there may not be enough people who know about it yet, so print this sample summer flyer to let your intended audience know you can be a perfect part of their summer plans!
4. Summer Beach Party Flyer Design
Download
Is your company or organization preparing to host a summer party? Then waste no time in taking advantage of the summer flyer template available in an array of colorful and marketable designs to convince people that your party could be the best part of their summer!
5. Hipster Beach Summer Flyer
Download
Thinking of getting people to hit the beach and join the party you are organizing? Flyers such as the beach party flyer template we have here will come in handy for your event's promotional needs. Go ahead and just download then edit and customize according to your party theme!
6. Free Comic Summer Flyer
Download
Want to gather people in a massive summer party of summer parties in town? You'll need a well-designed summer flyer for that if you expect a full house on the date of the event. The printable flyer above comes in different formats which you can use if you haven't started designing one yet.
7. Summer Party Flyer Template
Download
Summer is a time for lazy days at the beach and nights of unwinding and good music. There's always a party, a cookout, an afternoon barbecue gathering, or a concert in town, so if you're thinking of having one of these, download the flyer templates attached in this article to make your task easier.
8. Free Summer Vibe Flyer
Download
Do you want to build excitement among your audience and let them anticipate your summer event? You can use a summer flyer template in this article for that, especially if you haven't started yet on the design or layout of any marketing tool you were planning to use.
9. Free Summer Beach Flyer Template
Download
Bring that beach vibe to the audience's hands (or eyes) by designing a flyer or using a template to get them convinced into buying your event tickets or simply making them attend without second thoughts. These templates can be easily printed and customized according to your event demands.
10. Summer Lights Flyer Example
Download
Unsure of how to market your summer event effectively? Worry no more since we're providing you some of the best flyer designs on the website that you can use to attract a wide audience. They also come in printable sizes and formats for your convenience!
11. Summer Flyer Design Template
Download
If you've run out of ideas to market a summer event, or any event effectively, you can always go the old school way with flyers. Fortunately, you can also just download our great flyer designs which you can just print and customize easily.