Saying farewell to someone is indeed a difficult undertaking; but farewells don't have to be such heart-wrenching, agonizing affairs. Whether you are sending off a loved one, a colleague, or a friend, you will make your last hours together more memorable by organizing a farewell party. A farewell party can be celebrated in any time of the week. Additionally, it could be a grand whole-day affair or it could be a casual send-off during lunch or dinner hours.
Planning for a farewell party can be quite taxing. Nevertheless, you need to plan for the preparations meticulously. One of the most important parts of a farewell party planning is the sending of invitation cards to the guests. Hence, if you are currently organizing a farewell party soon, then you might want to check out our collection of farewell party invitations. You may scroll down below to browse our ready-to-use and easily editable Farewell Party Invitations.
Farewell Team Lunch Invitation
Download
Farewell Business Lunch Invitation
Download
Funny Farewell Lunch Invitation
Download
Formal Farewell Lunch Invitation
Download
Farewell Lunch Invitation Wording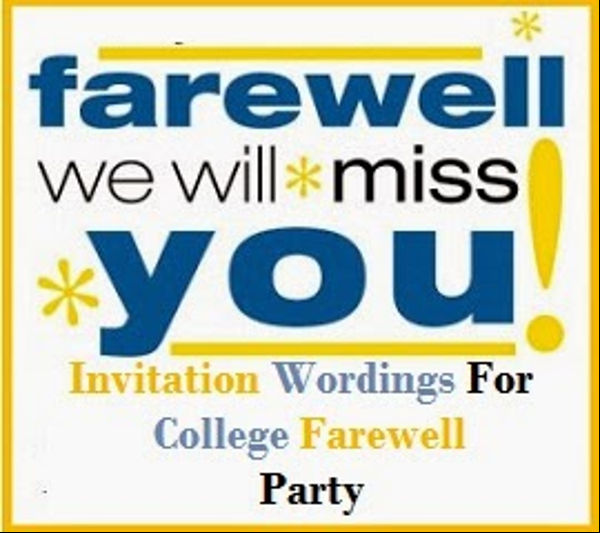 Download
Farewell Parties
There are many reason why there is a need for a farewell party and these are some of them:
To send off a colleague who is transferring to another company or department
To express gratitude towards a retired senior employee or colleague who has been working for the same company for a considerable length of time
To bid goodbye to a friend, sibling, or loved one who is planning to move to a far away place permanently or for a long duration of time
There is a great deal of liberty which an event planner can exercise for when planning a farewell party. That same liberty extends to the time and date of the party. A farewell party could be celebrated during
breakfast time (unlikely, but usually done when there is little time left before the celebrant will leave),
lunch (most casual and easy to prepare for since it is only for one to two hours),
dinner (more relaxing), or
the whole day.
Farewell Retirement Party
An employee or colleague who has been working for the same company for a great part of his or her life deserves to be given a farewell retirement party. It is always good to show appreciation towards someone who is dedicated to his job and company because
if you are the employer, it will show much you value your loyal workers and thus you encourage the same amount of loyalty and dedication from the younger and newer employees of your company and
it will encourage more positive and growth oriented individuals to apply to your company if they are assured that their interests and growth are being valued.
Hence, if you are on your way to hosting a farewell retirement party for your dedicated employee, then you may want to use any from our collection of Party Invitation Templates.
Farewell Lunch Email Invitation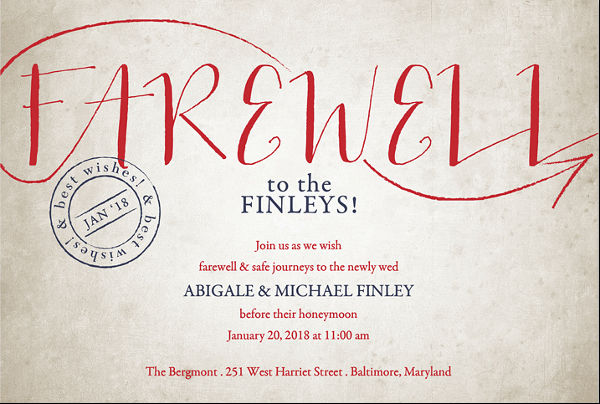 Download
Farewell Thank You Lunch Invitation
Download
Retirement Farewell Lunch Invitation
Download
Farewell Holiday Lunch Invitation
Download
Free Printable Farewell Lunch Invitation
Download
Craft Your Own
There are several benefits of crafting your own invitations, but one of the most outstanding of those is the fact that you can save up on financial resources by avoiding the pricey rates of professional graphic designers.
Send Your Invites
Now that you have selected a farewell party invitation design, then it is time your fill in the party details including the name of the person the party is held in honor for, the location, time, and date of the party, and, of course, the RSVP details. Afterward, print it on glossy or linen paper and then send it to your guests two to three weeks before the party.
Aside from farewell lunch party invitations, we have also collated a number of Lunch Invitations, which you might find useful in your other lunch affairs/parties.