Express gratitude to your colleagues or friends and say them goodbye in an ideal way. Start your thank you note by creating a remarkable farewell party invite utilizing the farewell party invitation templates from our extensive range of fantastic themes. If you wish to make it big and create an invitation for the occasion instead, you can employ our adorable heartfelt engagement invitation templates. You can also see heartfelt engagement invitation templates .
Going Away Invitation Party Template
This superb going away invitation party template has a size measurement of 5&quot by 7&quot- which makes it appropriate for regular use. With a resolution of 300 dpi, this high-quality template is a treat for the eyes and is apt as an invite. It comes stacked with ready to print fonts which make it less hassling for you to get a hard copy of the template.
Not much of changes are required to be done as these templates come ready made for the occasion. In most cases, you just have to put some particular names. The formal invitation template designs are completely waiting for you to take the printout; are you ready?
Editable Going Away Invitation Party Template
This fantastic invitation party template has a white and grey design which showcases a resolution of 300 DPI, CMYK, thus making it very eye-catching and of good quality. This farewell invitation card is impeccably adaptable, easily editable and can be printed in Microsoft Word format which adds the label of convenience to its list of virtues.
Farewell Party Invitation Template
Available for a price of $2.99, the farewell party invitation template has a very elegant deep maroon layout. There is option to include images to the design. This farewell invitation template also features readily printable fonts.
Floral Card Invitation Template for Farewell Party
Invitation for Farewell to Your Loved One
Printable Customized Farewell Invitation Template Download
Farewell Invite Template PSD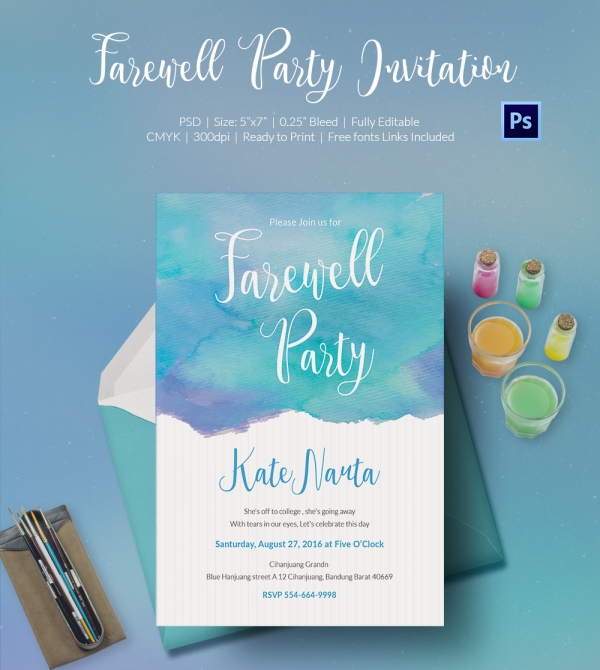 Printable Farewell Party Invitation
Farewell Party Invitation Cards Download
Farewell Party Invitation Letter Design
Special Invitation of Farewell Party
Premium Farewell Party Invitation
Chalkboard- Going Away Farewell Invitation Template
This is the perfect invitation card for farewell party to seniors that feature a very vintage design with vintage fonts and designing layout. It can be downloaded in word doc as well PDF format.
Military Farewell Party Paper Invitation Card Template
The military farewell party paper invitation card is the ultimate choice to bid farewell and express respect for army professionals who deserve gratitude and reverence. This farewell invite template has a niche format with US flag partly visible which makes it the appropriate choice for creating an invite for the farewell of an army person.
Best Design of Farewell Invitation Template Download
This wonderful farewell invitation template has a beige hued design with some decent bends in the corners. This farewell program template comes with readily printable text styles which makes it convenient and look great on print outs. It has amazing design elements which convey the feelings and context of farewells appropriately.
City Line Farewell Party Invitation Template Download
The city line farewell party invitation template loos cool and has a cartoonish appeal to it which is sure to be loved by the kids. Its light hearted design is easy on the eyes and perfect for school and college farewell functions. The highlight of this free farewell invitation template is its availability in 12 novel paper types and hues.
Farewell Party Invitation Template Free Printable Download
This Farewell Party Invitation Template has a simple and clean layout. This farewell party invitation free download template promises easy customization feature. It is printable and can be downloaded in doc format.
Happy Voyage Farewell Party Invitation Printable
Using the happy voyage farewell party invitation template makes it easy enough to create and design the going away party invitations. It comes with two printing options, 6 shape options, and 12 unique paper types.
Taking Off Farewell Party Invitation Template Download
This farewell party invitation wording template comes in two different sizes- 5" by 7" and 7" by 5". It also features 12 unique color styles and paper types. The template also offers two printing options – HD as well standard.
Butterfly Farewell or Retirement Party Invitation Template
This butterfly farewell or retirement party invitation template has a dimension of 5.25" by 5.25". Being customizable and available with 5 shape styles, this template can be used to send farewell party invitation email.
Heart Tree – Farewell Party Invitation Template Printable
This free printable farewell party invitation template offers the option to include texts and photos to both sides. 120lb, matte paper style is best for printing this template based invitation to experience the best effect.
Free Retirement Online Farewell Invitation Template
Free Farewell Party Invitation Sample
Best Going Away Party Invitation Template
Farewell Party Invitation Card Design Download
Free Going Away Party Invitation Template