Organizer of weddings use different tools that may be of help to the people who will go to the wedding or can make them appreciate the design aesthetic applied in the entire wedding. One of these tools is the wedding map. A wedding map may refer to the theme that has been used in a wedding or in a wedding invitation. Moreover, it may literally mean as the  map that you can use as a reference in finding the location of the wedding. Both ways, a wedding map is very important both as an aesthetic design and as a medium for instruction.
No matter how it is used, wedding maps play a vital role in a specific wedding occasion. This article can provide you with both documents used in their own specific functions. Other than those, you can also use our Story Map Templates for the purpose that they are made for.
202+ Wedding Templates in Word, Google Docs, Apple Pages, PSD, InDesign, Publisher, Illustrator, Google Sheets - START DOWNLOADING
Wedding Invitation Map Template
Download
Wedding Signature Map Template
Download
Printable Wedding Map Template
Download
Custom Wedding Map Template
Download
Map-Inspired Wedding Invitation
A wedding invitation may be inspired by a map and what it symbolizes. It can be applied in a wedding invitation through the following idea:
You can use the map of the location where the couple have met our you can actually use the map where the wedding will be held.
A map of the world may be used as a design material and incorporate quotations about two people meeting in a specific location.
Also, there are already a lot of interpretations of a map, so it all depends on the aesthetic taste of the couple on which one to use for their wedding invitation.
Wedding Signature and Souvenir Map
A wedding map may also be used as a souvenir. You can print them on different merchandises or you can even use them as design items for the set-up of the wedding. There are many things that you may get inspiration from when using a map as a design for these purposes. A sample of these are as follows:
Use the maps of the locations where the couple have already traveled together
A heart and other icons may be designed looking like a map
The map of the entire place may also be used by putting labels on what are the activities in the wedding that have transpired in these locations
Other than our wedding map templates, you may also download our Circle Map Templates.
Wedding Weekend Map Template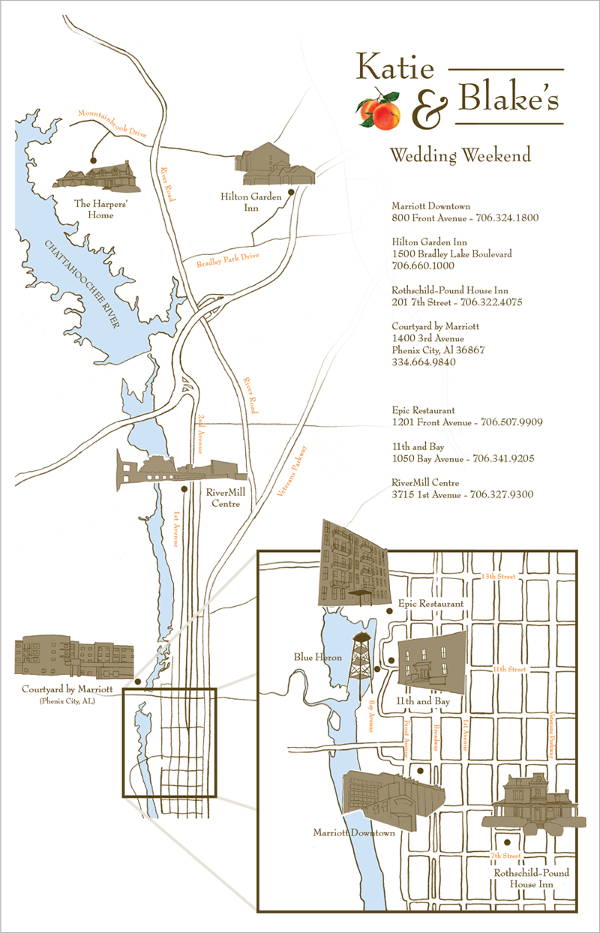 Download
Wedding Plan Map Template
Download
Simple Wedding Map Template
Download
Wedding Map Direction Template
Download
Wedding Map Used for Location Tracking
A wedding map may also mean as the tool being use to locate the venue of the reception. Here are a few items that you need to remember when creation a wedding map used for this purpose:
Make sure that you are aware of the entire vicinity so that you can properly interpret the location through a map
Use specific design items that can be identified as the landmarks in a specific location
Assure that the relative distance of places from one another are interpreted well to provide more accuracy
Use readable fonts and they must be big enough to be seen, read, and understood
No matter how you are to use them, wedding maps can provide its functions to the weddings where it will be used. Wedding maps as a design material really is a cool concept while wedding map used as locator templates are very effective in assuring guests will not be out of the way when looking for the wedding venue. Aside from our wedding map templates, you can also download our Process Map Templates.