Email marketing is one of the most important promotional strategies in regards to online marketing. If you are about to launch a new offer or start a discount deal, it's good to inform all your customers and potential clients through marketing emails. Now, creating marketing emails is definitely a huge work and hence it's smarter to take to email PSD templates available online. To help make work easier for you, we have ready-made email newsletter templates in PSD at your disposal.
Catwalk PSD Email Template
This catwalk email template provides you different color schemes through which you can impress your subscribers by updating them with the latest dress collections, current fashion trends, some ready to wear clothes and also ways in which they can style them with elegance.
Summer Sale PSD Email Template
The templates are a boon for summer wear collection. Illustrations are given along with various fonts and documents in texts. You can provide discounts on a variety of summer clothes that you for your customers to purchase.
Xmas Free Email PSD Template
Feel free to enjoy the festive occasion of Christmas by purchasing gifts for everybody. You can even customize the gifts as given in the templates. Decorative items for Christmas are found in huge number so promote them using this template. Place your logo and discount details in it through easy customization.
What are the Benefits of Email Marketing?
The best part about email marketing is that you get to send emails to your customers or audiences who are located in different parts of the world at any time. You can keep it creative with your email newsletter designs and attract your customers with coupons or discounts that can boost the sales of your business. Email newsletters are also a very convenient form of marketing as the subscribers can open the emails at any time that suits them. If your customers like what they see, they also get to share or forward it to their peers thus, promoting your business further.
Isabelle PSD Email Template
Is beauty and pampering on your mind? Then download this Isabelle template that gives you ample reasons to finesse the face and hair of your subscribers with the correct form of makeup and hairstyle ideas. You can also highlight your weekly email newsletter templates with your very own coupons for your clients.
Email Template PSD Set
Templates in the form of emails are designed for those who want to convey their message in a special way. If you want to impress somebody or even invite them you can do so with these email PSD sets.
Christmas PSD Email Template
This is a multipurpose template that enables you to purchase a package which includes various features including layouts, modules and files or documents of Christmas season. Gift samples are provided in the templates itself. Some more Christmas email newsletters are available for you to check out
Email Newsletter PSD Email Template
This template can be used to attract customers for promoting your brand and features so that you get more of revenue from them. This template design includes the envelope which can be edited with your brand information with a certain message. You can also take a look at some of the corporate email newsletters.
Holiday Business Email Template PSD
This template is made for the companies, corporate or individual who is seeking for the email template design for attractive and encouraging holiday email for its employees and customers.
Summer Fashion PSD Email Template
This Email newsletter template is fashionable, attractive and classic for promoting the E-commerce boutique business and for marketing presence. This template is fully editable and organized for professional marketing.
Santi PSD Email Template
This Santi template is an email template built for the enterprises, business or corporations to made proper processes and promote the marketing of their businesses. This template design is simple and clean.
Travlr PSD Email Template
This travel Email Template is designed for promo your business, marketing, retailing of the businesses. This type of template is essential for the travel industry and promoting travel packages and offers.
Ways to Improve your Email Marketing
There are many ways in which you can improve your email marketing. You may begin by verifying your email list regularly. Think of ways in which you can grab the attention of the reader so that they do not delete the mail without reading it right away. The first few seconds matter the most when a person is opening an email. Therefore, work on that aspect of drawing in their attention. You can also make use of emojis in the subject line so as to ensure that it is eye-catching. Make use of custom made templates so that it looks professional and allows your email marketing to stand out. Also, do not put out a lot of content in your email as the reader will tend to feel bored to look through a lot of information. So, keep it short and to the point.
Marphie Corporate PSD Email Template
This is email built for the businesses or corporations who are in search of the email marketing needs. The template includes a various layout with attractive design and solutions which are useful in attracting the attention of the customers for the company's product or services.
Countryside Email Template PSD
This Countryside email Template is organized and effective for promoting the product, services or packages which are straightforward and elegant. The template provides all features and design which are trending in the market. It looks calming. Download this now so you do not miss out on its unique countryside experience.
Explore PSD Email Template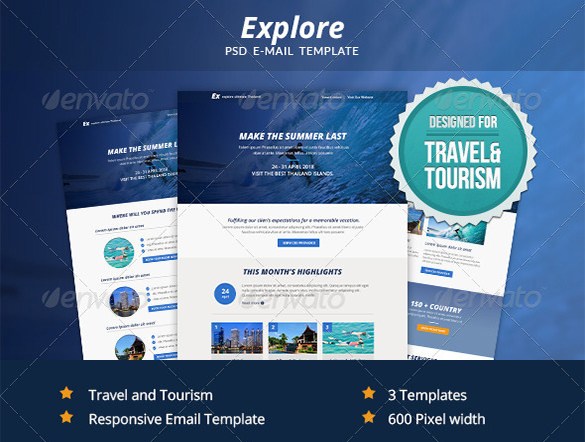 Check out this "Explore Email" template that comes with a clean and modern design for your travel and tourism emails. This template comes in 3 beautiful layouts and has PSD files that are well-organized so that you can edit the content easier than ever! It is also very much suitable for any corporate needs.
Multipurpose PSD Email Template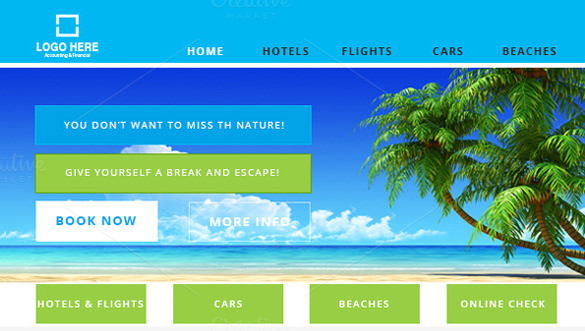 This Multipurpose Email Template is presented in four color schemes with each scheme corresponding to each different seasons of the year. Not just for travel and online bookings, it can also be used for personal blogs and online magazines. Impress your subscribers with this striking design of this template by easily send your email marketing campaigns, updates or periodical news.
E-commerce PSD Email Template
The above-shown e-commerce template is built to help companies or freelancers who want to find an elegant and neat solution for their email marketing. You can select the design that suits your company best, and you can promote it using this template which is guaranteed to attract the curiosity of your customers.
PSD Email Template In 3 Colors
This email newsletter template comes in a Photoshop PSD format in 3 different colors. It has separate PSD files with the layers of each template organized in named folders. It has an actual body size of 700 px sitting on a 1600px background. You can download it and get it coded.
Photography PSD Email Template
Don't miss out on this elegant, professional, and ultra-clean layout for your photography email newsletter. All you need to do is just change the content, logo, and images. It is fully customizable and comes in 5 color variants with 10 PSD templates.
Sample PSD Email Template
This template shows a sample PSD email design that can be used by you for reference purposes. As we can see, the template comes in three different variants of colors. The contents of the newsletter are placed in proper order, and the company name can be placed at the very top of the template.
Photography PSD Email Template Download
If you're in the photography business, then you can market your services or any latest offers by using this PSD email template. It has an elegant and professional design for your Email Newsletter. It's super easy to edit, all you need to do replacing the contents with your own.
Email Template PSD Set
Templates in the form of emails are designed for those who want to convey their message in a special way. If you want to impress somebody or even invite them you can do it right away with the help of these PSD sets.
GUSTO PSD Email Template
The GUSTO is another PSD Email Template with latest features and designs with various content and can be customized. This template is editable and organized for Email campaigning. You will find them in varied designs to choose from and customize with your own marketing data.
These above-shown templates offer a readymade structure, thereby saving you time and energy. You can download free PSD email templates from the internet. All the templates are available in various designs and layouts in both the format documents and PDF. As customers, satisfaction is our utmost priority so feel free to give any suggestions on the template designs and requirements.
If you have any DMCA issues on this post, please contact us!