Creating ID cards for all your employees is quite a tiresome affair. But, don't fret as you have ID card PSD template today online which can help you with a readymade ID card structure with space for photo and text. When you are working with such a PSD ID card template, there is no need to create the identity card from scratch and you are simply needed to customize the template with needed information. The great bit is that you will get free blank ID card PSD template over the internet and hence you won't have to worry about additional expense here.
> Create Your Identity Cards With The Help of PSD ID Card Templates
An ID card or an identity document is a document which can be used while verifying the identity of a person. It must be mentioned that each person has an individual ID. Wherever you, you will be given an ID card which is used whenever your identity is to be verified. Schools, place of work – you name it! You cannot ignore the importance of an ID card, after all, your entire identity rests on this one small card.
> What Is An Identity Card?
An identity document or an identity document is a small, standard sized card which is used to verify your identity. Your driving licence is one example of an official identity document. But temporary ID cards are issued from other places as well. For instance, every student in a school will be provided with an ID card. It will contain the student's image, his personal details, details about his parents and contact details. Similarly, in your place of work, you will be handed an ID card which you have to carry with you at all times. Sometimes, this card is also used for logging in. That is where a company id card comes in handy!
But how do you create a good ID card? Why, you look for a good identity card template, of course! It would save both time and money, and give you just the kind of ID card you need!
> Why Do You Need An ID Card?
Your ID card is your proof of your identity. If that isn't reason enough for you to create one, then these uses are sure to convince you-
Companies create ID cards for each employee which is used to monitor the activities of the employee, and to control his or her access. Most of these cards have machine readable identification. That means the employee can sweep his or her card on a scanner, and be granted access. In such cases, a picture is not always necessary.
If you join a library, you will be handed an ID card which is swiped every time you issue a book or return one. Similarly, if you join a club of some sort, you will have an ID card which certifies that you're the member of that club.
Most medical offices hand over a social ID card to their patients. Every time they come in for a consultation, you can use their ID card to find their medical history on your computer database. This certainly makes the doctor's job much easier. Hence, ID cards are important for tracking purposes.
Elegant Kindergarten School Identity Card Download
Hospital Identity Card Template Download
Editable ID Card Templates Bundle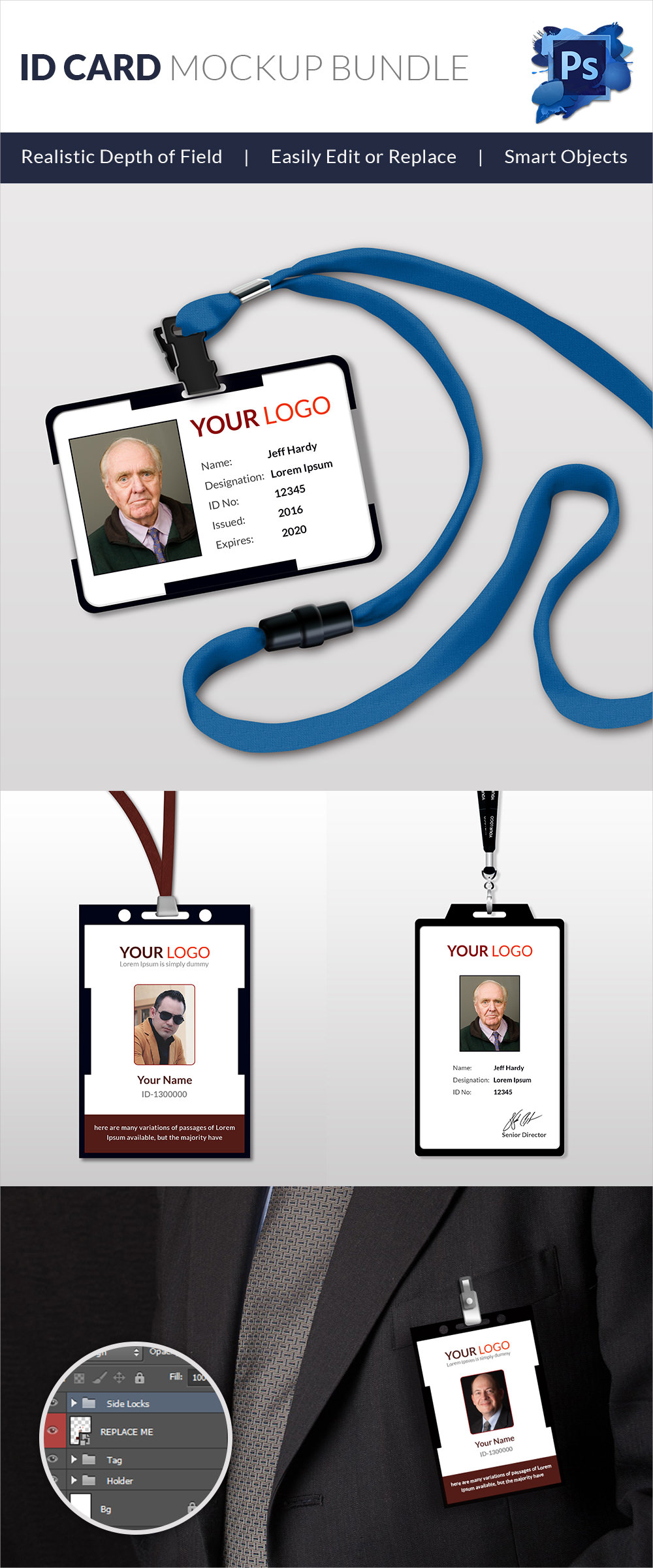 This id card template psd allows you to incorporate your company's logo in the id card. You can also insert an image in the template, followed by some details which you think are relevant.
Printable ID Card Template PSD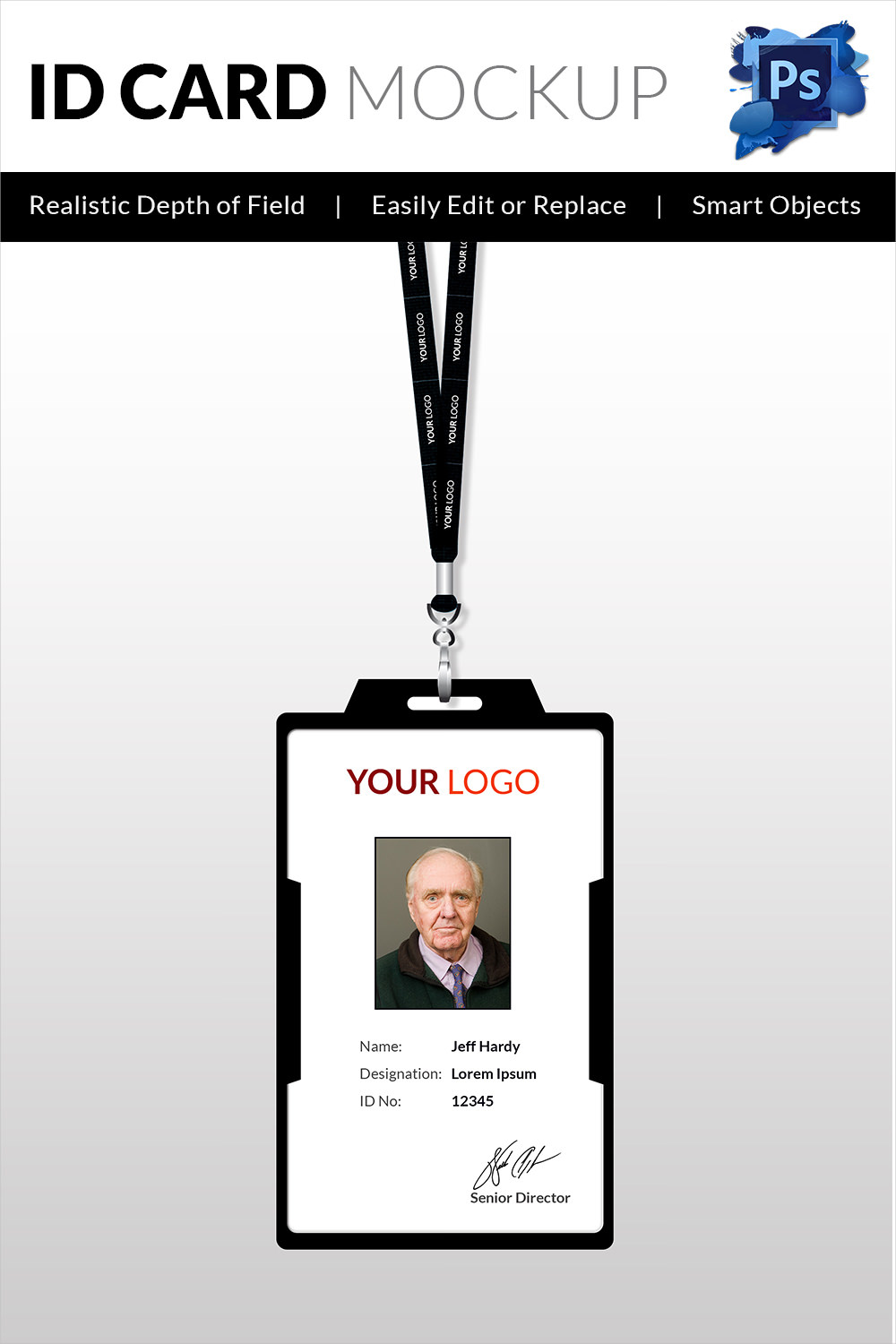 Looking for an id card mockup? Then look no further, this is the template for you. This id card template has been kept relatively simple and to the point, which makes it all the more professional yet attractive.
Professional Portrait ID Card Design
A photo ID is a must in your place of work. That is why you need to take a look at this photo id card template. Not only does it allow you to include a picture of the employee, but also allows you to insert details like name, date of birth, employee identification number and so on.
Photo Realistic Blank !D Card MockUp
The best part about this student id card template is that it is completely blank, except the important details. That means you can use it for a number of purposes, and customize it any way you want to. A student's id card usually doesn't require too many details, as shown in the template.
Simple PSD ID Card Template Download
A simple ID card would be perfect for schools. This sample can easily be used as a school id card template. All you have to do is download the template, and customize it according to each student. You can include a photo of the student, followed by other important details.
Multipurpose ID Card PSD Template
This is one smart ID card template that is easily customizable. You are getting adequate space on front to place a clear picture and the back of the template can be used for all other important data – like company name, work time etc.
Corporates ID Card PSD Template
If you are looking for a smart, sleek and crisp ID card, this is the template for you. The right side of the card can be used for the picture while the left will serve to hold the needed data about the employee.
Retro ID Card PSD Template
You are getting a modern, clean layout here where the photograph sits well in the center of the card and you can utilize the portion below to inform about the designation of the card holder.
Corporate Official Psd Id Card Template
The template can be customized on both the sides and would be useful if you need extra space to offer important data like emergency numbers. The photo will sit on front of the card.
Identification Card PSD Template
You are getting a very smart and professional template here which allows you to state everything on front. The photo will sit at the left and you can offer employee data on right.
ID Card PSD Template Download
This easy-to-edit ID card template enables you to highlight about your own company as well- without disturbing the picture space and other important data about the employee on the card.
Wood Texture ID Card PSD Template
This smart wood texture id card psd can be used for a number of purposes. You can use it for both corporate purposes and for schools. Irrespective of the purpose, you can just edit the details on the template in order to form your very own ID card.
Lanyard ID Card PSD Template
This employee id card design has been kept absolutely simple and to the point, there are no extraneous details in the id card. It allows you to include a picture of the employee, and his name and other necessary details.
Sample ID Card PSD Template
This id card sample psd would be perfect if you're planning to use an id card for corporate reasons. You can customize the id card as you please once you download it. Just add an image in the space provided, followed by other relevant details in the blanks already provided.
BSAA ID Card PSD Template
This is the perfect example of a template id card Photoshop which is both smartly designed and attractive. The black background makes the id card look really professional, and gives it a unique touch. Once you download the template, you will be able to edit this amazing id card.
Sohk-Oct ID Card PSD Template
This is a simple and well designed employee id card free download. It allows you to include an image in the id card. You can also add other details like name, date of birth, gender and grade. The attractive design also doesn't fail to impress.
> Customization of ID cards
An ID card, being the important document that it is, has a special format. You cannot just pick a design and go for it. Each identity card has a unique design, which is closely related to its purpose. To make your job easier, you can look for an id card format psd online. Once you come across a template or format you like, hit the download button.
Once you download a free id card template, you will be able to customize the ID card just the way you want it. You can add an image, name, date of birth, sex, blood group, contact details and so on. For company ID cards, the name of the company and the designation of the employee are also mentioned. The best part about these templates is that it is entirely up to you how you want to customize them! You may also see Day Care Identity Card Template
> Tips While Making an ID Card
There's a lot that goes into creating this small pics of card. And if you have been put in charge of designing one, you need to take a look at these tips now
First and foremost, decide what you need the ID card for. Are you designing one for school students? Or for your employees? Only when you have answered this question, can you proceed.
Decide what you want in your ID card. Some ID cards just have the name and the picture of the person. But you might want other details on the ID card. If you have a list of details you want in the ID card, you will be able to pick a design without much hindrance.
Do you want your ID card to have a machine readable identification feature? These are usually used in companies who want to keep a track or their employees' activities, and their attendance. ID cards that can be swiped on the scanner have made maintaining records easier. You ay also see Hotel & Holiday Identity Card Template
> We Are Here to Help!
At template.net, we understand the importance of ID cards. That is precisely we have arranged for a wide range of options to choose from. Here, you will find ID card templates of different kinds. So what are you waiting for?