Psd
53+ PSD Letterhead Templates
Designing a letterhead sample has become easy now, thanks to the readymade PSD letterhead design templates. What's more, they are fully editable and can be personalized to suit the company or project's needs. We have compiled for you some very examples of letterhead designs that have been created in Adobe Photoshop.
You can easily make modifications in the separate layers available in the files included in each Doc letter template. With our templates, you can make letterheads for any company/industry be it high school, medical, and nonprofit. We have blank, minimalist, and even blue layouts to give your letterhead a distinct look. Download the letterhead design template of your choice and show off your creative flair!
Business Letterhead Template with Light Blue Color
Small Business Letterhead Creative Template
Ice Cream Letterhead Template with A4 Size
Marketing Agency Letterhead Template Layout
Printable Hostel Letterhead Template
Clean Letterhead with MS Word Doc & PSD Design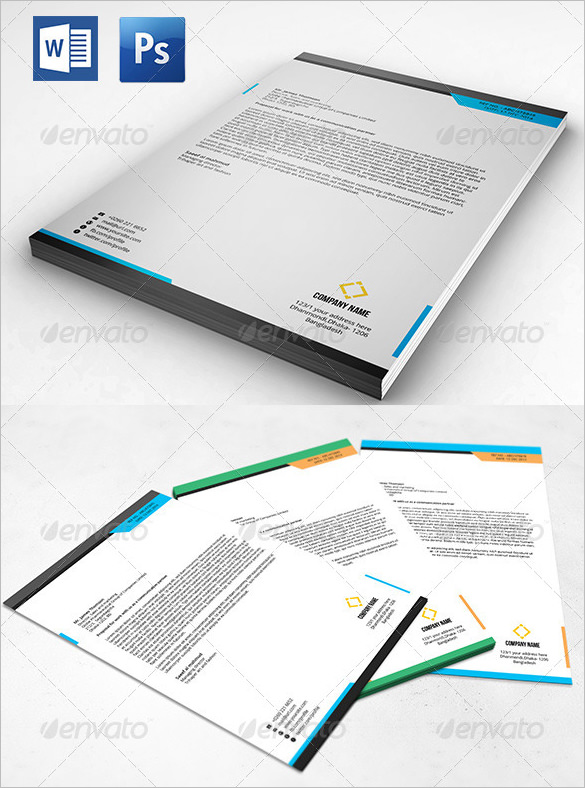 Clean letterhead template with sample word doc files. With layered PSD design and 300dpi resolution, the template is available in A4 size and promises an easy edit facility. It comes fully layered too.
Corporate Letterhead Stationery Template EPS Format Download

This letterhead template package comes loaded with 3 creative and corporate letterhead templates with MS-Word doc compatibility. Some of the features include fully editable layered files, different color combos, and printer-friendly.
Corporate Stationery Template AI Illustrator Format Download

This corporate stationery template AI illustrator format can be used to create visiting cards, letterhead designs, writing pads, and envelops. It includes help guide files as well the adobe illustrator tool.
Simple Unique Corporate Custom Letterhead Download

This simple unique letterhead format template suits different types of business usages as well the professional requirements. It comes with sample letterhead formats that can be easy to modify as per requirement.
Passionate Corporate Personalized Letterhead Style Template

Passionate corporate letterhead style templates can be used for creating small business personalized letterheads, visiting cards, sample invitation formats, and circulars. This company letterhead template has a niche appearance with easy customization features.
Download Bold Stenciled Wood Construction Company Letterhead

Download the Bold Stenciled Wood Construction Company Letterhead to make a creative presentation of your identity within the workplace. It comes with letterhead layout example templates that can be modified as per the requirement.
Law Firm Stationery Letterhead Template PSD Download

Law Firm letterhead is a stationery design template with professional looks that features layered EPS and AI files. It includes options for designing business cards, letterhead, and envelopes. Aver typography has been used.
Premium Download Company Letterhead AI Illustrator Format

This Premium Download Company Letterhead template in PSD comes with a built-in AI Illustrator. It is often considered to be one of the best free printable letterheads available that can be used for professional purposes.
Professional Letterhead Template Design Premium Download
This Professional Services Letterhead Template comes with a premium design and offers a free download option. It is apt for designing letterheads and PDF business cards. It also includes fully layered adobe illustrator files.
Download Legal Scales of Justice Law Office Letterhead Template

This template is ideal to create customized printable letterheads for professional and personal usage purposes. There are different sizes to make the pick. It is compatible with both laser as well inkjet printers.
Premium Rebecca Stationery Design Legal Letterhead Template

This Basic letterhead design vector template is easily customizable and features 8 color and style variations. It also includes EPS, AI, and PSD files, all being perfectly wrapped in a ZIP folder.
Letterhead Design Template CMYK PSD File Format
Modern Corporate Letterhead in MS Word

Convey your professionalism by creating modern word corporate letterheads with this template. The name and address of the company come at the top right or top left. It has a simple yet impressive design.
A4 Paper Size Clean Letterhead Design EPS

This A4 size clean custom letterhead design template highlights the four sides of the page with a distinctive color. The name of the company comes in the middle and the bottom provides contact information.
CMYK Letterhead Pad Design

This CMYK letterhead in PDF pad design has a color strap at the top and a triangle at the bottom right corner. It gives a simple yet distinctive look to your company's letterhead. The name of the company appears twice.
Corporate Letterhead Design Template

The company logo and the name of the company come at the top right corner of this PDF corporate letterhead design template. Straps of two different colors run along the left side and at the bottom.
Letterhead Design PSD

This letterhead design PSD template places the logo and the name of the company at the top left corner. A dual-color strip at the bottom makes this letterhead unique for your company.
Simple Letterhead Design
Business Letterhead Design Template
Company Letterhead Design Template
Corporate Letterhead PSD Template
Letterhead Template with DOCX and PSD
Best Letterhead Design PSD Template
Stationery Letterhead Design PSD Template
Corporate Letterhead Design PSD
The Letterhead Design Template
Corporate Letterhead with MS Word
Corporate Letterhead Design
Corporate Letterhead
Corporate Letterhead Template
Identity Mockup Design
Free Letterhead Mockup
Letterhead Mockup
Corporate Letterhead Template to Download
PSD Letterhead Template to Download
Corporate Letterhead with PSD
Letterhead PSD Template
Letterhead Mockup Set
Corporate Letterhead
Custom Letterhead Design
Rainbow Color Letterhead
Elegant Letter Head Design
Minimalist Letterhead Template
Corporate Letterhead Designs
Blank IT Letterhead Template
Medical School Letterhead Template
Nonprofit Letterhead Template
Having a well-designed PSD services letterhead mockup is a great way to let the world know about the artistic talents of a specific artist or designer. The trick is to develop a PSD letterhead template that is capable of grabbing the attention of the reader as soon as they open the mail. It is fun for a designer to work on elegant yet memorable designs in the case of PSD printable letterheads. It is necessary to pick a specific theme and work with it. Complementary typefaces are necessary to capture the spirit of the chosen theme.
The designs do not always need to be complicated. Simplistic graphic designs may be developed for PSD creative letterheads that are both simple and effective. Designers can play around with various concepts, such as the use of ambigrams in the case of PSD letterheads i.e. they can apply graphics that spell out a word not only in its actual form but an entirely different orientation or direction. The design will be featured prominently on the letterhead and incorporate a good concept.
When working with PSD letterheads, the designer has the freedom to play with the color palette and so, it is necessary to pick a good shade that complements the theme of the PSD letterhead design. A letterhead can be described as a certain type of heading being inscribed at top of the sample letter paper.
A letterhead need not necessarily have to represent only a company. Rather, it can also represent the name of professionals who are attached to the company or small business in pdf. Printing some important documents on an absolute blank paper would never envision the importance of the correspondence. The presence of letterhead highlights the importance of the words being written on the paper. Henceforth, it becomes exceedingly important to get a letterhead designed for the small business letterhead in PSD.
> Why is it Important to Use Personalized Letterheads?
These days, most companies prefer using personalized letterheads. Most of the larger corporations prefer this approach to personalize the interaction part with potential prospects and clients. Proper communication is absolutely important for any and every level of the business. Therefore, it would be better to say that the use of personalized letterheads should not be restricted only to large organizations. The small-scale industries, new-to-the-market entrepreneurs, as well freelancers would also benefit largely from these personalized letterheads. You can see also free agriculture letterhead templates.
> With Personalized Letterhead, the Business Tends to Appear Bigger and Better
Personalizing a letterhead would simply mean that you are going to put your name in the contact area or header section. This signifies the fact that you are leading a team of workers. This makes the situation easier while landing in larger sample contracts from clients and other companies. Getting contracts signed in personalized company PSD letterheads would assure the clients that the projects won't get derailed, no matter whoever sits in the position responsible for the contract.
If you have a small team to work with (or even if you are handling everything singlehandedly), it would always be a better tactic to give yourself the title of Accounts manager, or service executive instead of highlighting as the founder or president of the company. It would make the scenario much easier while handing off different segments of the projects to contractors being part of the extended team. You need not have to take responsibility all along. You can see also Accounting Letterhead templates.
> With Personalized Letterhead, the Approach to Work Becomes a Lot Easier
When you are leading a team of successful and expert professionals, your valuation in the market improves. Many clients will try to make deals with you. When the communication part comes directly from you and not from the company at large, you will always find a plethora of clients who are eager to go for a better deal.
> Creativity Helps in the Sales Productivity Part Personalized Letterhead Lights Up Your Sales Figures
For any personalized letterhead, being creative is the key to success. While designing the letterhead, try to ensure that it looks catchier. Don't settle only for name inclusion. It would create a dull appearance; rather, try to be creative with the inclusion of pictures and a short intro that would highlight your business skills along with roles and responsibilities. This would make your appearance look more human and would be beneficial in acquiring interesting projects while fueling client loyalties. You can see also letterhead graphic design templates.
Remember, anyone who would love to do business deals with that type of person whom they can relate to and feels comfortable working with. Personalized letterheads can even act as a necessary tool for direct sales Speaking about small businesses, they usually have a fixed sample budget to work with. In most cases, the budgetary amount is quite tight, and hence, availing many of the provisions seems to be difficult.
That's the reason why grabbing every smallest of opportunities that comes the way needs to be grabbed in sample order to maximize productivity. With the help of personalized letterhead, even micro-businesses can gain productivity. Search through the internet and you would figure out a whole lot of personalized construction letterhead templates that can be used to design the letterheads in the most unique pattern possible.
Believe it or not, personalized letterhead can become a very powerful part of the overall branding and marketing strategies. Be it a small business Publisher or large alternative, this concept seems to be highly effective in every scenario. While heading towards the press to get the letterheads printed, ensure that they are printed on premium paper type. It must be ensured that the finishing is perfectly done.