Psd
Banner Ad Template – 50+ Free PSD Format Download!
Time in time, you will need to run ad campaigns using banners as the advertising media. It requires you to have an app that can create for you the best printable banner ads, which can show properly in streets, entry points, stadiums, buildings, and other vantage locations. Designing ads for your business can be time consuming with all the graphic design work, color matches, and other elements you have to look at. When running your advert campaigns using banners, the first aspect you will need to consider is design. An attractive banner should have a professional design, which grabs the eye of the readers. People who see the banner will be more interested and curious to discover more about your business or brand. You can have many people visiting your offices to get more information about the services or goods that you are advertising. This way, you have the opportunity to convince the visitors to buy your products. If you are not a graphic designer, creating a banner may not be easy for you. It may be quite difficult to design it from scratch.
Simple Non Profit Ad Banner Template
Printable & Customizable Christmas Banner Ad Template
Printable and customizable Christmas banner ad template is designed wisely with fully editable layers, and smart object for editing the photos. It is available in Photoshop format and will help you make ad banners for offers and sales during Christmas.
Christmas Web Banner Ad Template Customizable
Christmas web banner ad template customizable will ensure that you create a beautiful banner for promoting offers and services during the festive season in no time. It comes with fully editable layers and is available in eleven standard banner sizes.
Instagram Banner Ads Template PSD Format Download

Instagram banner ads template is available for download in PSD format and comes with a resolution of 72 dpi. This banner has been made using the standard RGB color model and includes seven different designs. Download now!
Premium Travel Ad Banners PSD Format Download

Premium travel ad banners available in PSD file format makes a great choice for all travel, photography and lifestyle related topics. It includes 21 Photoshop files, vector images and is fully editable. Download now!
Web Banner Ad Template Set PSD Design Download

Web banner ad template set comes with 18 fully layered PSD files that can also be easily customized. You can choose from three different designs and six different standard ad sizes to create your own ad banner. Download now!
Google Web Designer HTML5 Ads Banners Template

Built with HTML5, Google web designer ads banner is a really flexible and multipurpose template that comes in multiple standard banner sizes to fit any use like sales, offers, services etc. Download now!
Plastique Banner Ad Templates PSD Download

Plastique banner ad template available in PSD format comes packed with awesome features like more than 30 animated templates, multiple vibrant color schemes, organized PSD files and much more. Download now!
Roll Up Banner Ad Template Free Download

Roll up banner ad template is available for absolutely free download and comes with a catchy design in yellow and grey. It has a minimalistic design that does not allow much editing options and hence is really simple to use. Download now!
Funky Summer Sale Banner Ad Template in PSD

Funky summer sale banner ad template in PSD has a very catchy look with yellow and orange colors to represent the vibrant mood in summers. It comes in multiple standard sizes and allows you to add a heading with big font and other details in relatively smaller font. Download now!
Creative Design Agency Roll-up Banners Template Download

Creative design agency roll-up banners template has a very attractive, elegant design and comes with four choices of layouts, all equally suitable for agency, fashion, photography, portfolio and related topics. Download now!
Web Marketing Banner Ad Templates in PSD Download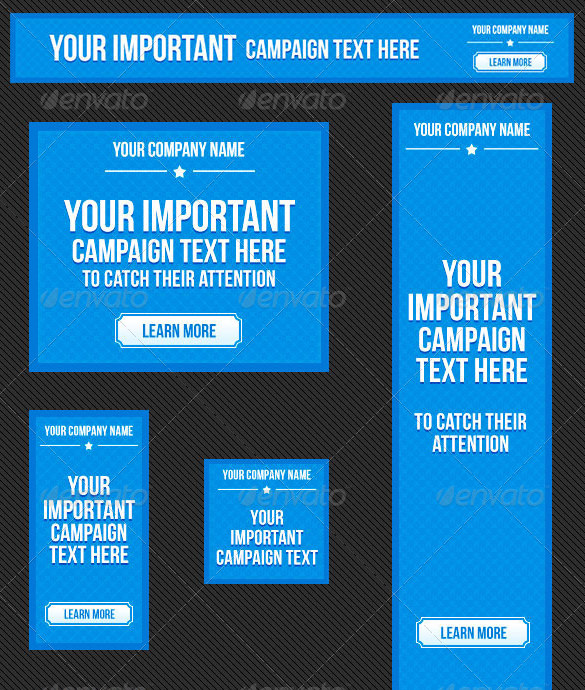 Web marketing banner ad templates in PSD has a very basic, neat design with company name on top, followed by the important tagline and then the learn more button to direct customers to the full details about the campaign. Download now!
All Standard PSD Banner Templates Free & Premium Download

Getting all standard PSD banner templates for absolutely free will not only help you create promotions for any kinds of products and services but also ensure that you get awesome print quality with all standard size banners included with each free download.
Facebook Timeline & Banner Ads Template Editable in PSD

Facebook timeline and banner ads template is crafted with care, specifically for promoting products, services, events etc. on the very popular social networking site, Facebook. It is fully customizable and is available in various designs with editable PSD files.
Creative Abstract Blue Background Web Banner Ads

Creative abstract blue background web banner ads template is available in multiple standard banner sizes and has a very interesting blue background with patterns in it. This template is really simple to use and hence suitable for even beginners. Download now!
Download Medical Career Banner Ad Template PSD Editable

Download medical career banner ad template to create banners with catchy designs for promoting medical institutes. It comes in four standard sizes with editable PSD files and spaces to add pictures. Download now!
Advertising Banner Ads Vector Set Free Download

Advertising banner ads vector set is optimized is a web banner available for free download and is optimized to work its best with any screen size. It is easily editable and comes with a simple, neat design. Download now!
Download Premium Digital Camera Banner Ad Template

Download premium digital camera banner ad template to create awesome promotions for cameras. It comes with a very catchy yellow background and picture of a photographer holding a camera. The texts are fully editable.
Vector Web Banners Standard Size Download

Vector web banners standard size download will ensure that you have an awesome web banner readied really quickly in any preferable standard size to promote various products, season's sale, services etc. Download now!
Online Shopping PSD Banner Ad Template Photoshop PSD

Online shopping template is crafted with care for promoting products in ecommerce websites. It is available in the very popular Photoshop format, making it really easy to use and comes with well organized PSD files.
Horizontal Banners With Place for Your Text Download

Horizontal banners with place for your text template is a really simple and flexible template that can be used easily by anyone with very basic knowledge. Just download it and edit the spaces provided for texts to get your banner ready quickly.
Charity Event Bus Stop Banner Ad Template PSD Download
Elegant Real Estate Banner Ads Template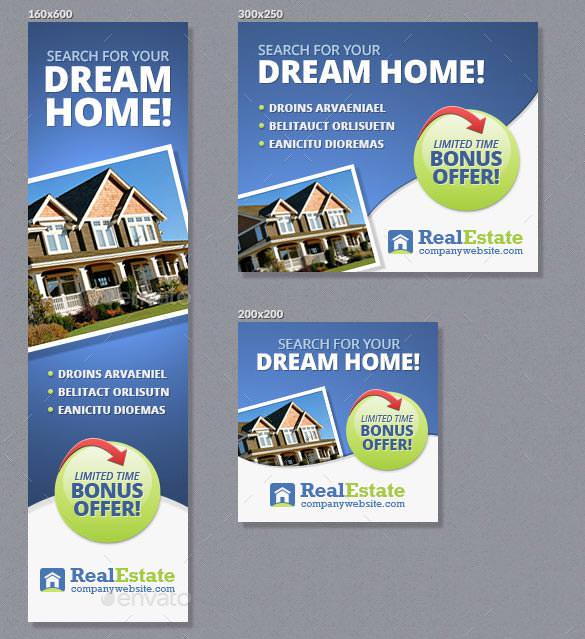 Available in more than 10 sizes, Real Estate Banner Ads comes with a minimal design that directs your attention to the content. Images can be added easily and together with bold fonts announce your content loud and clear.
Beautiful Summer Sale Banner Ad Design

Summer Vacation Sale Banner Design, with a bright and dark background gets your attention in an instant. Available in more than 10 sizes, it comes with a 100 editable design.
Different Size Sport Banner Ads PSD

Sport Banner Ads comes in 20+ sizes with fully layered PSDs that make editing text and colors very easy on the eye. Images can be added as smart objects while the shapes are included as vectors.
Christmas Sale Advertise Banner Designs

Xmas Ad Banners comes in 15 standard sizes with a stylishly designed background and highly editable texts. This template also comes with Facebook and Twitter images for better promoting your product on social media.
16 Different Sized SEO Banners & Campaign Ads

SEO Banners is a Google optimized banner template that comes in 15+ sizes. It is fully editable and the use of smart objects for images makes changing images very easy.
Special Sale Offer Banner Ads PSD Files Download
Fathers Day Special Sale Banner Ad Design
Econamy Business Banners Ads Templates Download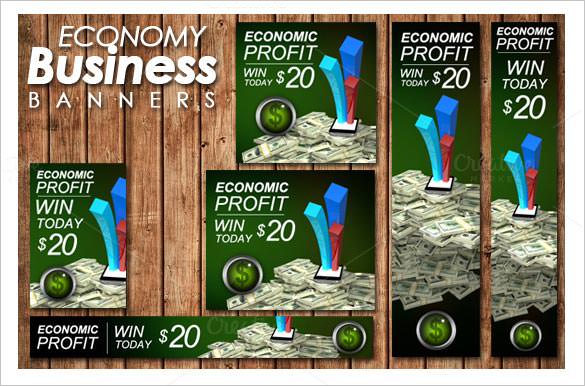 Tours Travel Banners to Promote Business
Modern Sales Banners – PSD
Teethy – Web Banner Ads
Corporate Web Banner Design Template
Blue Web Banners
Promotional Banner Vector Design
Mobile App Web Banner Set – PSD
PSD Banner Sale
Free PSD Banners
3d Banner Ad Psd File
Economy Business Banners Ads -PSD Files
Sweet Web PSD Banner Set
Multipurpose Web Banner & Ad Kit
Sales Banner PSD Set
Automobile Website Banner Template
Art & Photography Web Banner Templates
Mixed Web Banners Se
Free Web Banner PSD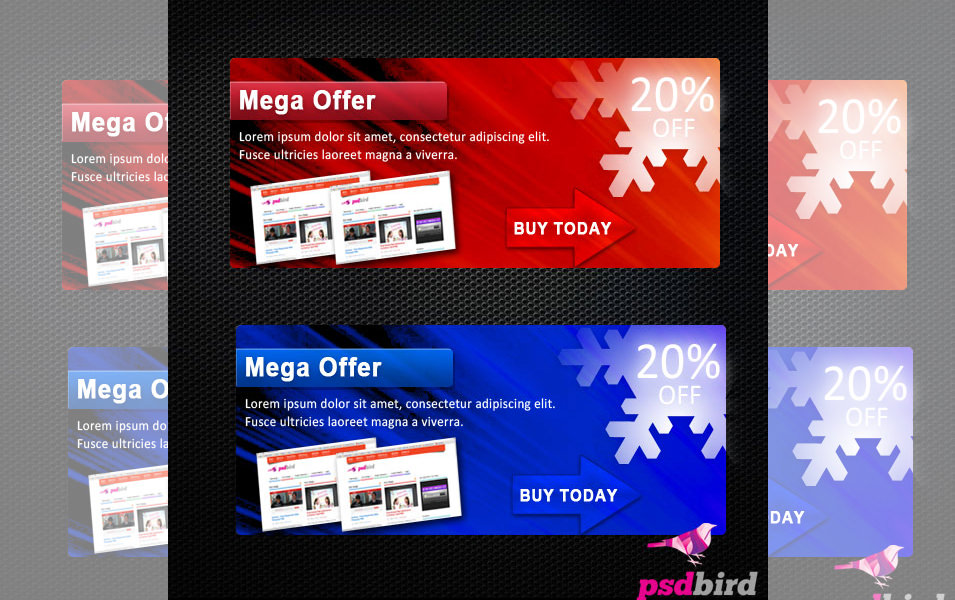 Free Web Banners Ads PSD
Coupon PSD Banners
Spring Banner Set – PSD File
Corporate Banner Set Bundle
But you do not have to struggle with the design work because there are Free PSD Banner Advertising templates, which you can use to come up with the banner for your Facebook advertisement. The good thing is that you can edit and work around these templates so that you change your ad to align with your advertising needs and design. It will save you time and at the same time allow you to use banner ad designs, which have been created by professionals in the industry.
More in Psd
| | |
| --- | --- |
| 22+ Banner Design Templates – Free Sample, Example, Format ... | 365+ Banner Templates – Free Sample, Example, Format Download ... |
| 25+ Facebook Banner Templates – Free Sample, Example, Format ... | Youtube Banner Ad Template – 14+ Free PSD, AI, Vector EPS ... |
| 15+ Facebook Banner Size Templates | 121+ Christmas Banner Ad Templates – Free PSD, AI, Illustrator ... |
| 5+ Free Download Banner Templates in Microsoft Word Free ... | 9+ Free Banner Templates - Free PSD, AI, Vector, EPS Format ... |