Psd
43+ PSD Wedding Templates
PSD is the acronym for Photoshop Document—the format that Photoshop uses to save data by default. With this type of file, the user can work with individual layers of the images even after saving them. Now that a wedding is going to take place in your family or friend circle, you can use PSD wedding templates to create something unusual for the big day. There are various areas for which you need to create PSD during a wedding, like the sample invitations, wedding ceremony sample programs, wedding photo albums, etc. You can use these PSD wedding templates to create all these professionally without disturbing your budget. You can also see Wedding Card Templates.
Floral Wedding Template Layout
Sample Wedding Poster Template
Banquet Wedding Menu Template
Watercolor Wedding Invitation Template
Beach Wedding Flyer Template
Wedding Planner Template
Wedding Certificate Template
Eye Catching Wedding Flyer Template
Attractive Wedding Invitation Flyer Design
Creative Photo Wedding Save the Date Invitation Card Template
Multiple album sets are available with the premium selections which are loaded with other specifications like an editable layout and customizable schemes. Album templates can also be downloaded and installed based on the user requirements and these also showcase gallery support. Multiple PSD files and extensions make the backbone of these best in small business wedding templates in addition to the exhaustive pages with varied color combinations.
> Celebrate Your Wedding In Style With Beautiful Wedding PSD Templates
Are you about to get married soon? Well, that's amazing. However, a wedding planner is a big thing with so many things to arrange and so many people to inform about your D-day. Wedding stationeries play a big role here and you would need a big bunch of them, starting from wedding invitations, save the date cards, thank you cards and so on. If you are running out of time, take the help of the PDF wedding templates.
Watercolor Wedding Invitation Template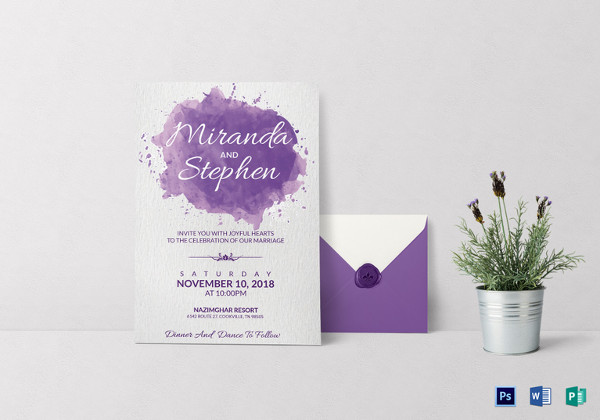 Wedding Menu InDesign Template
Wedding Photography Brochure Template in PSD
Watercolor Wedding Certificate Template
Simple Wedding Seating Chart Template
Floral Wedding Invitation Template in Red
Wedding Ceremony Menu Illustrator Template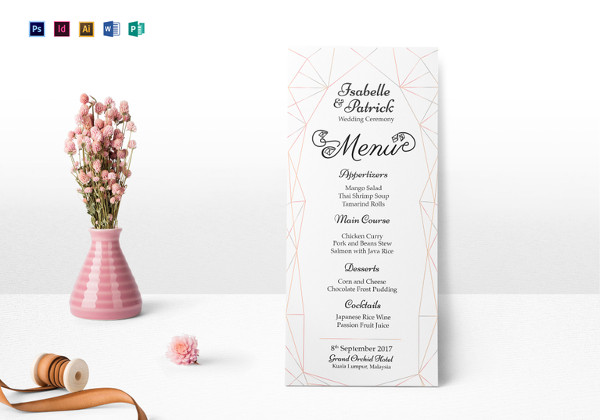 Wedding Planner Brochure Photoshop Template
Garden Wedding Label Template
Fall Wedding Table Card InDesign Template
Printable Wedding Photo Flyer Template
The wedding flyer template here opens up with a vibrant picture of the joyous bride who is looking forward to celebrating her life on her D-day. The theme is duly complemented by the golden font and tinkling champagne glasses.
Wedding Invitation Card Template
Floral Wedding Tag Template
Free Chalkboard Wedding Menu Template in Royal Blue
Wedding Checklist Template
>
Why Use Wedding Templates?
Sample Plan a wedding is no doubt an elaborate affair. There is the venue to decide on, the perfect dress to buy, the splendid cake to sample order, and so on. Such details hardly leave you any time to sit and design your wedding stationeries. In such situations, the wedding templates come handy as they offer you a readymade structure for your invitation or thank you card in PSD–so that you don't have to start anything from scratch. Not everyone is tech-savvy and able to design their invitation or save the dates all by themselves on the computer. The templates come to the rescue here by offering them a predesigned structure that they can personalize in their ways.
> Types of Wedding Templates
The wedding templates in PSD are many and varied. To start with, they help the couple with all needed wedding stationeries such as invites, envelopes, flyers, save the date simple cards, wedding guest list template, thank you cards, and so on. If you are planning to create your wedding website template, you will find fitting website templates as well.
Then, you have wedding templates for those who offer services at the wedding. Thus, there are wedding album design PSD templates for photographers and DVD service companies, website templates for wedding event planners, and so on. You will also find wedding album design PSD free download templates for your wedding photography or event planning sample brochures. Finally, there are templates for wedding magazines and business cards for those who cater weddings, such as wedding DJs.
Golden Jubilee Invitation Card PSD Template
Download Wedding DVD Blu-Ray Cover Template
If you are looking for gorgeous DVD label wedding album templates, this one is sure to blow your mind away with its ravishing backdrop. The name of the couple appears on the cover front as well as on the side.
Sample Wedding Seating Chart Template
Download
If you are having a hard time creating a seating chart for your wedding guests, this wedding seating chart template here would ease the situation by offering ready-made customizable sample charts.
Wedding Invitation Template With Envelope EPS Format
If you are in quest of classy wedding invitation templates in PSD with envelopes, this template here would be handy for you. The cool blue background looks amazing for the invite and so the customizable pristine envelope.
Wedding Shower Invitation Template PSD Design
Wedding simple invitations need to be impressive and eye-catching. The quality of your wedding invitation will give an idea of the quality of arrangements you have made for your wedding. A PSD wedding invitation template will help in creating a professional-looking wedding invitation that you can send to your guests.
Wedding Website PSD Template Free Download
Download
If you are looking for the perfect layout for your wedding party arrangement IT software website, this wedding background template would be your best ally here with its charming pristine layout and well-organized sections.
Wedding DJ Business Card Template Download
The navy blue and orange make an interesting blend, offering the desired spunk and elegance you call for in a perfect PSD business card for an enthusiastic wedding DJ. It's neat and edgy.
Wedding Stationery Mockup PSD Template Download
If you are a wedding stationery designer looking for mockups for wedding cards and envelopes, this wedding stationery mockup here would be a great bundle for you—the vintage wood effect has added good depth to the package.
PSD Wedding Ceremony Program Templates
A wedding ceremony simple program will mention all the proceedings of the wedding so that the guests can decide which ones to attend and which not, and come prepared for them beforehand. A PSD wedding ceremony program template will have all the customs that are followed in a wedding, but you can customize it as per your needs.
Wedding Magazine 24 pages With 2 Cover Design Download
Download
If you are looking for help in creating a ravishing wedding magazine, this classy wedding magazine template would be helpful with a strategic layout spanning 24 pages and high-resolution pictures.
Wedding Bifold Marriage Brochure Template
This wedding bifold brochure template has come up with a rich Victorian touch with its dark bold backdrop, duly accompanied by the archaic fonts and a timeless message on the essence of love and marriage.
PSD Template for Wedding Event Planners Download
Download
If you are planning to have your beautifully decorated wedding venues do the talking for you on your event planning design website, this website layout template would be the most amazing pick for you.
If you are looking for practical wedding PSD files free download for sample brochures in PSD where you can highlight your stunning shots and also mention a sizeable brief about your company & services, this modern brochure template is the thing for you.
GIANT Nautical Wedding Collection Templates in PSD
If you have chosen a nautical theme for your wedding, these nautical wedding collection stationery files would be an excellent aide for your save the dates & thank you cards PSD with their marine illustrations.
Wedding Day Schedule Template PSD Format Download
Download
You are getting a beautiful wedding day simple sample schedule template here in a pretty pink backdrop where you can write a simple note to document the events to be hosted throughout the D-day along with the pictures of the couple.
The Wedding Invitation Template Photoshop PSD Format Download
The golden bubbles speak of the joyous celebration awaiting the couple and their guests on the wedding day. The modern invitation template looks even more elegant with archaic fonts and the golden rings entwined with one another.
Wedding Photographer Pricing Package Template
This 2-sided wedding photographer pricing guide will enable you to upload one of your most stunning bridal shots and mention your name below on the front while the backside will detail the pricing.
Download Wedding Free Flyer PSD Template Design
Download
This free wedding flyer template in PSD will enable you to spread the word about your upcoming D-day to all your guests in style with a lovely picture of you two at the center and the party details on top.
Wedding Day Timeline Template Premium PSD Download
Wedding Collection Banners Template PSD Design
Wedding Items Programme Guest List Sheet PSD
Just Married PSD Template Download
Download
10×10 Wedding Album Blank Templates PSD Editable
Creative Engagement Wedding Card Template Premium Download
Wedding Background Texture Template PSD
Photoshop illustrations are also supported by these top-rated templates besides the scalable dimensions and a vibrant layout. As a wedding requires a set of accessories and arrangements, most of these templates come with shopping carts integrated alongside the existing framework. Image files based on PSD compatibility can be modified by professionals as most of these templates are highly responsive and look great on both mobiles and PCs. Engrave the wedding card PSD memories permanently with these exceptional templates featuring an updated database.
> Tips on Using Wedding Templates
You must keep in mind the wedding theme while picking the wedding template or wedding album background. For example, an elaborate backdrop design won't suit a couple heading for a simple celebration.
The colors you choose for your wedding stationery must be soothing to the eye. Gold, royal blue, and red are common colors for wedding stationeries and you must make sure to pair them with lighter sample contrasts.
If you are planning something unique with your wedding stationery, there are vintage theme templates to go for.
If you are a seasoned photographer, choose a photobook PSD template that will allow you to upload your multiple stunning shots.
The fonts you use should be legible.
Be clear about the dates before you place them on your template.
> Creating Wedding Stationery with Customizable Templates
The wedding stationery templates can be easily modified. You simply have to download them and edit them with your pictures and specific details. Some of the templates will even allow you to change colors. Then, you would simply have to print them out.
Mistakes to Avoid in Wedding Templates
Do not use more than 3 fonts as otherwise, it would be confusing
Do not use outlandish shades
Do not cram up the flyer or invite with unnecessary details.
> Come to us
When you are in search of the best wedding templates, come to us at Template.net. We have scores of album templates and readymade layouts for various other wedding stationery items. Whether you are the bride looking for an elegant wedding invite or a wedding DVD service provider in search of a cool layout for your album cover, we have got everything for you, and that too in versatile designs by experts.
How to Create PSD Wedding Templates
PSD wedding templates are attractive templates that help in creating professional-looking wedding albums, invitations, and other PDF documents related to the big day. With romantic themes and attractive colors, they leave a long-lasting impression on the minds of your guests, and some may even keep them cherished as a memoir of your big day.
Anyone can use PSD wedding templates to create attractive wedding printable invitations, programs, photo frames, photo albums, etc. With attractive themes, colors, and designs, these templates allow you to make exceptional wedding documents without the need for professionals. Just download the appropriate template, insert your required details, and create attractive wedding Word documents as per your requirements.