Psd
PSD Resume Template – 51+ Free Samples, Examples, Format Download!
The overall look, presentation and content of a resume can make or break a candidate's career. Therefore, one common piece of advice hiring managers and recruiters dole out often is: make sure you create a resume which is qualitative and matches with your caliber as a career-focused professional. It is no secret that not all of us are pros when it comes to designing and building a resume. Well, there's no reason to worry as there are readymade PSD resume templates easily available for grabs now! You can also see free resume templates.
16 Professional Resume Bundle for Job Seekers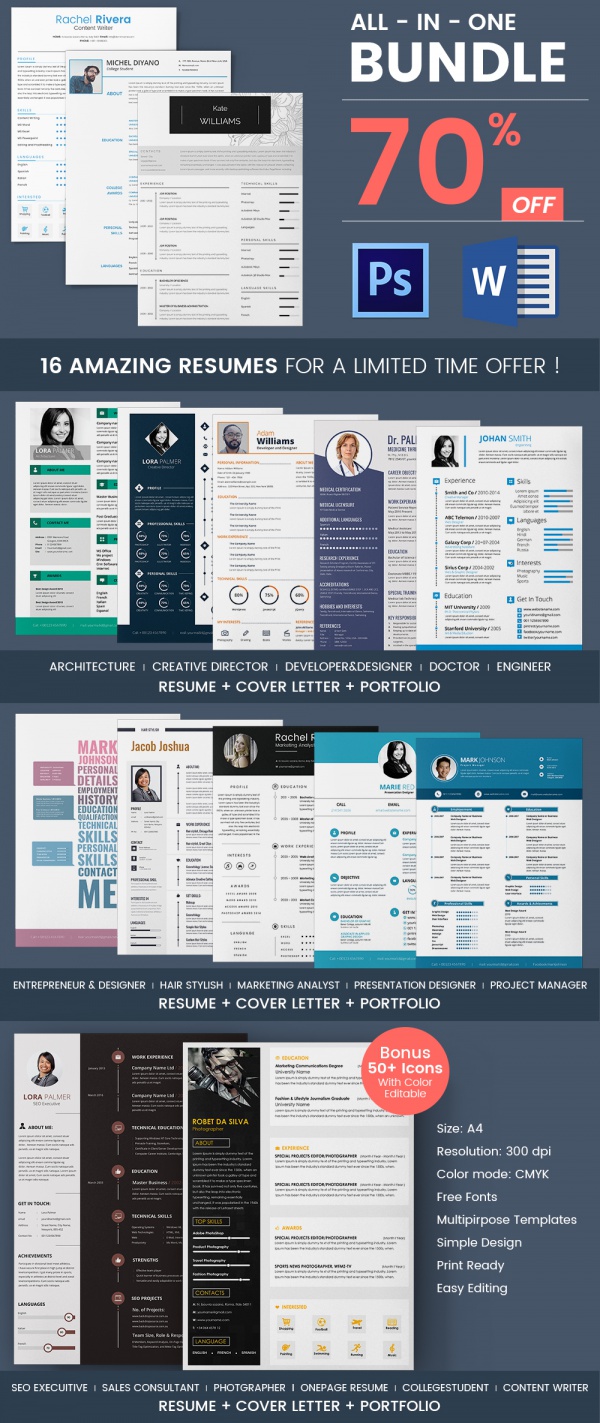 Bundle of 12 Creative Resume Templates
Regardless of the field you're setting your eyes on, your resume has to deliver a punch which motivates recruiters to line up for interviews immediately. Thanks to qualitative resume template samples such as this one, it is mighty simple and easy to create a resume for yourself. This bundle template is well-suited for creative job-seekers.
Editable Architecture Resume
Put the designing skills that you have at your disposal to good work in designing a resume. This customizable resume format is the resume template of choice for job seeking architects all over the world.
Creative Director Resume
Use this creative PSD resume template to create a fresh and unique resume for yourself. The template is very easy to use and it can be edited to your specific needs and requirements.
Fully Layered Designer Resume
Let your creativity flourish with this amazing resume PSD template that has been created especially for designers after detailed analysis. The template is extremely easy to use and boasts a large collection of fonts and styles.
Professional Developer Resume / CV Template
With an amazing resume such as this one, it would be hard for employers and recruiters to give your application a miss. It is designed adhering to professional standards and the style is at par with the resume formats trending nowadays. This sample is fully customizable, editable and easy to download.
Professional Software Engineer Resume Template
This particular resume mockup is apt for candidates applying for a job position in the engineering industry. The resume is highly customizable so users will not face any issues remodeling the resume design, layout and other aspects as per their needs and requirements. Be it a fresher or an experienced engineer, this sample suits all.
Unique Artist , Designer, Entrepreneur Resume Template
All of us are unique and now it is time to showcase what makes us unique using this awesome resume template sample to create your very own unique resume. The perfect template for uniqueness.
Fancy Art Director Resume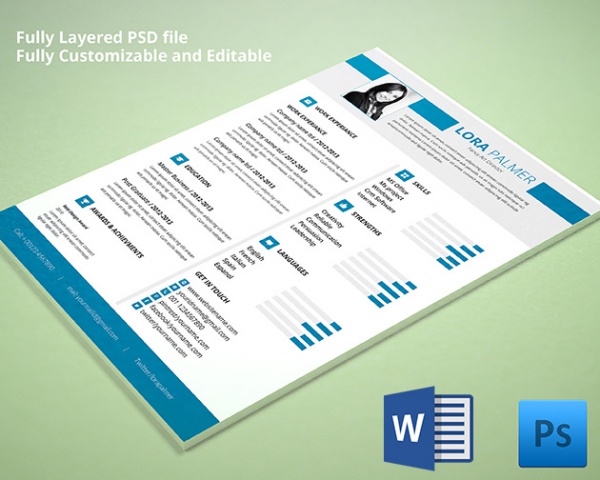 Use this very fancy and tasteful resume to create the perfect resume for an art director. Available for Photoshop this resume template is very easy to use with multiple editing options.
Editable Fashion Designer Resume / CV Template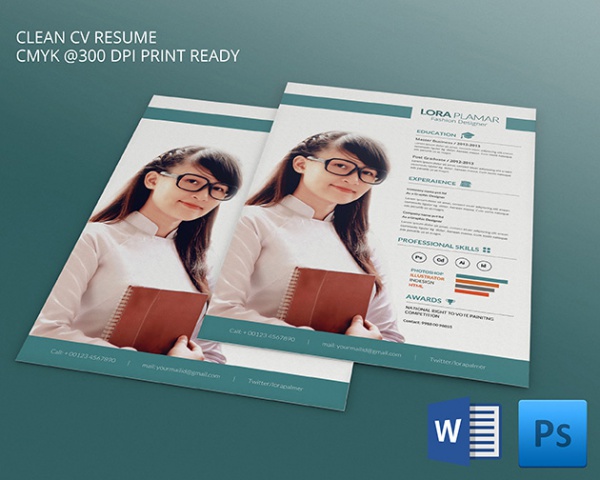 Put your designing skills to good work and create an attractive resume using this editable PSD resume template. The template is easy to use and has lots of editing options.
Graphic Designer Resume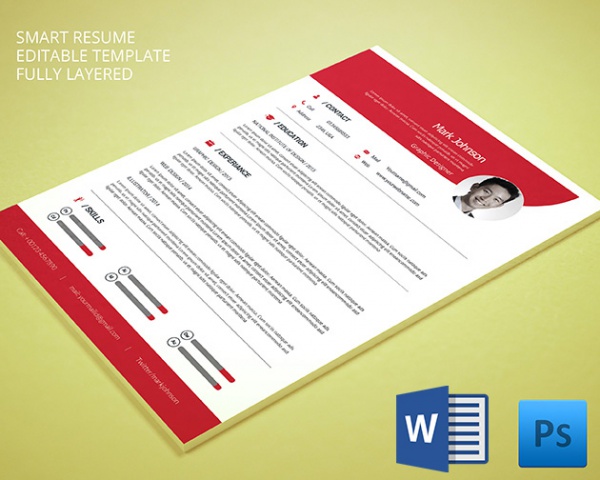 If you possess experience in the creative industry in a designer's capacity, this resume template should just work perfectly for you. The template if fully editable and customize, just hit download directly, open the resume template, and start building your resume right away! You can revise the design and layout if you wish to!
Marketing Executive Resume
If you are looking to build or set up a career as a Marketing Executive, let this resume be the one to represent your candidature. The design and layout are thoroughly professional and simple. There are no unnecessary embellishments included. The template has been developed after considerable research, and it supports editing too!
Print Ready Photographer PSD Resume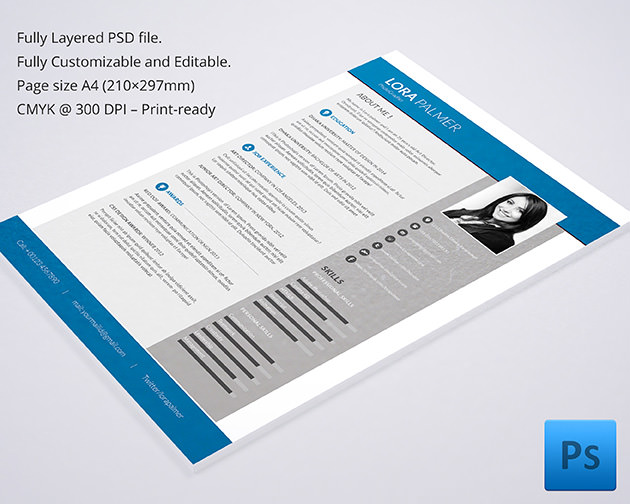 Capture the attention of any and all potential recruiters with the help of the perfect resume. Crisp, precise and very beautifully designed, this customizable resume format is perfect for photographers.
A4 Size Presentation Designer Resume Template
The resume template sample is designed with great care and is made to impress potential recruiters. The template is very easy to use and not to mention hosts a wide array of editing options.
IT Project Manager Resume Template
Impress your potential recruiter in the first few seconds with this top of the line resume template example. The templates are very easy to use and know no limits of customization.
Web Designer Resume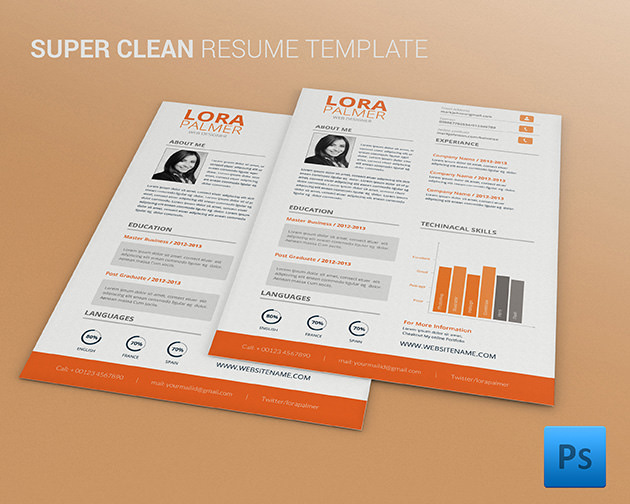 Let loose all the skills you have garnered on designing on your resume and create your own custom resume using this resume template example. The template is quite easy to use and editable.
Graphic Designer Resume PSD Template

This template for graphic designers with a sleek look has about me, academic achievements, work experience, contacts and program skill section to fulfil all categories. It comes with 12 psd files with portfolio.
Purple CV Template

This template is a simple CV if purple is your colour, showcases your skill set and work experience, print ready at all times and 1 psd file that is customizable with Photoshop.
Photographer Clean Resume Template PSD

This clean resume template for photographers with PSD file requires adobe Photoshop for personalizing. The template is black and white coloured images can be used for customizing.
Professional Resume
This cream style template for resume is a stand out in itself with three resumes, great icons and readme file it's easy to install and use without any hassle.
Artist Minimal Resume PSD Template

This resume template for visual designer and artist exhibits a minimalistic form which is able to showcase skill set, past experience and to-date employment history and qualifications.
CV Resume Free PSD Template

Use this free resume template PSD to create the perfect resume to woo potential employers. The template has been designed after a detailed analysis and it has many editing options.
Modern Resume Design Template

This is the best resume template samples available on the internet for writing a modern crisp resume. The template is quite user friendly and hast lot of colour themes as well as font styles.
Website and Graphic Designer Resume PSD Set

This set contains the perfect modern PSD resume formats available on the internet. This set is very user friendly and contains a host of editing options that allow you the freedom to customize.
Graphic Designer Resume

Impress your employers with your skills at graphic designing. Use this attractive PSD resume template and create your resume. The template is highly customizable, limited only by your imagination and are sure to impress employers.
Clean Resume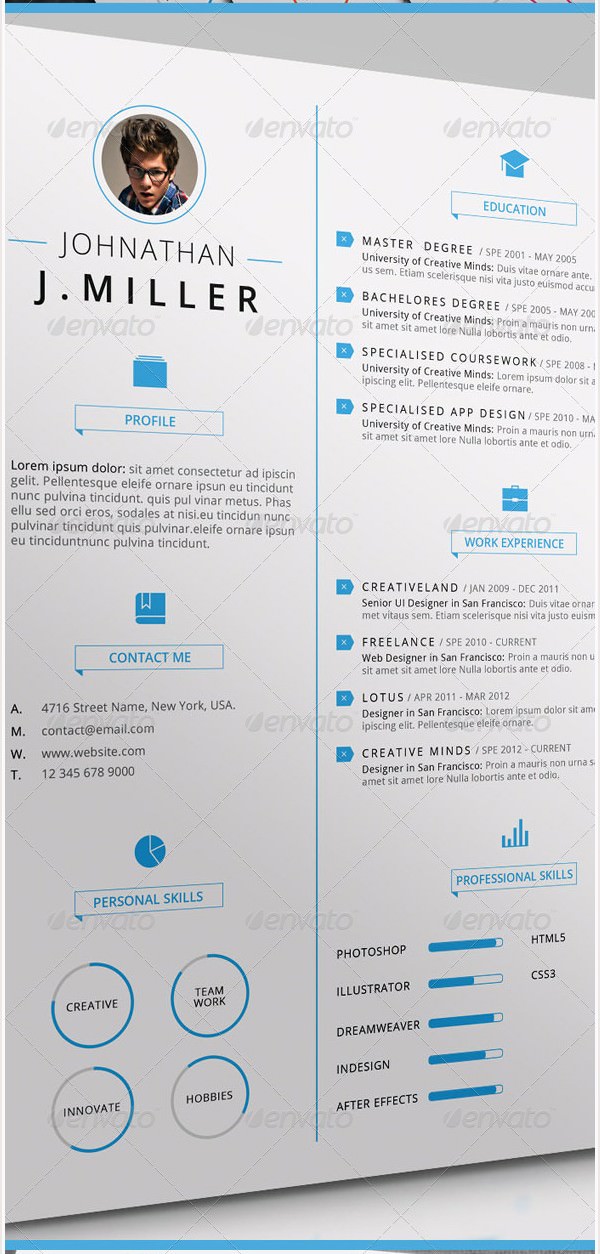 Free One Page PSD Resume Template

Use this simple PSD resume template to create the perfect resume in just a single page. A long resume might be rejected even more being fully read. So keep it short and simple.
Graphic Designer Swiss Style Resume set

Design a resume that will leave employers spellbound by using this editable PSD resume template and your own designing skills. With a large array of editing options a designer resume is easier to get than ever.
Portfolio Resume Set

Writing the perfect portfolio takes skill and practice. It is almost a work of art. Now make it easier by using this resume template sample to act as a guideline.
Project Manger Resume PSD Template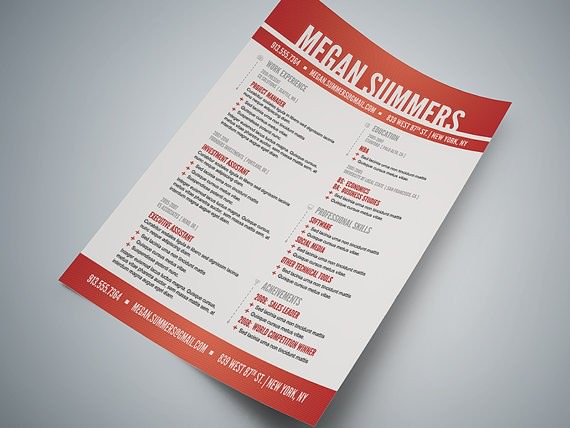 Create the perfect resume that reflects your status as the manager of a project by using this amazing resume template example to write the perfect resume. This template is highly editable.
Entrepreneur & Designer Resume Template

The template serves a dual purpose. It is perfect for entrepreneurs as well as designers. This is undoubtedly the best resume template sample ever. It is highly editable, easy to use and has lots of colours and fonts.
Digital Craftman Resume Template

Craft a beautiful, engaging, precise and effective resume using this highly editable and easy to use customizable resume format that is regarded as the best template available on the internet.
App Devolper Free Creative Resume Template

A well designed stylish resume goes a long way in securing a job. Highlight the skills you have acquired and present them properly with this resume template example that has been made especially for App Developers.
Graphic Designer Resume
Clean & Creative Resume
Light & Dark CV
Web Developer Material CV
Employee PSD Resume Templates
Photographer Flat Resume PSD
Fancy Art Director PSD Resume
Photographer, Designer, Job, Business, CV -Clean Resume Template
Web Designer PSD Resume Templates
3D Designer PSD Resume Template
Creative Director PSD Resume Template
Web Designer Resume Template- PSD
Creative Director Flat PSD Resume
Professional One Page Resume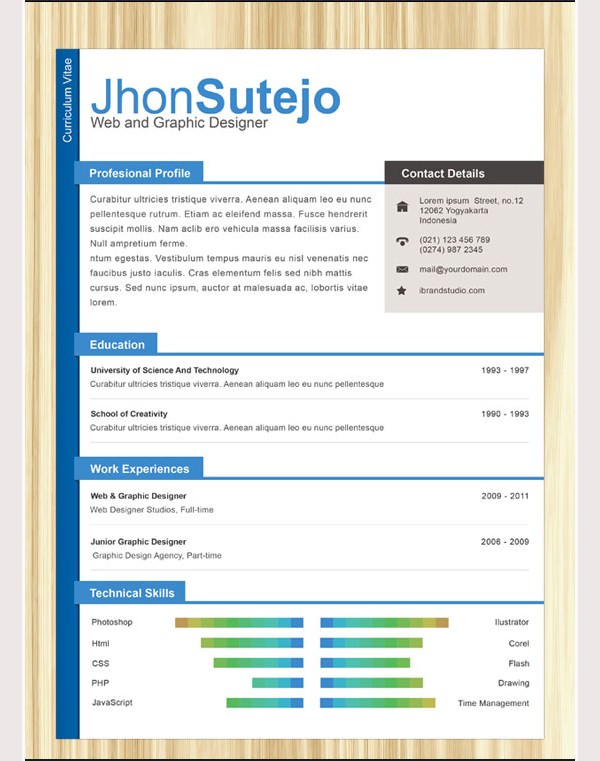 Professional Resume
Ready One Page Resume
Graphic Designer PSD Resume
Of course, you could use them for all kinds of job applications, right from a sales leader in a product firm to a plant manager in a manufacturing company. Explore the world of free PSD resume templates with 2 long columns separating the resume page, multiple small columns and text shapes scattered across the resume, and with interesting design elements used to communicate your professional experience, such as timelines, charts, infographics, and more. Apart from these, Resume PSD templates are noteworthy because of the classy little icons they use to make the resume more communicative, right from social media website icons in your contact section, stylish quote symbols in the references section, and stars in your resume's achievements sections. All these design aspects make top resume HTML5 templates stand out, thus making you leap past several competitors. A well drafted and detailed CV is one of the key factors that play an important role to get the job of your choice. No matter how qualified you are or how perfectly your skill sets matches with the requirements of the position, if your resume is not impressive, there is a faint chance of grabbing the position. With thousands of applications with the employer, it becomes really difficult to have a detailed view at each of them and here comes the role of an attractive resume. With new trends following, PSD resume have also become very popular among candidates applying for the job in different fields. These types of resume not only look visually appealing but also help you to showcase your experience, qualifications and skills in a neat and different manner. Thus to help you in drafting these resume, Resume templates are of key importance. These templates are easy to use and save lot of time as well.