Promote your salon business with the help of our high-quality Salon Voucher Templates! This advanced and refined voucher is the key to attracting customers to benefit your professional salon services. Since this template is fully customizable, you can edit and experiment it any designs that you like. Have we also mentioned that it can readily be downloaded to any device so that you can edit it in different file formats like Illustrator, Photoshop, MS Word, Publisher, and Apple Pages and print it wherever you are? What are you waiting for? Download our Salon Voucher Template Today!
What Is a Salon Voucher?
A voucher or sometimes called as gift cert is very useful for everyone, especially in salons. Salon businesses often use vouchers to reward their clients by allowing them to use sample vouchers instead of paying money if they want to buy some products or take advantage of a service. This will assist them to earn their customers' allegiance while at the same moment attracting fresh clients who have received vouchers from them. It will be convenient for clients as the voucher becomes a substitute for cash when shopping for food and beauty products, or when services are available in a hotel or when traveling.
How to Create a Salon Voucher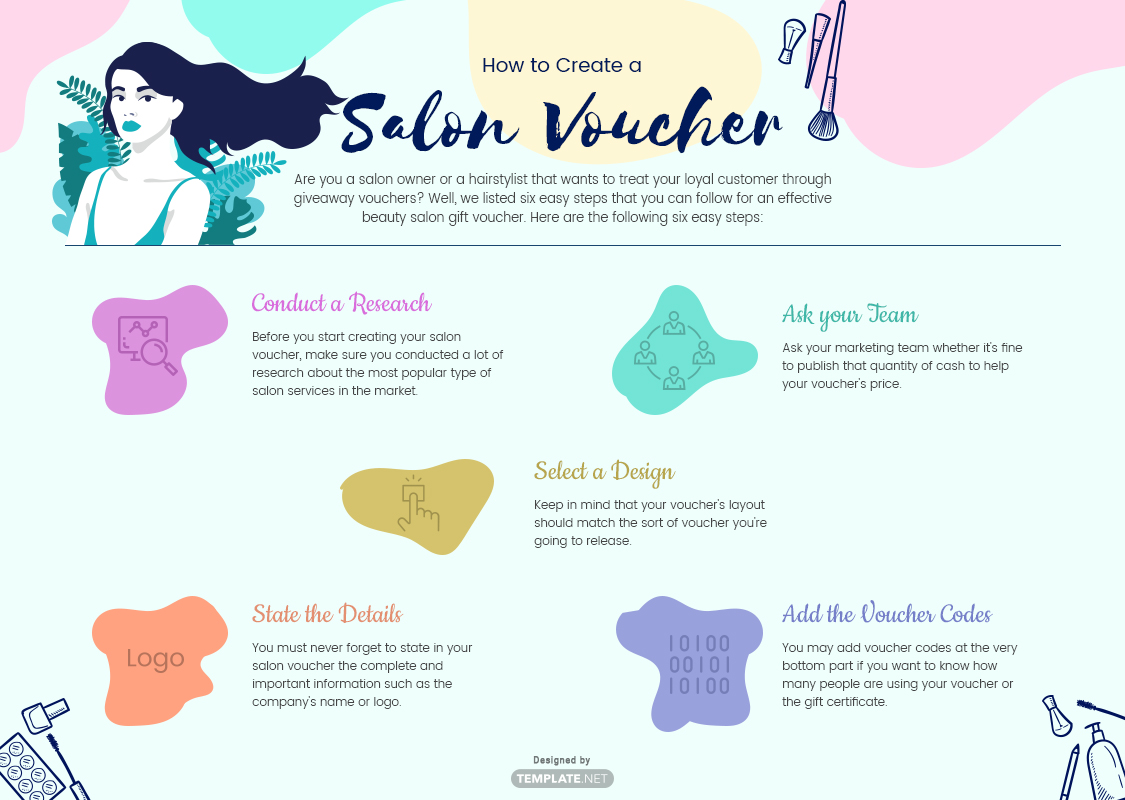 Are you a salon owner or a hairstylist that wants to treat your loyal customer through giveaway vouchers? Well, we listed six easy steps that you can follow for an effective beauty salon gift voucher. Here are the following six easy steps:
1. Conduct a Research
Before you start creating your salon voucher, make sure you conducted a lot of research about the most popular type of salon services in the market. Whether it can be a hair salon or spa service voucher, make sure it will convince your target audience so that your voucher will be effective. Remember that your voucher must fit the needs of your customers regardless of age and gender.
2. Ask your Team
Make sure your selected voucher sort does not impact your company revenue. Ask your marketing team whether it's fine to publish that quantity of cash to help your voucher's price. Also, ask them if the business voucher you have selected is correct and will be efficient for the clients.
3. Select a Design
Keep in mind that your voucher's layout should match the sort of voucher you're going to release. Remember that in designing a voucher or a coupon, the design must not be complicated so that it will be pleasing to look at by your target audience. But if you don't want to design a voucher from scratch, then you may download our printable, editable, and customizable salon voucher templates here in our site so that you can your time and effort. You must also bear in mind the standard size of the printable voucher which is 3.67" x 8.5".
4. State the Details
You must never forget to state in your salon voucher the complete and important information such as the company's name or logo, the voucher's terms and conditions, and the voucher's duration. Aside from that, you may also write a message that will relay your gratefulness to your loyal customers for their loyalty in availing of your products and services. Don't make your message long. Just make it concise.
5. Add the Voucher Codes
You may add voucher codes at the very bottom part if you want to know how many people are using your voucher or the gift cert. The codes can be discount codes because many individuals are now hooked on free discount vouchers, which is very efficient. It will be registered in your voucher scheme once your codes are used.
Read More
Earn 20% commission on every sale from your Share
Bloggers: Publish/Mention Template.net products on your website, blog, Social Media or Via Email & Earn affiliate commission of 20% for every sale