Holidays
Epiphany Day
Epiphany Day is a holiday observed by Christians all over the world especially since its origins hold a lot of significance to the faith. Learn more about this holiday and why it is called that way.
Table of Content
Epiphany Day Definition & Meaning
Epiphany Day is a feast day celebrated by Christians to commemorate the visit of the Magi or the Three Kings to the baby Jesus, bearing gifts of gold, frankincense, and myrrh, while Eastern Christians also commemorate the Baptism of Jesus in the Jordan river.
Epiphany Day is often known by other names such as Three Kings Day. It is usually celebrated by attending church service where the mass focuses on the visitation of the three Magi and what that symbolizes during the birth of the child Jesus.
When is Epiphany Day?
Epiphany Day is observed every 6th of January on the Gregorian Calendar. However, on the Julian Calendar, Epiphany Day takes place on January 19. Epiphany Day tends to be celebrated on the Sunday after January 1, a week after Christmas, which is when Jesus is born. This correlates to the common belief that the Magi or Three Kings traveled from a faraway land to Bethlehem to present their gifts to the child Jesus. Eastern Christians also commemorate the Baptism of Jesus Christ in the Jordan river by his cousin John the Baptist.
Epiphany Day Purpose, Importance
Epiphany celebrations tend to take place within the church, although Christians would often have social gatherings on this day as well in observance of this holiday. Epiphany day is also celebrated by having Epiphany singers perform, having Three Kings cake, and attending church services.
Visit of the Magi
Many denominations such as the Anglican, Catholic, and Methodist churches believe that on Epiphany Day, the Three Kings or Magi visit the child Jesus bearing gifts of gold, frankincense, and myrrh. These gifts double as symbols of events that Jesus will go through He grows up as an adult.
Baptism of Jesus
Orthodox traditions commemorate the Baptism of Jesus at the Jordan river by John the Baptist. The significance of this event is that according to the Scripture, the Holy Spirit descended upon Jesus in the form of a dove which is a revelation that He is the Son of God.
Celebrating the start of Jesus' Ministry
While Christmas marks Jesus' arrival in the world, Epiphany Day is considered by many Christians to mark the start of Jesus' teachings and thus making it a notable moment in Christian history.
Jesus is the Son of God
Epiphany Day is significant because the events detailed on this feast reaffirm the Christian belief that Jesus is the Son of God and that He will fulfill God's promise of salvation. This idea is central to the Christian faith which is why observing this day is quite important to those who practice this religion.
What's In An Epiphany Day?
On Epiphany Day a Christian family would celebrate it by going to church services together. Church communities would often gather after prayer and have a small gathering but they are not as big as Christmas gatherings. Some churches would often have a small parade if they wish and a lot of modern churches would often show videos/cartoons that depict the visit of the Three Kings and/or the Baptism of Jesus. It is also common for people to give a greeting to each other after the church services on this day.
How to Create an Epiphany Day Social Media Post
Sharing Social Media posts during holidays and events has become a popular trend and that even extends to religious holidays like this. It is also useful for raising awareness and spreading relevant information for events such as church services. This is why the Church often makes use of Social media to make announcements and updates for upcoming masses. To get started, here are some ways you can create an Epiphany Day Social Media post.
Facebook
1. Search for Epiphany templates on Template.net
The results will show you several template options that all have to do with Epiphany day. Pick the Epiphany Day Facebook post template, and then click on the image to be redirected to the Editor tool so you can edit it.
2. Edit Your Template
To make your Epiphany Facebook post look unique, you can opt to edit its background, text, and other details. If you want to change the background you can click on the option in the Background panel and choose whatever you like.
3. Add custom text
If you want to add a custom message to your Epiphany Day Facebook post, then click on the Fill panel on the side of the screen and add your text on the Fill text option.
4. Add your graphics
To make your Facebook post pop a lot more, you can add graphics to enhance it visually and make it art. Go to the Graphics pane/ and you can add clipart or icons that are relevant to Epiphany Day.
5. Save your Epiphany Day post draft
When you are finished, click on the three-dotted button on the top of the screen and click on the Save option. Then you can upload your Epiphany Day post on Facebook.
Instagram
1. Choose your template
Go to template.net and look for Epiphany templates on the search bar. There you can find our Epiphany Instagram Post template. Once you choose click on the "Edit This Template FREE" button or on the image itself to start editing it.
2. Change the captions
If you wish to make a custom message on your Epiphany post, you can do so by pressing the Fill panel and changing the text on the boxes.
3. Add graphic designs
If you want more visuals on your Instagram post, just press on the Graphics panel and search for Epiphany Day-related graphics for your template.
4. Add images
You can also add images through the Graphic panel and add fun photos to your Epiphany day post.
5. Save your Epiphany Day Instagram post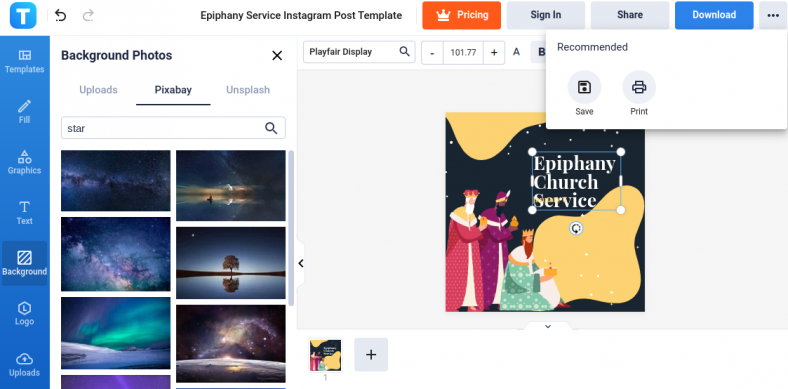 After you're done, press the three-dotted button at the top of the screen and click Save. You can now upload your post onto Instagram and promote Epiphany day!
Epiphany Day Traditions
Epiphany day has various traditions that a lot of Christians still practice to this day. Apart from attending church services, some also celebrate by baking and eating Three Kings cake, a type of pastry prepared differently in many countries. The popular thing is to place the baby figurine on the cake that is meant to represent the child, Jesus. Christians also do carol singing on Epiphany Day as well. Swimming in ice-cold water and gift giving are also a part of Epiphany Day traditions.
Epiphany Day Facts
Here are some fun and essential facts you need to know about Epiphany Day:
The word Epiphany is derived from the Greek word 'manifestation'. A reference to how the events surrounding this day confirm that Jesus is the manifestation of God according to Christian belief.
Other names for Epiphany Day are Three Kings Day and Twelfth Night Day.
During Christmas, when there is a Nativity play, the Three Kings are often included as characters who were present on the day of Jesus' birth when in fact they are supposed to arrive days after the fact.
On Epiphany Day, the Magi that visited baby Jesus brought gifts: gold, frankincense, and myrrh. They each represent something: gold for Jesus' kingship, frankincense for His priestly role, and myrrh which calls forward to His death.
The names of the Thee Kings/Magi are Melchior, Caspar and Balthazar. These Three Kings are often likened to Santa Claus for their gift-giving.
It is often believed that the Three Kings are not actual people but representations of Europe, Africa, and Arabia.
Epiphany Day vs Christmas
Epiphany Day is the celebration of the Three Kings/Magi visiting the infant Jesus days after His birth and is commemorated around a week or so after Christmas.
Christmas day is a festival that celebrates the birth of Jesus Christ and is celebrated on the 25th of December.
Epiphany Day Ideas & Examples
Epiphany Day Ideas
There are a lot of things you can do to observe and celebrate Epiphany Day. Some of these ideas are exclusive to different countries however that doesn't mean you can't do those either, take a look and see which of these activities fit your way of celebrating.
Attend church services.
Attend social gatherings with your local church.
Go winter swimming with friends.
Eat Three Kings Cake with friends and family, the way it is prepared varies greatly from country to country.
Give gifts to each other.
Sing carols and hymns.
Watch a video or movie that details the visit of the Three Magi/Kings.
It is popular to have house blessings done on this day complete with the use of frankincense as a reference to one of the gifts brought by the Three Kings.
Some countries make a game of putting a cross into the water and having participants swim to retrieve it. A fun reference to the Baptism of Jesus.
Some places have kids leave their shoes or footwear out so that sweets can be placed in them.
Epiphany Day Examples
If you want to create some visually stunning Epiphany Day materials, then we have several templates that you can check out for inspiration. You are free to download them or use them as references for your own Epiphany Day posters, cards, Social Media posts, etc.
1. Three Kings Day Celebration Flyer Template
2. Epiphany Party Whatsapp Post Template
3. Epiphany Service Flyer Template
4. Epiphany Party Flyer Template
5. Epiphany Invitation Flyer Template
6. Epiphany Party Youtube Banner Template
7. Three Kings Day Event Snapchat Geofilter Template
8. Epiphany Day Quote Linkedin Post Template
9. Epiphany Invitation Facebook Post Template
10. Epiphany Service Youtube Banner Template
FAQs
What do we celebrate at Epiphany?
On Epiphany day, we celebrate the Three Kings/Magi by visiting the baby Jesus ad presenting him gifts that are symbols of His future.
What do you do on Epiphany day?
On Epiphany day some of the various things you can do are attend church services, eat Three Kings Cake, celebrate with friends, and commemorate an important moment in Christian history.
What does the Epiphany represent?
Epiphany represents, according to the Bible and Christian teachings, the revelation that Jesus is the Son of God.
What two things do Christians celebrate at Epiphany?
Two notable things that Christians celebrate in Epiphany are the visitation of the Three Kings and the Baptism of Jesus in the Jordan river.
Why is the Epiphany on January 6?
Epiphany is on January 6 because it is believed that it took around 12 days after Christmas for the Three Kings to travel to Bethlehem and present their gifts to the baby Jesus.
What are the symbols of Epiphany?
The symbols of Epiphany are usually associated with the Three Kings that visited Jesus, the symbols are often depicted as three crowns often accompanied by a five-pointed star.
What is the message of the Epiphany?
The message of Epiphany overall is that Jesus is the Son of God and that just like how God has a plan for His son, He too has a plan for each and every one.
What does the Epiphany symbolize?
The Epiphany symbolizes the manifestation of Jesus as both a man and God.
What are the main features of Epiphany Day?
Some of the main features of Epiphany Day include gift giving, house blessings, and Three Kings cake.
Why is Epiphany Day 12 days after Christmas?
Epiphany Day takes place 12 days after Christmas because it is believed to have been the number of days taken by the Three Kings/Magi to travel all the way to Bethlehem.
How long does Epiphany Day last?
Epiphany Day by itself last only a full day but it is often a part of the Twelve Days of Christmas where Christians celebrate the days starting from Christmas Day leading up to Epiphany Day.
What are the colors of the Epiphany?
Like most Christian holidays, the color associated with Epiphany Day is white.
Does the Christmas season end with Epiphany?
Yes, it is, Epiphany Day is considered by tradition to be the official end of the Christmas season.
What are the themes of Epiphany Day?
The themes of Epiphany Day include gifts, cake, stars, and the color white.