Holidays
Valentine's Day
Valentine's Day, aka Feast of Saint Valentine or Saint Valentine's Day, is no stranger to the holiday spectrum, especially when it celebrates love. This love-filled holiday is a highly anticipated celebration for couples wherein we see an abundance of flowers, chocolates, and heart aesthetics proving how soon the event is coming.
Table of Content
Valentine's Day Definition & Meaning
Valentine's Day is a global event where every couple would display their love and affection for each other through sweets, greetings, flowers, or gifts until it transformed into a love holiday that isn't only exclusive between couples.
Valentine's Day honors St. Valentine, a priest who was believed to have wedded a number of couples in secret so the husbands would be spared from combat; it is through that legend that St. Valentine's feast day is an icon for love and romance.
When Is Valentine's Day?
Valentine's Day is observed every 14th of February. This celebration of love prompted different traditions on how to show love and affection to our soulmates such as giving flowers, sending love notes, going on a date, hugging, and kissing.
Valentine's Day History
The origin of Valentine's Day can be traced back to the Lupercalia Pagan festival many years ago. However, this history got overshadowed during the third century when emperor Claudius II killed the patron saint Valentine on February 14. The church then considered Valentine a saint because of his sacrifice so his martyrdom or death day is the exact same day on which he will be commemorated.
Valentine's Day Purpose, Importance
How can a celebration of love be impactful? Truth is there are a lot of reasons as to how important and great of a purpose Valentine's Day is. And these are the most striking reasons:
Celebration of Love in Unlimited Ways
With so many examples to show your love and feelings to your significant other, that means you can celebrate Valentine's Day in a plethora of ways too. You may opt to give a bouquet of roses to your soulmate, go on a romantic dinner at the fanciest restaurant you could think of, or even send Valentine's Day greeting card that expresses your love to your partner wholeheartedly. Go for what you and your partner would prefer.
St. Valentine's History and Feast Day
At the end of the day, Valentine's Day still leads to its main roots which are Saint Valentine and the Roman Lupercalia festival. The holiday was said to celebrate fertility and the spring season. On other accounts, Valentine's Day came from the martyred priest St. Valentine way back in 270 CE and it was done by the emperor Claudius II Gothicus. And this love month commemorates both the honor and death of St. Valentine, particularly among Christian traditions.
Inclusive Holiday of Love
Not having a girlfriend, boyfriend, wife, husband, or any other label doesn't mean you can't celebrate Valentine's Day. You can always share your good wishes or express your undying love to your family, friends, relatives, coworkers, and even pets. It is all about love so despite the gender, age, or type of relationship you have with other beings, love has no limits when it comes to celebrating Valentine's Day.
What's on Valentine's Day?
You can easily tell when it is Valentine's Day season because there would be people who send out flowers, chocolate boxes, romantic letters, and other types of gifts to please the love of their life. Dates would likely book a table for two in lavish restaurants or spend a passionate night together inside hotels and resorts. Also, you would see a lot of Valentine's Day motifs inside restaurants, malls, hotels, and other public establishments such as roses, hearts, couple shirts, and most importantly, Cupid.
How to Create a Valentine's Day Social Media Post
Whether you need to greet your significant other online or publish Valentine's Day greetings on social media, you can never go wrong with Valentine's Day-themed social media post templates. And here are the ways to make the most beautiful, compelling, and easiest Valentine's Day social media posts:
Facebook
1. Access a free Valentine's Day Facebook post template.
Go to Template.net and you can download lots of Valentine's Day templates for free. Select the list of Valentine's Day Facebook post templates and choose your favorite one. Then, click "Edit This Template FREE."
2. Write your message inside each text box.
Click "Fill" from the Editor tool and you would see text boxes to write on. Use every text box to your advantages such as writing your Valentine's Day greeting, the status of your relationship with your partner, a promotional statement for a V-day sale, or even a romantic quote or Shayari. Adjust the size and position per text box in the template too.
3. Insert stunning graphics into the post.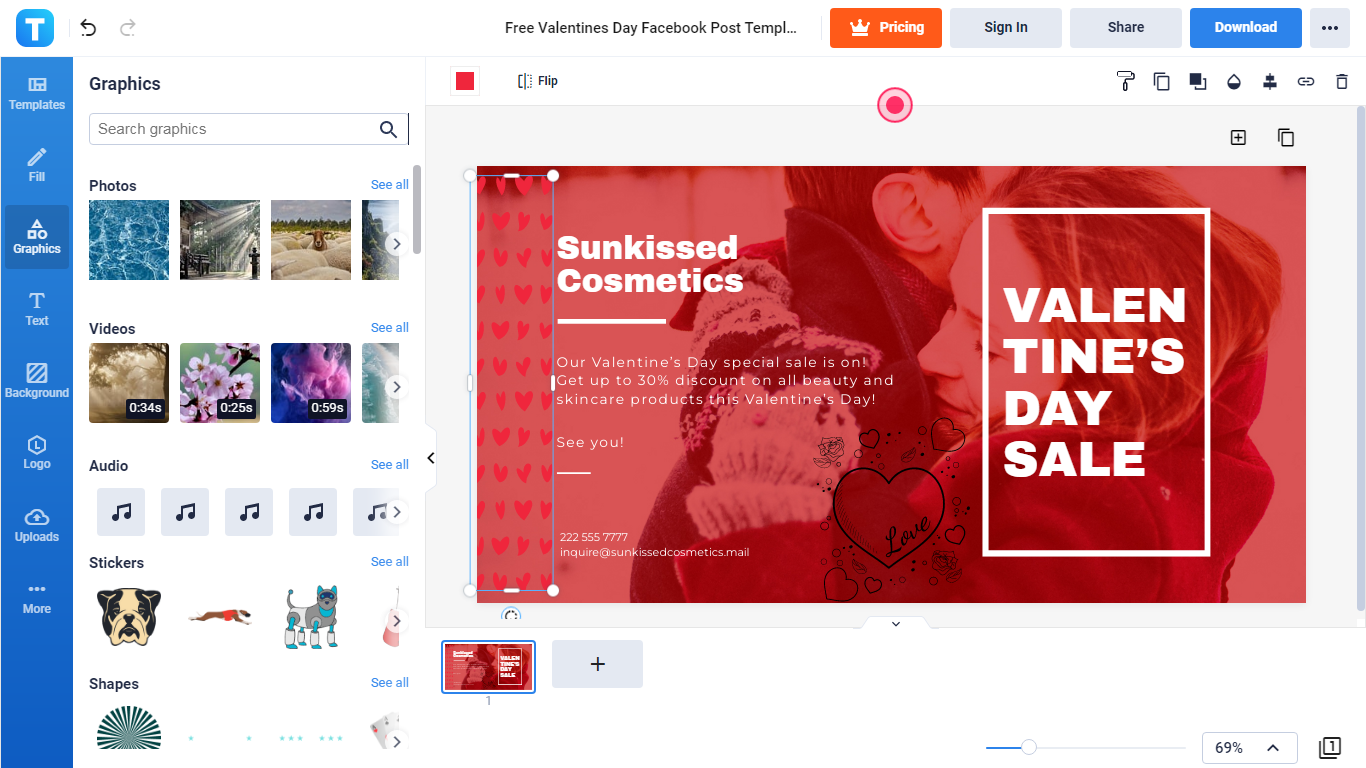 Your Valentin's Day Facebook post decor isn't complete without creative visuals. Select "Graphics" from the menu and add a clipart, sticker, or image to the post. Shower your template design with a sweet animated gift, a photo of vintage lovers, or any other graphic theme.
4. Complete the post with a memorable wallpaper.
Tap the "Background" feature to choose your preferred template backdrop. You can customize it with your favorite background color from the color spectrum. Or, use an image as wallpaper such as HD geographics, anime wallpapers, and other backgrounds that remind you of V-day or love.
5. Save the file and reserve it for Valentine's Day.
Complete the rest of the changes for your Valentine's Day Facebook post template. Finally, hit "…" and "Save" to preserve your work. Reserve that template for now and post it on Facebook when Valentine's Day fast approaches.
Instagram
1. Download a Valentine's Day Instagram post template.
Look for a variety of downloadable and customizable Valentine's Day Instagram post templates on Template.net. Select your preferred aesthetic from each sample. Then, move to the Editor tool to access a range of editable features.
2. Add text or message on the boxes provided.
Using the "Fill" feature on the Editor tool, you can insert not only your Valentine's Day message but also other texts. In every text box, you may write about a birthday greeting that falls on V-day, a "Marry Me" text for a proposal, or the full agenda on what to do for Valentine's Day. Write what needs to be shared briefly.
3. Incorporate sweet graphics into the post.
An Instagram post without pictures is like a cake without a cherry on top. Click the "Graphics" button to add as many pictures to your post. Use this opportunity to design the post with a candy basket sticker, an image of red wedding cakes, a drawing of Cupid shooting arrows in a park, or any other creative idea.
4. Be open to a new background.
Press "Background" on the left side of your screen. Look for any background image you want to set as wallpaper such as a church wedding landscape, a family photo with your partner and your kids, or a V-day party aesthetic wallpaper. Another idea is to simply pick a color for the background.
5. Preserve everything and post it on Instagram.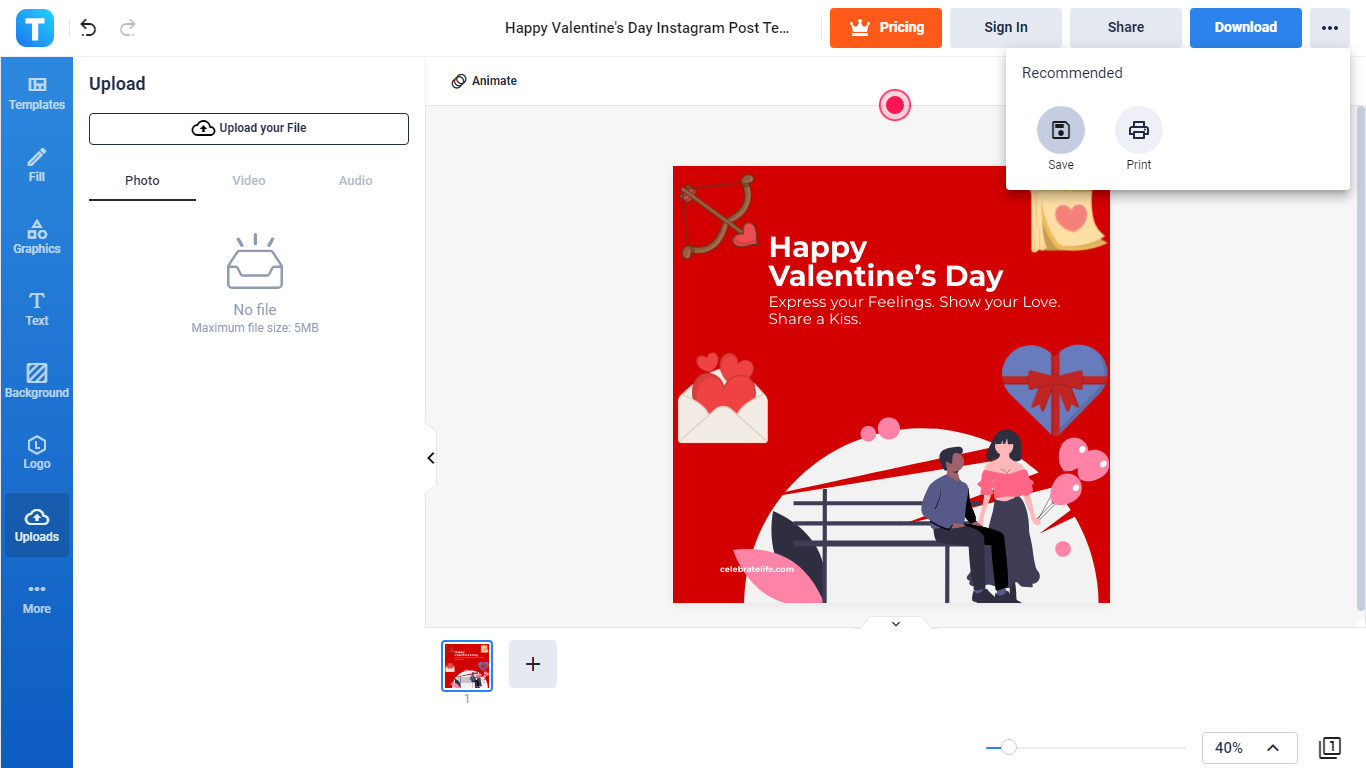 See the three-dotted icon on the top-right corner of your screen? Click it and choose "Save" afterward. Then, publish the hard work you made by posting it on Instagram during Valentine's Day.
WhatsApp
1. Optimize an editable Valentine's Day WhatsApp post template.
Visit Template.net first. Next, search for Valentine's Day WhatsApp post templates. Click your most preferred option from the free samples and press "Edit This Template FREE" afterward.
2. Fill in the boxes with your message.
Go to the "Fill" section and manipulate the text boxes available. Write the message you need to make for your soulmate, friend, family, or any target audience. Messages could be in a formal tone, with simple words, or in SMS format with shortcuts.
3. Mind the visuals and pictures inside the post.
Choose "Graphics" from the left menu of the Editor tool. Then, you can input any image into the WhatsApp post template may it be related to V-day jewelry, sweet treats, artwork projects, heart emojis, and more. Design the template however you want.
4. Insert a background, logo, or any other file to upload.
Click "Background," "Logo," or "Upload" from the Editor tool. This marks your chance to add a business logo, upload a personal poem, use a news aesthetic as wallpaper, and many other ways to improve your WhatsApp post template. Use your creativity now!
5. Don't forget to save your progress.
Apply the finishing touches to your Valentine's Day WhatsApp post template. Once you're through, select the three dots on the right side of your screen. Finally, click "Save" and that's how easy it is to make this social media post.
Valentine's Day vs Friendship Day
Valentine's Day is a global celebration to honor St. Valentine and the love or affection you have towards your significant other, and this is observed every February 14.
Friendship Day is a worldwide celebration to honor your friends and the friendship you have built for peace, and it is commemorated every July 30.
Valentine's Day Ideas & Examples
Before celebrating Valentine's Day, it helps to have ideas in mind regarding what to do during those 24 hours. As much as possible, find ways to spend time with your partner on that special day. Also, don't limit your options on what to publish on Valentine's Day through three social media post templates alone. There are still so many options to leverage. These 10 Valentine's Day examples may help you find inspiration on what else to make for the love season:
Valentine's Day Menu Ideas and Examples
Create a special menu for Valentine's Day with this Valentine's Day Menu template to give you an idea of what to include and how to design its layout.
Valentine's Day Greeting Card Ideas and Examples
Send a meaningful Valentine's Day Greeting Card to a loved one to show your appreciation and care.
Watercolor Valentine's Day Vector Ideas and Examples
This Watercolor Valentine's Day Vector would make a charming design piece for wallpaper, flyers, or for a greeting card just in time for Valentine's Day.
Valentine's Day Party Flyer Ideas and Examples
Invite everyone to join a Valentine's Day special event with this Valentine's Day Party Flyer which makes a fantastic advertising tool.
Valentine's Day Poster Ideas and Examples
Advertise an upcoming party for Valentine's Day with this well-crafted Valentine's Day Poster.
Valentine's Day Voucher Ideas and Examples
Distribute special promotional peripherals with this Valentine's Day Voucher which is applicable only for the said event.
Valentine Brunch Invitation Ideas and Examples
Invite customers to dine in your restaurant with this charming Valentine Brunch Invitation.
Spa Valentine's Day Instagram Story Ideas and Examples
Promote and advertise your Spa services for Valentine's with this well-designed Spa Valentine's Day Instagram Story that will surely attract a lot of customers.
Valentine's Day Party LinkedIn Post Ideas and Examples
Update everyone on LinkedIn regarding an upcoming part with this Valentine's Day Party LinkedIn Post.
Valentine's Day Giveaway Snapchat Geofilter Ideas and Examples
Don't forget to update and change your Geofliter in Snapchat with this beautifully designed Valentine's Day Giveaway Snapchat Geofilter
FAQs
Why is Valentine's Day celebrated?
It is celebrated because February 14 is the feast, death anniversary, and only date to honor St. Valentine who is the inspiration to show your love to your partner on this very holiday.
What actually happens on Valentine's Day?
Different things happen on Valentine's Day as every couple has a different way to celebrate the occasion; in fact, the holiday isn't only celebrated by couples but basically everyone who wants to celebrate love.
What makes Valentine's Day so special?
V-Day is special because it reminds couples to be lovey-dovey and romantic once again as well as to help everyone express their love for their family or friends.
When did Valentine's Day start?
It started so long ago in the year 496 and came from a traditional Roman festival.
What should you do on Valentine's Day?
Go express your love according to what works best for your love language, what you prefer doing, or what your partner prefers.
What is the story behind Valentine's Day?
V-day started from the Lupercalia Roman festival of fertility and eventually became associated with St. Valentine's martyrdom.
What do you say on Valentine's Day?
Say what comes from your heart and never forget the three words: "I love you."
What are the symbols of Valentine's Day?
Valentine's Day symbols include roses, flowers, hearts, Cupid, love notes, love letters, greeting cards, love knots, love birds, and anything red or seen as romantic.
What is the official flower of Valentine's Day?
The staple V-day flowers are red roses.
How do you celebrate Valentine's Day?
Refer to the Valentine's Day Ideas of this post for quick reference.
Who invented Valentine's Day?
Valentine's Day was coined by Pope Gelasius I.
Where did Valentine's originate?
It is said to have originated in Rome, specifically from the Lupercalia Roman festival.
What are the traditions of Valentine's Day?
It is expected for couples to exchange sweet gifts such as flowers or candy treats, send a Valentine's Day card, go out for a romantic dinner, and passionately make love to end the night.
What is friendship Valentine's Day?
It means that Valentine's Day is also a celebration between friends and families, not just for couples.