Facebook
33+ Facebook Timeline Cover Page Templates & Designs
If you want to run a Facebook campaign successfully, firstly you should know how important a Facebook Timeline Cover is. Eye-catching visuals play a pivotal role in catching user's attention. At times they could be the most important pieces on your page. As it is your campaign, make your decision on your Timeline Cover with the below examples. They are hot off the press. You can use them for all kinds of Facebook pages that your administer.
Facebook Timeline Cover for Designers
Go wild about creating your new Facebook Timeline Cover with this design. Click the download button to get the Zip file that contains a PSD file along with some supporting files.
Product Design Facebook Timeline Cover Mockup
An assortment of Facebook Timeline Cover Mockups that will be useful and helpful for a multitude of purposes such as Beauty salons, Black Friday, and much more. A nice choice for your Facebook Template.
Cartoon Design Facebook Timeline Cover
This cartoon themed Personal Timeline Template is for you. The Facebook Timeline Cover of Terk and Tantor is totally spaced out.
Web Design Facebook Timeline Cover
The luxury Facebook Timeline Cover strongly suggests your clients to go on a vacation and soak some sun while enjoying a sip of wine. This can be used by holiday resorts.
Fashion Photography Facebook Timeline Cover
This Photography Facebook Timeline Cover features some 'once in a lifetime' encounters. Use this to attract the client base you deserve. Spruce up your Facebook profile with this Facebook Cover Page.
Beautiful Girl Facebook Timeline Cover
This easy-to-edit Facebook Timeline Cover comes in a high resolution of 851×315 pixels. This PSD file is 100% layered and good for local glamor and fashion websites. It covers your profile and fan page.
Christmas Facebook Cover Page
Christmas Social Media Cover Page Template
Retro Style Christmas Facebook Cover Page
If you are looking for a minimalist and retro Christmas cover page template that can highlight the simple joys of the holiday season without being too extravagant, this is the Christmas cover page for you. You can also see Social Media Flyers.
Glorious Christmas Social Media Cover Page Template
Modern Christmas Facebook Cover Page
Beautifully Designed Christmas Social Medial Cover Page
Christmas Holiday Social Media Cover Page Template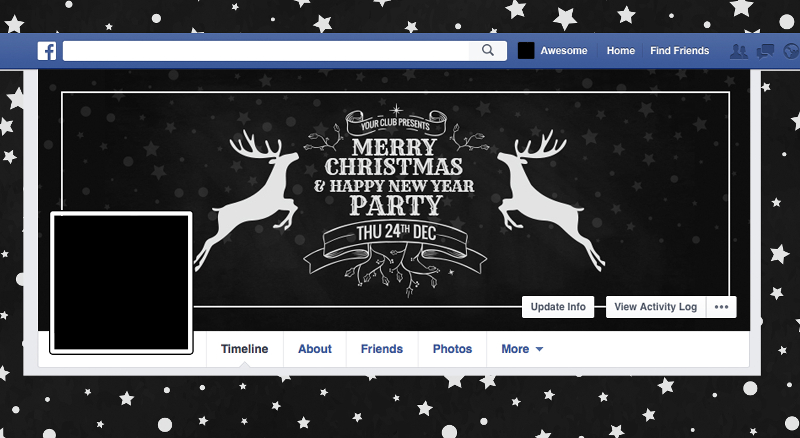 Elegant Christmas Facebook Cover Page
Merry Christmas Facebook Cover Page
Creepy Halloween Facebook Cover Page
Halloween Party Facebook Background Cover
Pre-Designed Halloween Facebook Cover Page
Dark House Halloween Festival Facebook Layout
5 Facebook Timeline Cover Templates
This is another best example of Facebook Timeline Template. Revive your Facebook page with this example. This Template measures 851×315 pixels and can be easily edited with Adobe Photoshop.
Facebook Wedding Photography Timeline Cover
Make a lasting first impression for your wedding Facebook Page with this timeline cover. Let your Wedding photography business sparkle with this one. To avoid confusion, they have labeled each photomask with a number.
Photography Facebook Timeline Cover Photo
A good photographer always catches those perfect signs. Use this beautiful and powerful Timeline Cover Photo to hack the attention of viewers. There is no clue why we fell in love with these.
Nature Facebook Timeline Cover
We are more than happy to share this Simple Facebook Timeline Cover. You don't know what you are going to miss if you ignore this. Let's display your favorite shots at the top of your Facebook page.
Actors Facebook Timeline Cover
Marketing Photography Facebook Timeline Cover
Beauty Photography Facebook Timeline Cover
Creative Facebook Photo Cover Template
Awesome Facebook Timeline Cover
DJ Music Facebook Timeline Cover
Marketing Facebook Cover Template
Elegant Facebook Timeline Cover
Facebook Timeline Cover for Photographers
Senior Graduation Photoshop Cover Template
More in Facebook