Facebook
72+ Facebook Templates – DOC, PDF, PSD, PPT
We are all familiar with the layout of Facebook pages- a clean, simple outlay with a tinge of blue here and there. If you are looking to create a page for a website of your own or your company, Facebook Templates are a good choice. It is classy, suave, and promotes a feeling of familiarity. If you want to make an outline or an analysis worksheet on your Facebook wall, we got templates you can use to make it happen! Changing your Facebook cover photo won't be the only thing you can do on your iPhone with our compatible templates! You may also see Facebook Ad Templates.
Furniture Facebook Ad Banner Template
Minimalistic Fashion Sale Facebook Post Template
Facebook Marketing Plan Template
Free Vacation Rental Facebook Post Template
Free Fashion Store Facebook Post Template
International Earth Day Facebook Post Template
Arbor Day Facebook Event Cover Template
Free Labor Day Facebook Cover Template
Memorial Day Facebook Post Template
International Kites Day Facebook post Template
Martin Luther King Day Facebook Post Template
Health Care Facebook Ad Banner Template
Free Travel Agency Facebook Ad Banner Template
Fashion Facebook Ad Banner Template
Basic Fashion Sale Facebook Post Template
Facebook Style Roll Up Banner Template
Startup Business Facebook Cover Page Template
Work From Home Facebook Ads Template
Bar/Lounge Facebook Post Template
Kindergarten Facebook Post Template
Apartment Rental Facebook Post Template
Business Services Facebook Ad Banner Template
Real Estate Facebook Ad Banner Template
Blank Facebook Timeline Template
People usually use sample Facebook generators (Chat and Status) as a piece of mischief to fool their friends. But, did you know that there are plenty of Facebook format templates that can be beneficial to a large number of people including small business owners and students? There are plenty of Facebook landing page templates for students, which they can use either to make a project or to learn something new in their course. On the other hand, business persons can create a Facebook format template to build their business. To get a better idea of how these work, get printable Facebook templates or save Facebook template pdfs. Since a printable version always has a chance of getting lost, you could always go for the Facebook pdf version.
Thanksgiving Facebook Post Template
Social Media Facebook Outline Template
gocivilairpatrol.com
Facebook iPhone Applications Template
phys.org
Sample Facebook Template
Also can be referred to as blank Facebook template mockups, these sample Facebook cover templates are well suited for sporting on websites, PowerPoint slides, word, docs, etc. They are complete with demo content and smart objects. The sample Facebook template for Microsoft word can be edited on Word or MS Paint before use. The Facebook project templates are ideal for educational use.
Facebook Template for Word
It can be for project work or an informative contents article, but either way, you can depend on our variety of Facebook templates for word documents to guide you through. The files are editable on Photoshop platforms and subsequently used without any clauses. The demo versions contain life-size previews of the different views of a FB profile which includes the homepage, friend list, album covers, project timeline close-ups, etc. You may also check out here Free Restaurant Facebook Posts Templates.
Free Download Facebook Info Template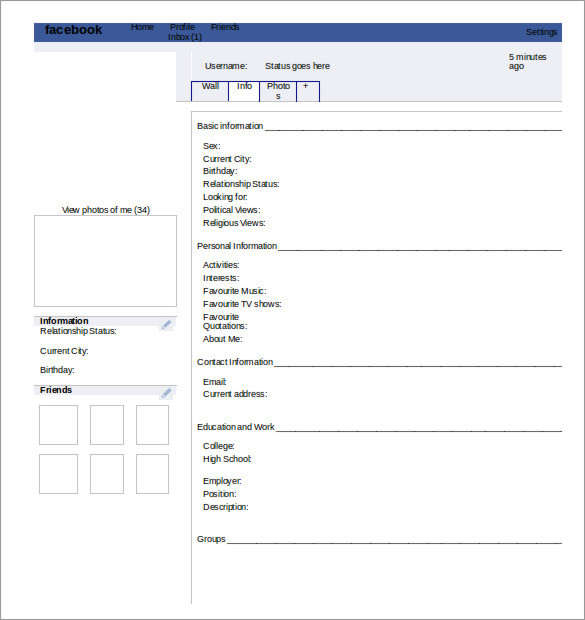 Sample Facebook Info Profile Page Template
Facebook Template in Word Document
The virtual scene today extends a great sample list of Facebook templates for Word that can be easily customized for different high school projects. As Facebook is very popular among teens and youngsters, your students would love to create projects on Facebook templates. A lot of sites offer these templates for free. You may also see Rental Facebook Post Template.
Facebook Project Template
The project templates in PDF are as useful as you can imagine. They come in all kinds of formats and are compatible with Adobe Photoshop, Illustrator, MS Word, and PowerPoint as well. You can download various themed project templates which can include Christmas and other festivities, Clearance sale offers, Doctor's Facebook page templates, Fashion templates, etc.
Facebook Organelle Project PPT Template
Animal Print Facebook Backgrounds
When animal prints are everywhere why miss them on Facebook? Download our exotic collection of the latest animal print rage for your Facebook background. You can get your very own, customized cheetah print Facebook layout that defines your online identity or goes with the monochrome zebra print cover photos for Facebook. Either way, you can feel free to edit the animal print Facebook covers on Photoshop CS+ before employing them. You may also see Facebook Feed Ad Templates.
Animal Print Hearts with Sparkle Facebook Background
Change Animal Print Facebook Background Your Own
Leopard Animal Print Facebook Background for Free
Dental Facebook Cover Template
Business Facebook Backgrounds
From fashion to medicine we have got all the grounds covered. Simply choose your category and hit the download button to avail yourself of a plethora of background options for your Facebook profile. The business backgrounds are seamless, neat, formal, and minimal which suits the modern taste and style. You may also see Sale Facebook Post Templates.
Facebook Layout Business Myspace Background
Facebook Background Cover Business Template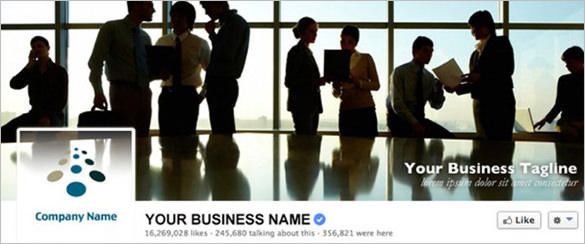 Funny Facebook Backgrounds
Is your Facebook profile background too boring or formal for your age and taste? Give it a fun spin with our Funny Facebook Backgrounds. They cover a wide range of themes from the meme rage to good old age cartoons including SpongeBob and Scooby-Doo. Edit the texts and well-named layers on Photoshop without any hassle at all. Download your background today. You may also see Agency Facebook Post Templates.
Facebook Templates for Students
Blank chart templates and backgrounds for presentation and document purposes are always available at our IT software website for students. And since they are meant for students you can expect them to be free as well. They contain replaceable demo content and smart objects which can be edited on Photoshop with minimal expertise.
Printable Facebook Template for Students
Facebook Business Page Templates
For management company mockups or business profiles on Facebook, these Facebook Business Page Templates are ideal. They are HTML5 coded and offer ample flexibility. They can be one-page templates or multiple pages with social media icons and Google maps. Come with fullscreen sliders and contact forms, the collection is huge and complete.
Business Facebook Cover Page
Customized Facebook Business Page
Free backgrounds for fashion enthusiasts, authors, food, and movie critiques are all available at one place. Just select and category and download an endless number of backgrounds to jazz up of Facebook profile. Get noticed, have some fun, with our FB page Layout.
Star Wars Free Facebook Backgrounds
Free Facebook Page Background Designer
Hearts Free Facebook Backgrounds for Timeline
Blank Facebook Templates
Blank Facebook templates triumph all. These are applicable for all purposes conceivable and can also be edited without any limits. These are brilliant as you can edit them on PowerPoint, Word, or Photoshop. You can indulge in a creative spur; make sample famous person profiles, conversation threads, character studies, etc with these blank Facebook templates. You may also see University Facebook Post Templates.
Blank Facebook Worksheet Template in MS Word
Free Blank Facebook Template Powerpoint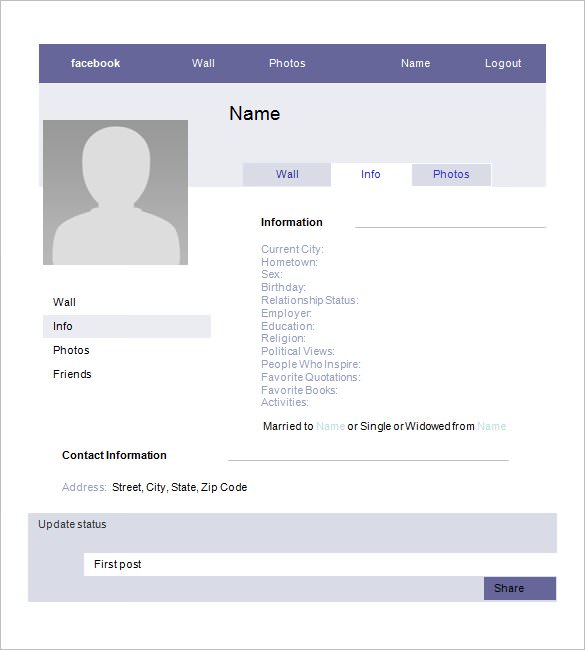 Facebook PowerPoint Templates
Facebook PowerPoint templates are powerful tools to include in your presentation to send the right message. You can use them as a student or a professional at your presentation. Compatible with all the versions of PowerPoint, these templates are completely editable and brilliant to work with.
Best Facebook PowerPoint Presentation Template
Facebook Template Microsoft PowerPoint Example
Sample Facebook Wall Template
PSD Facebook Templates
PSD Facebook templates are popular for their flexibility, high resolution, and vector formats. All the PSD files contain demo objects and texts which are customizable. You can choose to zoom into the different aspects of a Facebook profile/account like timeline graduation, cover photo zoom, profile page, homepage, etc by using these PSD website templates.
Wildlife Facebook Timeline Cover Template PSD Format
Spring Break Facebook Template
Facebook Page Mockup PSD Free Download
Social Media Facebook Timeline PSD Design
Facebook Banner Templates
Fully layered PSD, bundle templates, editable free fonts and text colors, demo photos, and models are all included in the Facebook sample banner templates available for public download. Our collection of the most recent Facebook simple banner templates is devoid of ugly watermark and copyright licensing, you can edit them and use them after downloading.
Real Estate Web & Facebook Banner Template
Facebook Banners Corporate Multipurpose Photoshop
PSD Facebook Timeline Cover Templates
Give your Facebook profile and timeline a makeover with the newest timeline cover template. These simple templates are not only fully editable, but they also include demo content which gives you a fair idea as to what fits where and helps you gauge the final look of your profile. Best suited for formal, business, and large organization profiles on Facebook Tutorials, you will be spoilt for choice at our Timeline Cover Template section.
Pro Photo Artistic Facebook Timeline Cover PSD Template
Winter Facebook Cover Photo Timeline PSD Design
Facebook Timeline Cover Template Photoshop PSD
Lovers Facebook Timeline Cover PSD Template Photoshop
Guide to Facebook through this Video Tutorial
Getting the Template Up and Running
The first step is to install the template. Since Facebook Templates are an HTML5 / CSS template, its method of an installment is a bit different. After buying the Event Facebook Post Templates, a .zip file will appear in the Downloads section of My Account. Download this file. Once you open the .zip file, you will notice several files within it tiled Help or Documentation, .html files, .css files and sometimes, even .php or .js files. The final step is to put these files on your server space to get the desired results.
Getting the Best Out of the Template
The best thing about templates is that the bulk of the work has already been completed long before you purchased it. All you need to do now is install the template and update all the necessary pictures and information to get the results you desire. Templates are mostly delivered as soon as the purchase has been made. learn Facebook Templates are designed for commercial and private purposes like setting up web pages and legal websites but their redistribution in any form is a punishable offense. You may also see Back to School Facebook Post Templates.
Facebook Templates Make Your Job Easier
Facebook Templates are designed with the same level of precision and accuracy to exactly match an actual Facebook page and even have the same distinguished features like a profile picture, photo book cover, and a width of 810 pixels. This gives visitors a homely site that they can connect to due to their past experiences and they, naturally, feel more at ease. Easy customization features also guarantee that you get exactly the design that you want.
Side attractions like Maps, streams from other websites, and trending topics, in the form of built-in widgets, help keep visitors coming back for more. The Facebook and HTML codes are completely valid and the templates' competence with various popular web browsers has been tested. You may also see Food Truck Facebook Post Templates.
For the professional outlay of a Facebook page, get a template for your website immediately. These templates have just what it takes to give your website an extra edge over your competitors.
Pros of Using Facebook Templates
Time is Synonymous with Money:
Every business owner knows the value of time. With the help of a readymade Facebook page template, you can start running your business at a fast pace. If you have all the images, products, and content ready, then the rest will be surprisingly easy for you. Drop the idea of getting a custom-designed HTML5 website because it will take a lot of time and in the process, you will lose business. Also, if you have problems with the image size on your website, you can always use a Facebook PSD mockup. You may also see Free Facebook Travel Post Templates.
Cut Unnecessary Expenses:
The good news is that most of the Facebook templates are free and the rest come at an affordable sheet price. Without having to burn a hole in your pocket, you are getting a visually engaging design website. You just hit click the button which says, Facebook template download and you are good to go. What more could you want?
A Safe Bet:
With Facebook templates, what you see is what you get. Also, since Facebook is the most popular PDF social media site out there, once you get any one of their sample templates, you automatically attract a lot of traffic. And, Facebook offers you a diverse range of templates depending on your taste and needs. Therefore, you do not (always) need to worry about using the same template as your competition.
Navigation was never this Easy:
If you choose the correct Facebook HTML template, then half of your ad's job is done. With Facebook templates, you never have to worry about navigation as steer your customers towards the intended destination. Especially with blank Facebook templates, you can control the navigation of your web page.
However, you need to consider certain major cons of a Facebook template.
Popularity is an Issue:
Due to Facebook's popularity, there is always a chance that your competition might pick the very same Facebook Profile Template or Facebook construction project budget template that you have been meaning to use for your business. If you choose to overlook his, both your WebPages will become a clone of each other. Well, there is a way to do damage control. Once you make sure that you are adding your touch to the Facebook background, this will not affect your business. Make sure you get an editable Facebook template.
Other Benefits of Choosing Facebook Templates
Facebook is a reputable provider of templates and you can do plenty with these Facebook layout templates. With the MS Word Facebook Template, you have the chance to write unique and engaging content, which will draw your customers towards your products and services. You may also see Birthday Facebook Post Template.