The choice of HTML website template can have a make or break impact on the value and visibility. Therefore it is important that you more than just skim through the options before you. Rate or rank the features of each and every HTML website template and find the find which has the most pros for your website. You may also check Business Website Templates. Templates are easy to include and have a well defined interface added along. An exhaustive list of the best HTML templates are here in provided, letting the professional choose the most preferred option. HTML5 Business Templates Free Download.
Superb Industrial Business HTML5 Moto CMS 3 Template $199
This HTML template is a good contender to deck up your business website. Costing just $199, it has got some very admirable options and features which will up the appeal and functionality of your website thereby also increasing visitor- traffic on your business portal. The template is brimming with special qualitative attributes.
Responsive Multi-Purpose HTML5 Business Template $17
Featuring a clean, modern design Desirable is HTML5 business template that is 100% responsive, retina ready and cross browser compatible. Highly editable, this template is suitable all kinds of business.
Premium Business HTML5 Website Theme $69
Laid out in a 2 column style design, Global Business Website is clean and beautifully crafted template. It is fully responsive and cross browser compatible and comes with touch enabled accordion and slider.
Elegant Responsive HTML5 Template $19
A responsive template which sports a smart menu alongside a retina ready design and unique color styles for the professionals to make use of.
Excellent Business HTML5 Website Theme $69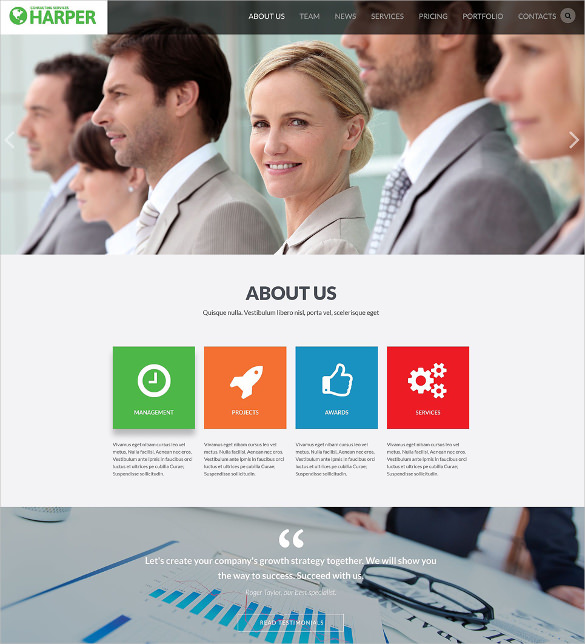 Featuring a sleek, clean and modern design, Business Consulting Agency Website Template is a fully responsive HTML business template. It is based on 1190px width and comes with a working contact form and search form.
Smart Responsive HTML5 Template $17
With the multiple HTML files and Ajax contact form supported, this theme provides high end responsiveness followed by cross browser compatibility.
Internet Provider Business Joomla HTML5 Theme $75
The internet provider business Joomla HTML 5 theme is a beautiful HTML 5 business template that uses a modern design to create the perfect website for the internet service provider.
All in One HTML5 Website Template $17
A multipurpose theme with innovative templates and homepage layouts included while providing high end responsiveness for the professionals.
Business Responsive HTML5 Website Template $69
Built on 1170px grid system, Business Responsive Website Template features a clean, modern design. It is fully responsive, has a single column layout and comes with a working contact form.
Clean Hotel Business HTML5 Template $25
A highly responsive template which includes contact forms and multiple video players alongside exchangeable maps and PSD files for an added support.
Responsive Blog HTML5 Website Template $12
Meant for the business bloggers, this theme supports HTML5 pages alongside a retina ready design and multiple coloring schemes for the designers to make use of.
Photography Portfolio HTML5 with Shop Template $17
A responsive theme which supports photographic business inclusions while including retina ready design alongside cross browser compatibility and ultra responsiveness.
Responsive Corporate Business HTML5 Template $16
A multipurpose theme which supports high end responsiveness followed by the built in bootstrap for supporting entrepreneurial growth and an advanced outlook.
Responsive Corporate Web HTML5 Template $17
This theme sports a landing page resembling the home dimensions while the full scaled width and service forms add to the credibility of this theme. you may also like Corporate HTML5 Themes.
Responsive Convertible HTML5 Template $17
This theme comes with an ultra responsive design which is beefed up by the revolution slider inclusions and working contact forms.
Responsive Business Landing Page HTML5 Theme $25
This theme comes ahead with a one page template and responsive sliders for an enhanced page viewing experience alongside better connectivity.
Multipurpose HTML5 Template $17
A vertical layout and amalgamation of infographic elements enhance the utility of this theme followed by retina ready designing schemes.
Responsive Business Full Screen HTML5 Theme $25
A responsive HTML5 supportive template with a full screen home slider included alongside layered PSD files and featured Google fonts.
Clear HTML Built with Bootstrap Template $8
A stylish theme which supports bootstrap theme in addition to HTML5 page views while including cross browser integration and featured fonts!
Responsive Multi Purpose HTML5 Template $17
Enhance the overall page viewing experience with creative and featured fonts alongside layered PSD files for an additional support for the professionals.
Responsive Multi Purpose Business HTML5 Template $25
This theme supports a grid based view while featuring exclusive Google fonts followed by fixed navigation schemes and sequence sliders.
Responsive Web Design HTML5 Template $16
Added Bootstrap 3 alongside a fully responsive interface enhances the overall creativity while including boxed and wide layouts into the scheme of things.
Business Blog HTML5 Theme $25
Unlike the name, this theme provides an extensive business support on including blog layouts and a mobile optimized working scenario.
Premium Responsive HTML5 Template $17
This theme supports HTML5 coding and includes a fully responsive design alongside retina ready support and multiple style switchers for the professionals.
Clean Web Responsive HTML5 & CSS3 Template $25
A theme which supports unlimited colors and 37 HTML files followed by an extremely responsive design for the designers to make use of.
Fully Responsive Business HTML5 Template $17
Enhance the credibility of your online business with this theme which provides cleaner designs with minimalistic coding options alongside the twitter Bootstrap 3.0.
Unica Minimal Responsive HTML5 Template $25
Featured font icons are supported alongside multiple adaptive images for the designers followed by a responsive design and well documented approach.
Creative Artist Responsive HTML5 Portfolio Template $17
A simple to use theme which sports a minimalistic design followed by image sliders and jQuery animations besides the customizable interface.
Multipurpose Responsive HTML5 Template $19
A flat layout followed by a responsive interface makes this theme an instant hit among the professionals while the revolution slider accentuates the usefulness further.
Simple Responsive HTML5 CSS3 Template $17
Responsive Design HTML5 Template $17
Coupled with an ultra responsive design and 6 home page layouts, this theme provides the needed entrepreneurial support for the professionals.
Premium HTML5 & CSS3 Template $17
A minimalistic design is included alongside multiple fonts and vibrant colors which enhances the overall responsiveness coupled with a better viewing experience.
WooCommerce Premium Responsive HTML5 Theme $59
An elegant theme which includes a twitter widget and working Ajax forms alongside a highly responsive layout and jQuery supportive gallery.
Smart Start Responsive HTML5 Template $17
Responsive Fashion Shop eCommerce HTML5 Template $17
This theme supports a responsive layout along with multiple image descriptions for the professionals looking to create a gadget oriented web store.
Environment Protection Web Template $69
This theme supports a responsive page image slider alongside the HTML5 support for the professionals in addition to an SEO ready approach.
Intranet Business HTML5 Website Template
This is a classic and professional business template with stunning homepage design and awesome color combination. This is a multipurpose theme, and the sections on the homepage are creative and clean.
Responsive Business WordPress Theme
This is a perfect business WordPress theme that is highly used in web development companies to design different types of WordPress websites based on it. It is SEO-friendly, and user navigation is intuitive.
Basic Business HTML5 Website Template
Multipurpose Responsive Website HTML5 Template $17
A one page user interface which combines high end responsiveness with cleaner coding practices followed by multiple fonts and color selections.
Getting these amazingly created templates for your websites will just help to let the importance of your site grow significantly. Focus on your website more and let these creative templates do the rest for you. These extremely professional html website templates are very much beneficial to the web developers and website designers. These free html website templates help to make the contents of your website easy to understand. You can also blog themes.
> Tons of Features to Utilize
> Highly Responsive
These corporate company html5 templates are 100% responsive which helps the websites become absolutely compatible to navigate in any gadget or device. This very quality makes these small business html5 templates display the pictures and texts in high resolutions. Users may go through the sites at any place, at any time, with no such limitations. You can see also Hosting html5 themes.
> Keeping the Menu on Top
Using these template joomla html5 themes helps the users by keeping the main menu panel at the top. No matter where the user scrolls down for navigation, the menu bar tags along at the top. This saves a lot of time as the user does not have to keep looking back to previous page.
> Loads of Designing Tools
Making these business templates look attractive is important too. With two column responsive layout, these templates come with Parallax scrolling giving the website an illusionary effect in the backdrop. These templates are endowed with features like Google Web Fonts, Advanced Theme Options, multiple design layouts, background styles and much more. With Font Icons, these templates make even the texts look crystal clear.
> Simple. Innovative.Creative.
Download website template html5 and let your ideas make them look all the more edgy as these themes can be readily customized using Adobe Photoshop CS+ software. These html template free have several html short codes which make development of the websites faster and easier.