Have you taken the decision to launch a website of your own? Well done then. You've taken the right decision. But what you must remember is that creating a website can be a really tough job. If you're not that tech savvy, you might find it exceptionally hard to create a website all by yourself. There are a lot of factors to be taken into consideration while creating the website. For one, you need to take into account the layout and the design of the website. This is one thing you cannot compromise on, after all, it determines the popularity of your website. Most people are nowadays resorting to html5for creating their websites. Today, this is one of the most popular platforms for those wishing to create their own websites. You may also see Personal HTML5 Templates.
Photographer Portfolio HTML5 Website Template $199
Perfect for any photographer to showcase their portfolio, this theme option is a wonderfully CSS3 and HTML5 based website theme template which has all the perfect elements. It is extremely well documented and has signup form options. The features are
Extensive collection of widgets and fonts
Gallery slide and cataloguing options available
There is option for media library and video integration
Islamic Responsive HTML5 Website Theme $17
With a fully responsive nature and a load of customising options including various colour themes and home page and other pages layout options, it is one of the most sought after designs. The feature list also includes
jQuery powered effects and sliders
layered PSD files are included
flexible and efficient HTML5 coding is used
Hunting Responsive HTML5 Website Template $199
When you want to host a site that would reach the exact audience with its precision and calculation in the hosting, here is a great deal for you characterized with
Google Web Fonts and Google Webmaster Tools
Social media integration that generates traffic
Background Options that is flexible
Google Analytics and Global Website Settings
The settings and facilities offered at the backend will be a real asset for your business growth
Minimalist Responsive Html5 Website Theme $18
The one who loves pictures will love to show them in a beautiful way. If you would love to express your feeling filled pictures to the world, here is a template featured by
Responsive HTML5 and CSS3 codes for best display
Google Web Fonts integrated with 5 Homepages
jplayer with an alluring Portfolio
PHP Contact form with social media icons
The social media integration and the players integrated can help you add a lot more of interesting elements to the site.
Business Responsive HTML5 Website Template $199
A neat and professional website is the vital part of developing a business. If you are in search of such a premium, looking website, Here is the choice for you having the below features
Google Web Fonts with Global Website Settings
Social media integration for traffic generation
Background Options and Google Analytics integration
Google Webmaster Tools for better site reach
This template is sure to increase your site visits and will certainly help to get more Google rankings
Creative Responsive Html5 Website Theme $16
Taking beautiful photographs is an art. Showing them in the right way is a talent. If you would lobe to have the talent, go for this template accompanied by
Responsive HTML5 and CSS3 validated templates
Google Web Fonts integration for enhanced customization
A beautiful and attractive Gallery
PHP Contact form with validation
This template is sure to make your images more noticeable. The design of the gallery is just impressive
Photography HTML5 Website Template $9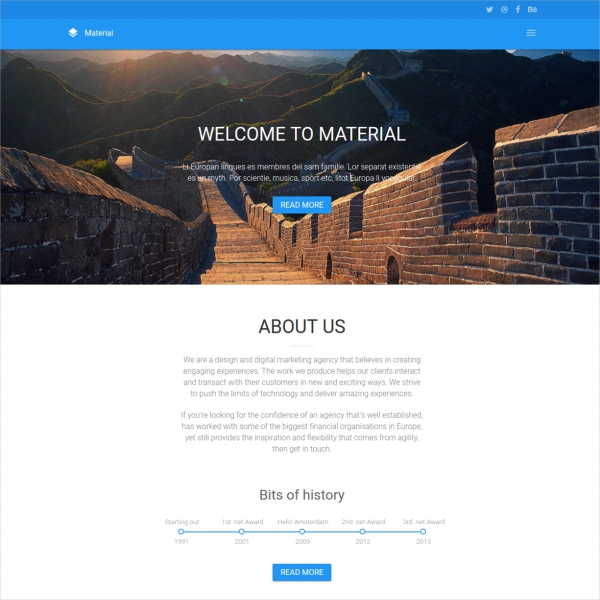 The material theme is a minimal responsive materialistic theme for a website which is extremely well coded and efficiently flexible with loads of customising options including font packs and widgets. The feature list includes
jQuery plug in for images
rich colour palette and vibrant tones
pixel perfect with 9 HTML pages
Responsive HTML5 Blog Business Portfolio Website Theme $25
With a main objective of converting visitors to clients, this minimally designed responsive template theme is perfect for any business needs with its sophisticated HTML5 and CSS3 coding. The bucket of features include
cross browser compatibility
a 100% responsive retina design
full functional full screen slider
Responsive Bootstrap HTML5 Website Theme
When you are planning for a site for your business, it shall be attractive and informative at the same time. If you love such a site, here is your choice
Fully Responsive template with valid HTML5 codes
Built on the most powerful Bootstrap 3.x frame
10 color schemes with varied Email templates
200 Bootstrap icons and 600+ Font Awesome icons
The color choices and the orientation of the site are beyond brilliant so that anyone would love to have this site
Photofolio HTML5 Website Template
When you love some colors, you would really wish to have your site on the same color theme. If you love to go green, here is your choice
Neat and beautiful layout
SEO friendly well-validated codes
Highly flexible and customizable backend
Attractive and usable widget areas
This template has the freshest and greenest look in the lot of green websites
Responsive Event Planning HTML5 Website Template $12
A [professional site need not be in grey always. Sometimes it can be colorful and look professional as well. If you are in search of such a template, here it is featured by
Colorful and Sleek design with Awesome Background
Features Section and a very Clean Code
Cross-browser Compatibility and SEO Optimized backend
100% Customizable template with Google Fonts
This template can be used for any professional sites including the companies, consultants, and managers
Design Responsive HTML5 Website Template $8
Minimalism and light colors are always loved and recommended by many experts. If you are the one who loves lighter shades, here is a choice for you to try out
Pixel Perfect display with Beautiful Graphic effects
Full Responsive Template with a 12 Column Grid System
Easy to Customize & Deploy backend with flexible codes
Font Awesome Icon Font and Easy editable Google Map
This template can be used by professionals, bloggers, authors or poets
Premium HTML5 Website Theme $25
There will be times when you need to tell something too mysterious to the world. If you are the one who loves the deep dark colored site, here is a choice for you
A beautiful Dark and neat Layout
7 Predefined Skins with 3 Different Sliders
Sortable Portfolio with multiple Layouts
Blog and Working Jquery Contact Form
This template is a right fit to be used for sites related with astrology, science facts etc
Creative HTML5 Website Template
When you need to have a site that will make the visitors attracted at the first glance, don't hesitate to go for red. And here is the wonderful template you incorporated with
Beautiful and neat template structure
SEO friendly valid codes
Easily editable and manageable code structure
Optimized code for faster loading
This site looks beautiful and attractive at the same time. The background colors and the fonts compliment each other very well.
Ultimate Multipurpose HTML5 Website Template $15
If you ate the one who loves the peaks and shouts at joy, why can't you tell it to others with an awesome website? Here is a right template for you featured with
Elegant Design with a completely Responsive Layout
Working Contact Form with Well Organized Source Code
RTL Support for localization
One Page & Multi Page structure for flexible customization
The content organization and the smooth sliders add a special value to the website as well.
Minimalist HTML5 Website Template $14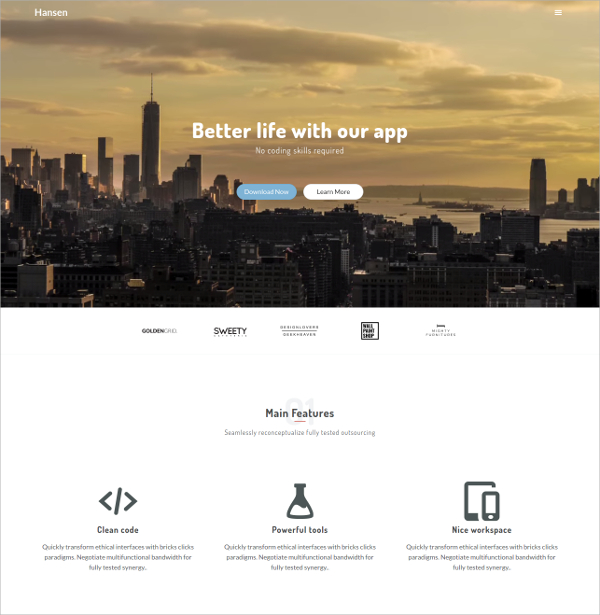 When you are a powerful business person, you website shall reflect your integrity and dignity as well. If you would like to have such a website, here is a pick with
Powered by the most powerful Bootstrap 3.3.5 frame
Vegas Background Image Slider which is smooth and attractive
Parallax Effect and Slick Slider
Overlay Menu, Pricing tables and Google Map integration
This template will suit all businesses like management consultancies, stock market etc
Premium Business HTML5 Website Theme $25
When you have the skill to see the world in a different perspective, don't refrain from showing it off to others. Here is an awesome template that fits photographic sites
16 HTML5 pages with 3 different sliders
Multiple Shortcodes with 2 Sortable portfolios
Working jQuery contact form with validation
Google Maps and Multilevel dropdown menu
This site will highlight all the images with equal importance. The transition effects used on the site are really beautiful.
Business HTML5 Website Template
When you love to have a perfect looking awesomely beautiful website, don't hesitate to touch this pick. This template is integrated with
Awesome color blends and layout
100% responsive codes that are cross browser compatible
Smooth Css3 Animated effects
Well-validated SEO friendly codes
The detailing and the perfection of the minute add-ons in this template deserves a special appreciation
Creatives HTML5 Website Template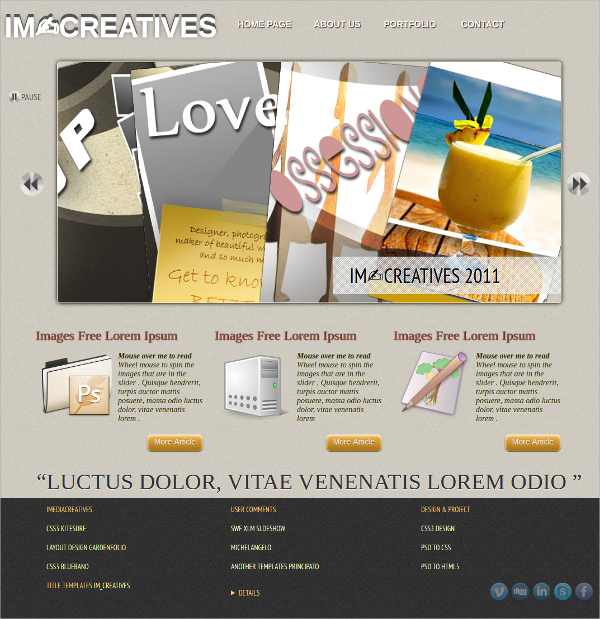 There are no limits to creativity. You can show your creativity at its beat on customizable templates and here is a nice pick for you to try the extremes of creative thinking
Beautiful blend of perfection and creativity
Awesome fonts and colors
Multiple options for customization
SEO friendly backend codes
This template will suit businesses, consultants, sellers or even professional portfolios.
Jewelry eCommerce HTML5 Website Template $199
When you want to host a fashion website or a site for your artistic skills that looks ornamental, you can have a try on this template having the features
Google Web Fonts and Social media integration
Flexible Background Options with Google Analytics
Google Webmaster Tools for easier site management
Global Website Settings for easier deployment
The site is extremely eye catching and crafted with utmost artistic beauty
Business Responsive HTML5 Website Theme $49
When you have to host your first website, it shall be a smart start of brilliant data and beautiful design. If you are in search of such a great start, here is a choice
Responsive HTML5 and CSS3 tableless design
Theme Options Panel with Shortcode generator
Custom Shortcodes with Slider Manager
Custom Widgets and Custom Post Types
This template will fit startups, tutorials, blogs and consultant websites
OnePage HTML5 Portfolio Website Theme $15
Declaring yourselves is easy. But declaring it in a confident way is tricky. If you want to declare yourselves in the best way possible, here is a pick
HTML5 & CSS3 Clean and validated codes
Fully responsive layout with a Photo lightbox integrated
Font Awesome icons with Tabbed Features Section
Carousel slider (touch friendly) with a Full-screen intro
By using this template, It's sure that your portfolio will stay out of the box, always
Responsive HTML5 Business Portfolio Website Theme $25
A professional website shall look professional. That means that the content shall be organized, the data classified and the images arranged. If you love to have such a site, here is a choice
Fully Responsive Layout that is cross browser compatible
Extremely Customizable backend codes
Built using the brand new Foundation Framework
Grid Based Layout and Video Support
The template will suit any websites that will have some valid contents in it
Simple HTML5 Website Template
Who will not love the beautiful blend of white and grey with some awesome fonts and attractive images? If you do, here is a website for you to try with
Flat-File CMS Theme that is extremely simple
Blog section and commenting section
Extra Type & Color Themes for customization
Full Source Files for complete control
This template is visually too impressive and looks artistically beautiful
Responsive Wedding Invitation HTML5 Website Template
Your big day is the one to be celebrated, if you would love to host an invitation for that beautiful day, here is a nice selection for you to try with
Fully Responsive template powered by HTML5 and CSS3
8 colour schemes with beautiful 39 love icons
200+ Bootstrap icons integrated with 600+ Font Awesome icons
jQuery countdown and a working Ajax contact form
The effects and transitions are pretty neat, clear and attractive
Responsive Multipurpose HTML5 Website Template $6
When you love to write, write it in the most beautiful canvas. Yes this beautiful template will add beauty to your words and crown to your wisdom. It's featured by
30 Valid HTML Files with 10 predefined color sets
Google Fonts with Over 350 Icons
Easy Color Management and Responsive Pricing Tables
Responsive jQuery Plugin with Fullwidth Contact Page
5 Portfolio Page Layouts with Typography and Shortcodes List
The blog section and portfolio section will certainly add glory to your site
Free Simple Style HTML5 Website Template
Purple is the royal colour. When you have a royal business, why don't you try on purple? If you love to, here is an awesome pick for you to try out
Customizable and flexible backend
Neat and well validated codes
Simple and minimal design structure
Sample content and background images
This template is sure to add a premium look to your site and is the best fit to be used for perfumes, spices and clothes websites
Bike Riding HTML5 WordPress Website Theme $45
It is really hard to explain what the world look like in the eyes of explorers, especially bikers. If you are a biker who wants show the views to the world, here is a choice featured with
Advanced Theme Options with Google Web Fonts
Commenting System that is really perfect
Sample content and social media integration
MailChimp Ready Template with Tag Cloud
This template can be used for any automobile-related websites like websites for travelogues, garages or new vehicle launches
Responsive Shoping HTML5 Website Theme $56
When you love the fresh looks for everything including your premises, why to refrain in the case of websites? Here is a fresh from the oven choice for you containing
Custom styled customer area and Customizable front
Multiple currency support and Customizable sidebar
Beautiful typography and Social media sharing
Contact form and an awesome Newsletter signup form
This template has the freshest look with impressive colors
Fitnesss HTML5 Website Template $18
When the word classic website is uttered, the first thing that will come to the mind will be the white gray combination. If you love such a website, here is a choice featured with
Awesome templates in 3 Colors (cyan, blue, pink)
Single page designs in minimalistic fashion
Organized layers with neat appearance
Retina icon templates in PSD format.
This template can attract any visitor with its minimalistic looks and elegant fonts
HTML5 Minimalist Responsive WordPress Website Theme $39
Who will not love a template that is completely validated having well-commented codes? Here is an awesomely neat template with some wonderful features like
Clean, Semantic, SEO Friendly Code
Cross Browser Compatible template which is Microformats Supported
Localization Ready codes with Load Scripts
Archives Page Template and Contact Page Template
The settings for localization and the achieve page are equally impressive
Free Modern HTML5 Website Template
Won't it be great when your website looks like the beautiful starry night with a lot of moonlight and beautiful visuals?if you wish to have such a site here is a choice with
Neat and responsive template
Well-validated and SEO friendly codes
Customisable backend with impressive menus
Social media integration with lots of widgets
The template stands out with its unique design and impressive widgets
Corporate Bootstrap Responsive HTML5 Website Template $9
When you want your business to get noticed, you might do unique things. If you love a unique website as well, here is a choice for you incorporated with
100% Responsive Layout Design with Smooth Scrolling
One Page designs with a Multipurpose theme
Google Fonts Support and Font Awesome icons
Fully Customizable backend and a Working Contact Form
The template is perfectly functional and the codes just work like champ
Portfolio Responsive Bootstrap Free Website HTML5 Template
Don't it feel exciting to submit a web portfolio that reflects your personal strengths and desires? If you do, here is an awesome pick with
Powered by Twitter Bootstrap 3.3 frame
Developer-friendly HTML5 and CSS3 code
100% Responsive Layout Design with multipurpose theme
Gallery Section Lightbox and Smooth Scrolling
The transition effects are really nice so that no one will hesitate to visit the site again
Agriculture HTML5 Website Template $75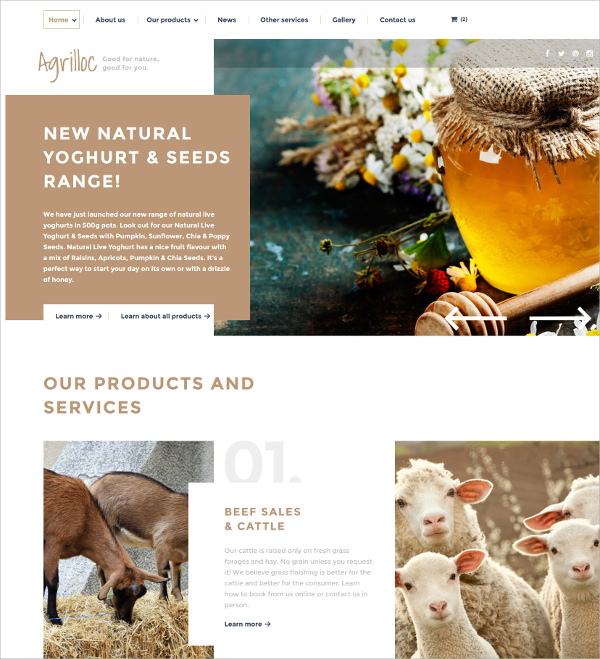 When you love farming and want to promote those beautiful organic products, why to think again?Here is an awesome template to make your dreams come true with the following features
Sliced PSD which is Cross browser Compatible
Customisable Dropdown Menu
Google Web Fonts for attractive looks
Easy and quick Google map integration
The PSD files with the template package will act as a great asset when you needs to have major changes on the site
Multipurpose HTML5 Website Theme $18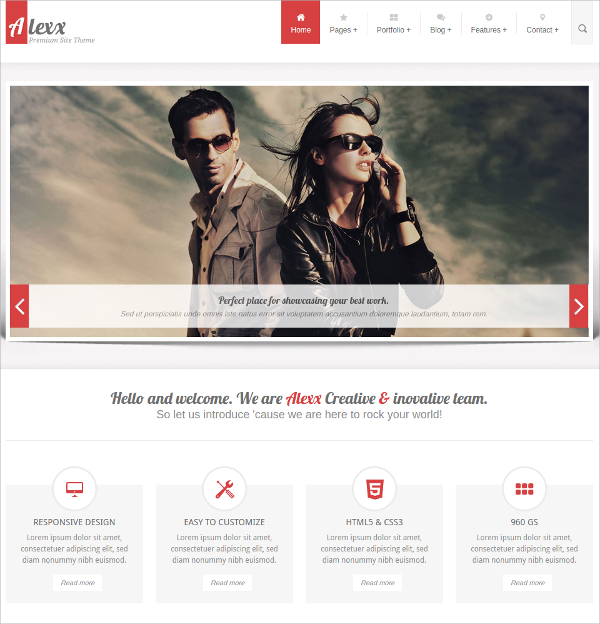 When you are running a hotel or a home stay, people shall be informed. What if they are informed through a wonderful website? Here is a choice for you to try out
2 different Home page layouts with 3 level drop down menu
Products page with laptop slider
Filterable portfolio with 100% W3C valid HTML files
Very detailed documentation with PSD files
The detailed documentation and the neat file orientation will help you with future updates as well
Real Estate HTML5 Website Template $18
When you love to decorate your home or when you love to change the face of buildings, you have to say it aloud with this awesome template
Touch enabled sliders and Google map integration
Live message bar and 3 gallery styles
Customized icon fonts and Social media widgets
Multiple blog styles and Sidebar Accordion
This template gives you the maximum flexibility of customization and improvisation
Corporate Bootstrap Responsive HTML5 Website Template
Cooperate the world is so complex, but the websites shall be not. The site shall reflect the integrity and the seriousness of the organization. If you love such a choice, here is a template
Beautiful Fluid Responsive Layout.
HTML files with Jquery plugins and Photoshop sources
Neat and validated codes with widgets
Quick and easy navigations
This template is a perfect fit for consultants, IT firms, Travel agencies etc
One Page Creative HTML5 Website Template $10
Sometimes people will expect extraordinary from you. If you are the one who delivers beyond the promise, make your website also beyond ordinary using this template that has
Powered by Bootstrap 3.3
Responsive Layout with Super Easy Configuration
9 predefined color schemes and a Filterable Portfolio
Ajax loading with Fontawesome Icons
This template is one of the best templates to be used for multiple purposes
Consulting HTML5 Website Template $75
When you are a consultancy or an advisor, people will come to you always. And you would love suggesting them. So they should feel your warmth and affection on the site either. Here is a pick for those affectionate consultants with
Sliced PSD available for customizing from scratch
Crossbrowser Compatible codes for all browsers
Google map integration
Google Web Fonts and Tabs for flexible customization
This is one of the very neatly organized, well-managed website templates in the lot
Charity Responsive HTML5 Website Theme $16
When you love to spread an eco-friendly message, go for green! And here is an awesome pick for you containing
5 Color Schemes with Google Web Fonts
PHP Contact Form with jQuery enhanced slider and effects
Shortcodes and a beautiful Blog Design
Services page and Testimonials section
Here, each and every module is crafted with ultimate perfection in mind
HTML5 website templates are usually multipurpose as these can be modified and framed as per particular business needs, whether you need an elegant design for your ecommerce store, portfolio website, service based website, single page website, blog or more HTML5 Templates can add any sort of functionality to your website using simple methods. These templates bring a long list of features like mega menu, responsive design, custom colors, multiple font options, custom widgets, multilingual, WooCommerce support and more.
For beginners html5 really is the best option for creating a website, especially for those with a fight budget. Hiring a professional to create your website for you would end up costing you a lot. Wouldn't it be better if you could just do it yourself? There is one way of doing that. You could look up HTML5 Website Templates online.
> Types of Html5 Website Templates
Given the different types of websites, there are several kinds of free html5 website templates online –
Free html5 website templates – New business owners or small scale entrepreneurs are always looking for free website options, so that they can get the best websites at the lowest costs. That is the best option for them.
Premium html5 website templates – Premium websites are the top quality websites. These give you the best features, and would help you in setting yourself apart from the rest.
Responsive html5 website templates – A responsive html5 website template would allow you to get your hands on user friendly websites which make it easier for the users to use.
> Uses of Html5 Website Templates
Html5 is one of the most efficient platforms when it comes to designing websites. That would give you a wide range of options to choose from, which is what all website owners want. Now irrespective of whether you're creating a website for professional reasons, or simply to express your personal opinions, you can take the help of sample html5 website templates with the designing part. You can also see jQuery HTML5 Website Templates.
> Tips While Using Html5 Website Templates
While using downloadable html5 website templates, there are few things you should keep in mind-
The kind of template you select will depend on the kind of website you're planning to create. Make sure you keep in mind the purpose while selecting the template.
Pay close attention to the design of the website. The layout of your website will depend on the content of your website.
Go for customizable html5 website templates. These templates are really easy to edit and customize, which allows you to get exactly what you wanted.
> We Can Help You Out!
At template.net, we have an amazing collection of the best html5 website templates. If you're planning to download html5 website templates, you must take a look at our vast range of templates. You may also see HTML5 Website Templates.