HTML/CSS Templates
22+ HTML5 Signup & Registration Forms – HTML, CSS
Making a responsive signup form template can be hard. Not to mention incorporating it with javascript for android, iOS, and other devices. If you are making an online newsletter or a volunteer basketball club, it is important to keep track of registration for purposes like a mailing/email list.
Online Signup and registration forms, HTML Login Form Templates are important aspects of almost every web design. If your website needs active contributions from visitors, then you should have provisions so that they can register or signup to open an account with your site. Users register with a site to download files or post articles, to purchase something & so on depending on the theme of a site. The registration forms, HTML5 Templates are pretty elaborate, asking for a wide range of personal and contact details from the users- like age, name, gender, job, whether they are students or someone with a membership, and so on. But the most important aspect of all HTML5 Signup & Registration Forms is the name, username, password, gender, and account creation button.
Multipurpose Volunteer HTML5/CSS3 Website Signup Form Template
XtraForm – Bootstrap 3 Xtra Animated Form HTML5 Format

This bootstrap registration form template is coded based on jQuery mobile JavaScript which makes it compatible across many platforms and also makes it very customizable. The html5 form template is available for free download here.
Multi-Step Student Signup Form With CSS3 and jQuery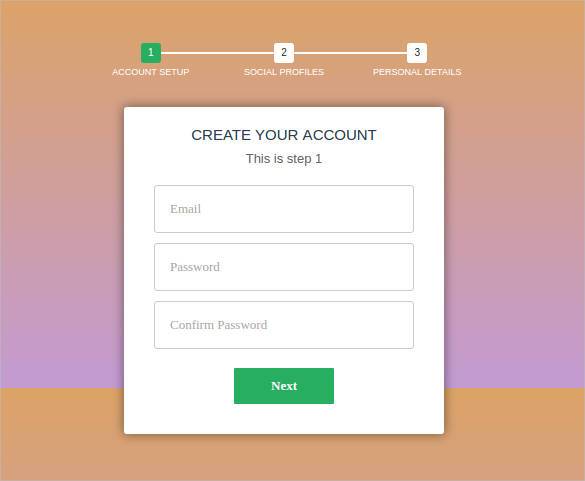 This kind of registration form in HTML with CSS3 helps in the sectioning of various parts of a long signup form, thus making it easy to maintain records whereas jQuery ensures that these forms can work on a wide number of platforms. Download the signup sheet templates in Pages from here to build a form for your own site today.
Authentix – Ready to Integrate User System HTML Format

This kind of html5 form template is created by a simple PHP script for signing up, logging in, or authenticating users. This kind of login and registration form templates can also provide the feature of secure sessions. Download one from here to implement one of these on your own site.
Login and Signup Kit For Android in HTML File Download

This kind of registration form template uses CSS for registration forms and is very helpful in creating signup forms meant for the android platform. This kind of HTML registration form template is available for download below.
Codepen Basic Sign Up Form in HTML Format Download

With its revamped fresh design and very simple interface, this kind of HTML5 website template has been carefully optimized for creating new user registration forms. With their utility in various fields, these signup form templates are really handy and can be downloaded right from the link below.
Formplexy – CSS Forms with Validation & WP Support HTML Format

This kind of HTML registration form is very neat and customizable for any developer. It is extremely fast due to CSS form with jQuery. It also has WordPress Templates support, social buttons, and an option for forgotten password handling. Download the form from here to use it on your own site.
Javascript Login & Registration Form with HTML5

This kind of registration form template is used for login and signup due to the fact that it is very simple and uses very simple coding. This kind of HTML5 form template find a wide number of uses due to their light structure and can be downloaded right from here.
Tab Login & Sign Up Forms HTML Download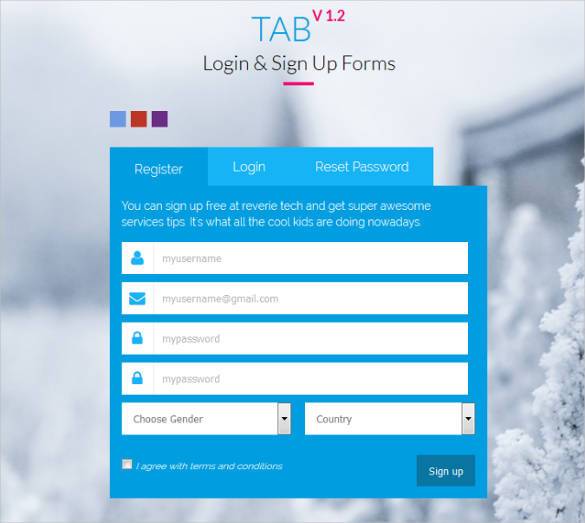 This kind of signup form template is widely used due to its tab-oriented look which is very helpful in categorizing things. This type of HTML5 form template can be downloaded here to be used for long signup forms with many fields for taking information.
Signup Form Flat Template Download

With its minimalistic look, this kind of registration form template is widely used due to its simple and clean look and due to the fact that this kind of HTML5 signup template can work on many platforms. You can get one of these forms here for download.
Flat Look HTML5 & CSS3 Signup Form Template Free Download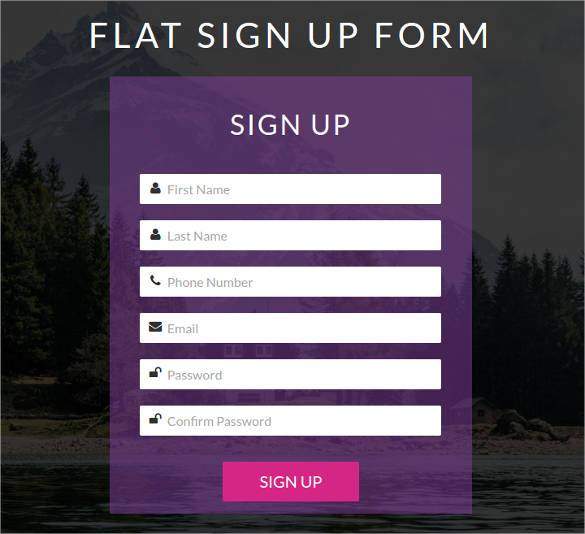 Equipped with the simplicity and cleanliness of an html5 coding coupled up with the security of CSS3 signup security with jQuery, this kind of signup form template is one of the best options you can find for your site. Want to know how will it look for your site? Just quickly download it from the link below to check it out.
How to Create Registration Page?
A registration page on a website consists of a registration form that lets website users get registered with the website and get access to applicable facilities, services, or products. A registration page is considered to be the most important aspect of a website as it gives you a way to be more interactive with your users. For creating a registration page, first, you just need to add a new page through your CMS and then add the Best HTML5 CSS3 jQuery Dropdown Menus and registration form to it. You can find a large number of registration form templates online for easy and quick installation on your page.
Awesome Design HTML5 and CSS3 Login & PHP Sign Up Forms

This HTML5 and CSS3 login and signup form comes with an awesome design with perfectly sectioned fields. The form is handy and easy to install. Just download the form and you can customize it as per your preferences.
Beautifully Designed Login & Signup Panel Template in HTML5
Simple, Highly Functional, and Effective HTML5 Register Form
HTML5 based registration form is ideal for all kinds of websites like college, medical, shopping, school, and even more. Comes with an optimized design to provide the best call to action to a website user.
Flat Club HTML5 Levy Registration Form Template
Simple and Bright Background Login/Register Form in HTML5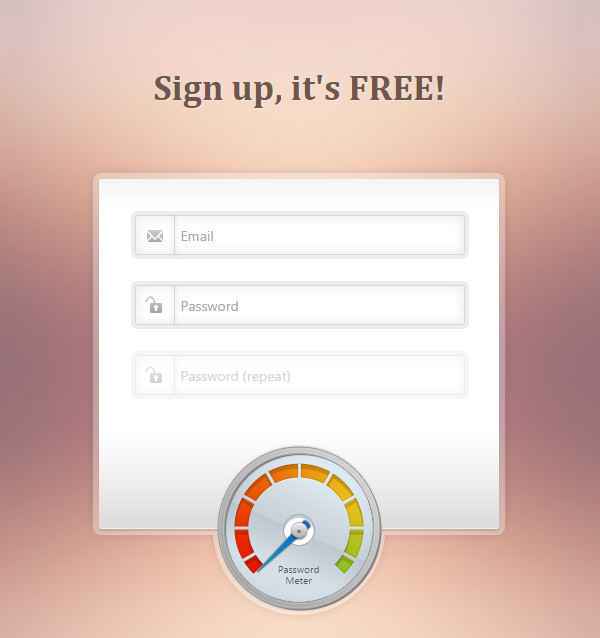 Easy to use 3 Color Versions HTML5 & CSS3 Login& Signup Panel
Web Classy Look HTML5 Login and Registration Form
Nice, Clean Looking HTML5 Membership Registration Form for Free
Cool Blurred Background Newsletter Signup Form Template

Need a sign-up form created for a newsletter registration? This super cool sign form template comes with an amazing blurred background style that can complement any of your website design types. Get downloaded and add to your registration page.
iOS Plain Background HTML5 Login and Registration Template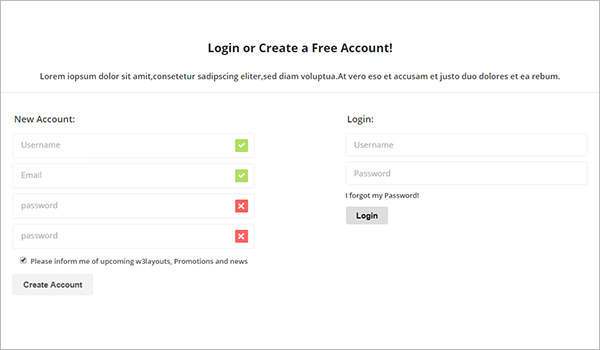 HTML5 & CSS3 Register Login Responsive Template Example
Here is another wonderful HTML5 and CSS3 registration and login form ideal to meet registration form requirement of your website belonging to any niche. Comes with an eye-catchy design and superior functionality to offer a secure registration environment.
Basketball HTML5 Signup & Registration Form Template
Download
How to Make Signup / Registration Forms?
Whether you are a professional design website templates owner who is looking to create a registration form for a website, it takes almost equal efforts for all to get an elegant and professional signup form added to the website. You can explore a large selection of responsive and eye-catchy Registration and Login form templates online that you can hardly create yourself. The best part with these templates is that along with their standard use, you can customize the fields, size as well as color of the form elements quite easily in minutes. Whether you need a student registration form, eCommerce registration form, event form, or more, you can find template forms for all kinds of your sign-up form needs. There are numerous such registration and login templates that offer you secure, effortless, and elegant forms to be added to your websites. You just need to get these downloaded in a few clicks and do minor customizations is necessary.
More in HTML/CSS Templates