For young parents, the ways to find out about different needs of their kids is by searching the internet. Be it about education, clothing or day care centres, parents search the internet for finding the best ones. If you have a business in this field then you need to create a website of your own to survive in this day and age. Kids Website Templates are useful for such purposes. You can use them to create websites without much knowledge of code and with ease. We have compiled a list of the best kids website templates available on the internet. Check them out.
161+ Website Templates in Word | PSD | Apple Pages | HTML5 | WordPress | Publisher - START DOWNLOADING
Baby Store Website Template $139
This beautifully designed theme is best suited for you if you own a store that sells products for infants or small kids. This template comes with 24/7 free support. Its 100% responsive design makes it viewable on any browser on any type of device. The parallax effect makes the browsing of your website a fun experience. You can also use the template to set up online blogs for kids.
Kids Club PSD Website Template $12
This is a website template made for zoos, cinemas, museums, comedy clubs, circus and aquariums, focusing on kids' attraction. If you want to build a website for any such places or for events focused on kids then this website template will work perfectly for you. Available with the template are 53 PSD images which you can edit and add to your website. Gloria Hallelujah, Lato, Architects Daughter, Icons: Flaticon and Images from Bigstock are the available fonts. You may also see Kids & Children Magento Templates.
Kiddy Responsive Website Template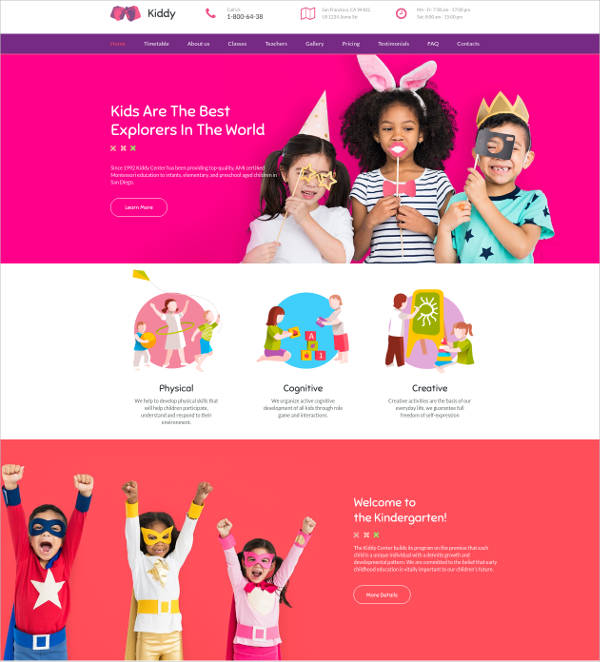 Ecommerce Children Theme
Kindergarten Joomla Website Template $48
This is a very attractive website template which will be very useful if you want to create a website for your kindergarten. The attractive and playful theme will surely attract the parents. WordPress as well as Joomla versions are available for this template. It is compatible with all the major internet browsers. Its full responsive layout makes it viewable on mobiles and tablets as well. You can choose from 5 colour variations for your website.
Kids Babysitter Responsive Website Template $199
If you run a daycare or a babysitter agency and want to create a website dedicated to your business, then this website template is the perfect choice for you. You can choose from different preset designs each having different colours, sizes, backgrounds, etc. Using the drag and drop editor you can easily create new sections in your website's pages. Using different widgets you can add various functions to your site and make it interactive on social media platforms.
Childcare Website Template
Website Template for Children $59
This artistically designed website template will be highly useful for creation of a website for businesses like daycare, preschool, elementary school, art and craft school and nurseries. It will also make a good kids website for other purposes too. Multiple shortcodes will make the designing of the website very easy and hassle free. Visual page builder will help in building of pages for different purposes for the website. The site can be built in multiple languages. You can also see Kids Oscommerce Templates.
Kids Accessories Website Template
Free Kids WordPress Website Theme
This wonderfully designed website template which in inspired from popular cartoons and kids' movies will make for a wonderful website for kids' toys as well as children's blog. Ecwid and WooCommerce support can make it very useful for online retail of goods. The colour combination used makes the site very attractive. The search engine optimization will make sure that your site generates a lot of traffic and in turn will make your business hugely successful.
Kids Education Website Template
School Children & Kids Website Template
It is an extremely beautifully designed website template that can highly benefit a daycare, preschool, kindergarten, elementary school or childcare centre in creating its own unique website. Its responsive design makes it viewable on mobile and tablet devices as well. It comes in various homepage themes and colour combination for you to choose from and each one very is well designed and attractive. The website can be made in multiple languages.
Kids eCommerce Website Template
This website template can be used to create various online retail and wholesale sites dealing in kids' stuff like clothing, accessories, toys, playmates, etc. The WooCommerce plugin can be highly useful for online sales. Popups can be created which will make the visitors aware of new offers and also allow them to subscribe to your newsletters. You can avail free support for a year after the purchase. You can also use the demo files by creating their copies with a single click.
Kids Education & Learning WordPress Website Theme $49
If you want to create a website for your preschool, kindergarten or elementary school then this website template is the perfect choice for you. Using the visual composer you can show various details about your school. You can choose from a wide range of colours for your website. You can create your website in various languages. Pages dedicated to schools can be used to display teachers' profiles, courses offered, events that take place, etc.
Free Kids WordPress Website Theme
This is a wonderfully designed kids website template that can be used for writing children's blogs as well as for business involved in toys and kids' accessories. The bright colour combination used makes the website look extremely attractive. Ecwid and WooCommerce support can help in online sale of goods. Various widgets add to the features of the website and social media plugins make it interactive on social media platforms. This theme is available for free download.
Kid Care & Kindergarten WP Website Theme
This website template is created especially for daycares, preschools and kindergartens. It can also be used for online kids' stores selling clothing, accessories, etc for kids. The template has defined areas to describe the various aspects of your school or to display different kinds of products if you are making an online store. For schools, there is a timetable plugin where you can add weekly timetable schedule for classes. WooCommerce plugin will help in online retail of goods.
Kindergarten Responsive Website Template
Baby & Kid Store WP Website Theme
If you want to create an online store or an online portal of your own store dealing in clothing, accessories and other stuff for infant and small kids then this website template is the perfect choice for you. The website uses a soft colour scheme which gives it a view fit to be a site for children. There is a page exclusively giving details of shipping and delivery of products. A contact form is available for customers to ask their queries.
Kids Playschool WordPress Website Theme $36
This is a website template which is perfectly designed for playschools, nurseries and kindergartens. You can write in detail and also add photos and videos regarding various activities taking place in your institution. It also comes with a responsive background slideshow where you can add high definition pictures of your institute. You can also add pages giving details about classes, faculty, etc and pages allowing parents to contact you.
These kids website templates are among the most popular ones available on the internet. You can use them to create websites for your various purposes without having much knowledge of code. All the templates are very attractive and well designed and are sure to give a boost to your business. They will also help in expanding your customer base. Pick the template which you find the most appropriate for your business and have your own website running in no time and without any hassle.