Invoice Templates
7+ Vehicle Repair Invoice Templates – PDF, Word, Excel
Vehicles are the pride and joy of their owner. A car or any other type of vehicle is very important to any owner. Especially when you talk about people who like to be on the road more than they are in the house, just for the love of being behind the wheel. Thus, keeping it in its best condition is a top priority. It is understandable that you would want to get riled up in beating potential damage. You may also see invoice samples.
Vehicle Repair Invoice Template
Auto Repair Invoice Template
Car Repair Invoice Template
Vehicle Service Form

nordania.dk
If not, that could mean trouble on the wheels while you are out on the streets, which could affect not only you but other people as well. This is why it is important to choose your vehicle repair services. You are willing to invest so much in it, that is why it is only right to want it working in its best condition, for as long as it can. You may also see invoice templates.
Vehicle Invoice Sample

montgomerycountymd.gov
Garage Repair Order Form

rigginscollision.com
The Value of Vehicles
Vehicles have become a necessity and not just a whim. The auto business takes more than just being able to fix or power an engine. It needs skills for identifying issues with the machine too so that there is a long-term solution to a damage. A truck, a motorcycle, and a car becomes an extension of yourself if you are its driver.
So then it is only right to make sure that it last some good long years for you. Then again, some good things were never made to last. So you have been told the same old story. Like all things, it deteriorates and fails too, especially with the lack of materials from the past decades, if you have a vintage car. You may also see photography invoice templates.
Maintenance
Your vehicle is considered as one of your biggest assets just like your house. And, like any other machine, it has to have regular maintenance. Getting that from the right people is very important so that you are sure that it will keep you on the go when you need it working the most. Machines can fail, sure.
But that does not mean that they are a hopeless case, because you have the option of having them repaired and make them good for the road in no time. If you want a regular maintenance job, then it is better to start hunting for those who offer the service at a reasonable cost. Sometimes, certain situations do not allow a car to work the way it should. You may also see retail invoice templates.
Mishaps happen. That is, mechanical misfortunes either on the road or out of it, are inevitable. It takes a great deal of responsibility to have a car or a truck. With that comes the commitment of making it last longer, because owning any of these, does not come cheap. Getting them fixed and repaired is not cheap either, although most of the time, auto services charges reasonable fees. You may also see construction invoice templates.
Dealing with Damage
There are different areas in powering or making a machine work again when it fails. Your use of fuel and gas may be primary contributors but let the person you hire take care of that. Or when trouble does come, you know who to call, and that's not the Ghostbusters. Trust only the professionals when it comes to getting your car fixed if you cannot do it in your garage.
Make sure they operate legally and have specific certifications that qualify them in repairing machines and vehicles. But the moment you entrust your car to a service or repair shop, observe the mechanic doing the work on your car. This is after all, still your vehicle and you would only want to make sure that the specific repairs on damaged parts are being done by those who have the certification to do the task. You may also see work invoice templates.
Repairs
Besides the fact that accidents could be more than dangerous when worse comes to worse, having a car means more than the luxury it gives you. You have to be committed to keeping it in good shape. Which means you would need regular maintenance for it and then some. It is also more than just the love of driving.
Because if you love the road that much, you are willing to do what it takes to avoid mishaps. Aside from having such a clean car and retrieving its best form, you can be sure it is in good condition for another dirt road adventure. Your challenge will lie in finding a contractor that would cover the important, if not all aspects of repair in its every sense. Otherwise, you may find it useless and an utter waste of time. You may also see real estate invoice templates.
Things to Consider for Auto Shops and Repair Service
Drivers have high expectations. You only want to put your money on the ones who can really provide your car a good fixing when needed. Do not forget to check for license and certifications, and insurance if applicable. You can't just have any mechanic work on your car, otherwise, you're risking more damage than help. You will end up spending more money than needed. A technician needs to have the knowledge and skills it takes to repair any brand of car if it comes down to that. You may also see maintenance invoice templates.
1. Reference
Try to find shops or contractors that you can trust for a good service. But that is actually easier said than done since there are so many mechanics and companies out there who are in this business. Most of them are more than qualified and have been there long enough to be trusted. Make sure to find out who they are. Ask for references. Most people would know who to recommend the working class and even high school kids have their own vehicles.
2. Insurance
Naturally, your car should be covered by insurance, so you have to know what your insurance policy number is, for your vehicle, along with its unique identification number. In the event of an accident, it is important to have not only the proper mindset to deal with the situation but also your auto repair shop or mechanic on your calling list. It's best to be safe so calling the authorities or even just the towing company, will be very helpful. You may also see sample construction invoice templates.
3. Estimates
Get yourself some estimates when the choice is nearly done. This is a good way to check if you can work with the cost they have listed, or the materials that the technician needs so that you won't be surprised once the invoice is handed to you when the repair has been completed at the date promised to you. Also, you can't feel obligated to pay a repair shop, except when their job is already done on your car. You, therefore, have to think and decide carefully, so that you can ask for a free estimate of the possible checklist for supplies, as well as what the breakdown of the total would be, should you agree to have it fixed by the mechanics there.
4. Warranty
The repair should be covered and done by the dealer if your vehicle is still under its warranty. While auto warranties can vary, there is a serious lack of understanding over which party is allowed to service your car and specific parts needed to repair it. This would complicate your selection of repair shops since you may end up choosing one that's not affiliated with where or who you got it from. A violation of your warranty clause would render your warranty null and void. If you want to be sure, always check with your dealer. You may also see commercial invoice templates.
5. Simplified Explanations
Some vehicle owners choose to escape the "speak cars" part since they aren't machine or vehicle parts savvy. Whatever services are needed to be rendered on your car, you should ask what the shop is planning to do with it. Asking for explanations about what type of fixing your car needs is your right as a customer, especially if there are certain parts that need to be replaced. However, when they explain it, make sure it's something you can generally understand. You may also see general invoice templates.
6. Check with the Better Business Bureau
When you have already come up with a shortlist of repair shops you're looking to take your car to, know if they are operating legally and check with the BBB if they comply with certain qualification requirements. While you're at it, you can also ask if they have any record of past complaints from customers and how it was eventually resolved. Be on the safe side. You may also see advertising invoice templates.
Car Repair Billing Form

railinc.com
Auto Repair Order Template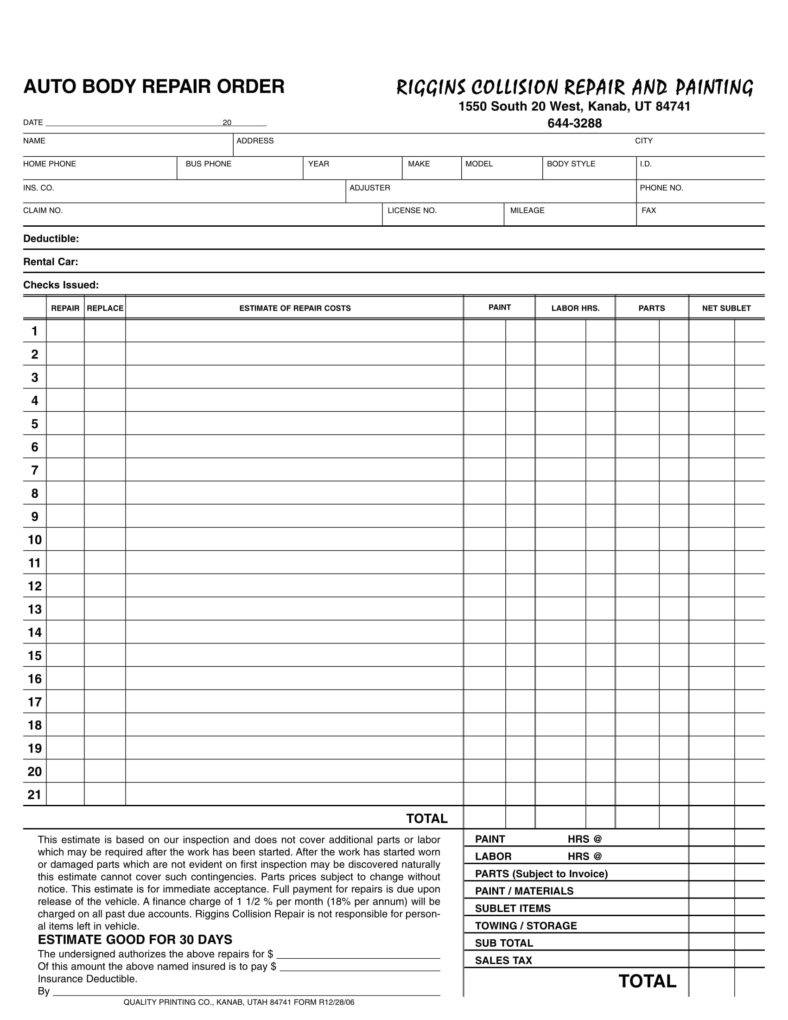 rigginscollision.com
Owners do not realize the importance of getting their vehicles repaired before it causes serious damage to the driver or other people on the street. Having a vehicle means more than just the comfort or challenge that comes with taking control of the wheel.
Any owner would want to keep his beloved car working as it had worked well before. After all, your road trips will never tell the same story without your car being part of it. Vehicles vary, but the love of drivers for it will always be the same. You may also see legal invoice templates.
More in Invoice Templates