"Healthy mind in a healthy body" or mens sana in corpore sano, a Latin phrase from the 600 BCE Greek sage Thales, is an idea and a telling sign that although the study of the mind in today's terms may be referred to as modern psychology, the Greeks and Romans of ancient times had a better understanding of medicine and philosophy as two integrated disciplines.  For thousands of years, and in ancient civilizations, doctors, who may have been known simply as "helpers" or "soul healers", have known that mind and body are connected. The practice of psychotherapy or psychiatry was not only vital and relevant to the ancient Greeks, but has also been studied by those who chose the medical profession, and is still given the same relevance and importance to this day.
Theories in psychotherapy and counselling were already being developed early in the 20th century. However, historians and the world of Psychology recognizes that its early roots also began in Vienna in the 1800s when Sigmund Freud dedicated research work and study into the human mind, bringing forth a method he called psychoanalysis.  He continued his work as a neurologist, taking notes and working on patients he classified as hysterical until the 1930s.
Psychotherapy Notes Provision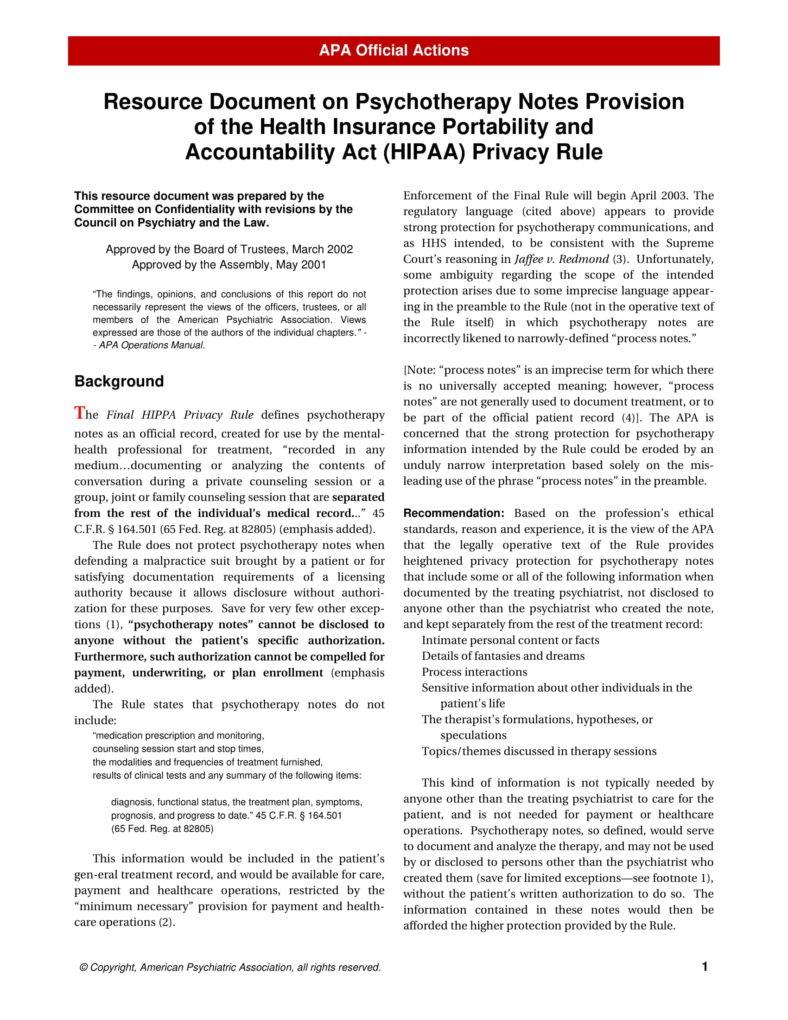 Although there are still debates surrounding the techniques for treatment in psychology, the movement toward empirically supported or evidence-based treatment is gaining ground all over the world as healthcare and medicine top in a list of fastest growing industries in many countries. Insurance companies are also welcoming a broader perspective to recognize, overcome, and improve the results when it comes to treating mental health issues.
People often have a common misconception of viewing the word "Psychotherapy" as nothing but a process of treating mental health disorders. In reality, an experienced psychotherapist will help shed light not limited to a person's mental health issues, but also behavior that he or she doubts, questions about himself, his or her relationships with other people and his or her overall sense of self. There may be a deep-seated depression waiting to be uncovered and confronted before everybody around you normalizes it. Mental health issues are often downplayed owing to people's lack of awareness regarding mental health and their point-blank refusal to confront and address signs of depression.
Psychotherapy Notes and Record-keeping Guidelines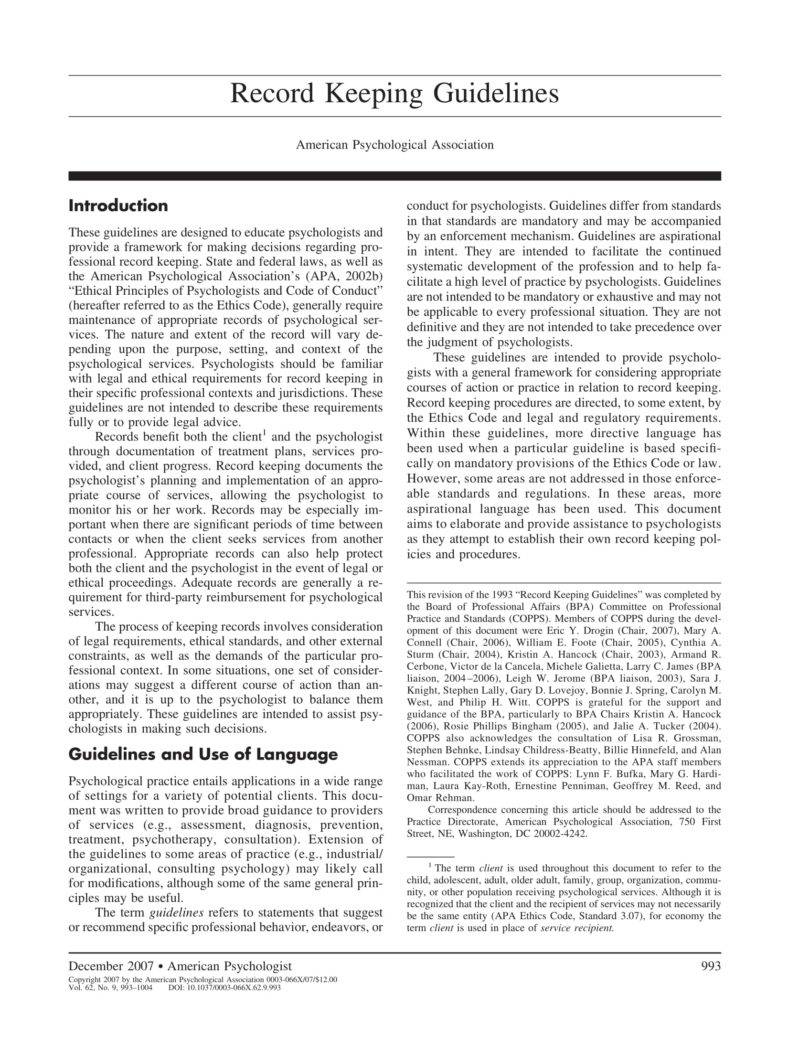 Clinical psychologists and social workers who offer counselling and psychotherapy services are required to keep records and maintain notes of their therapy sessions and client treatment plans. Any information provided during these sessions should be securely stored, sometimes for seven to 10 years, sometimes more, depending on the clinic or organization's timeline requirement. Clients, just like in hospitals, enjoy a client-counselor confidentiality privilege that shouldn't be violated. People who require access to their files in the future are allowed to do so.
It's very important to know the weight and life-changing power of clinical records. Facts indicated in the records, gaps, conclusions of one's mental state, and even the tone of the findings stated in the psychotherapy notes can have a big impact on court decisions like a child custody battle, work or service security clearances, and other legalities that need addressing. When the privacy of this note as a form of record is breached, you're looking at wolves ready to pounce at and take advantage of a person's exposed vulnerabilities and sensitive information.
Psychotherapy Notes for Progress Report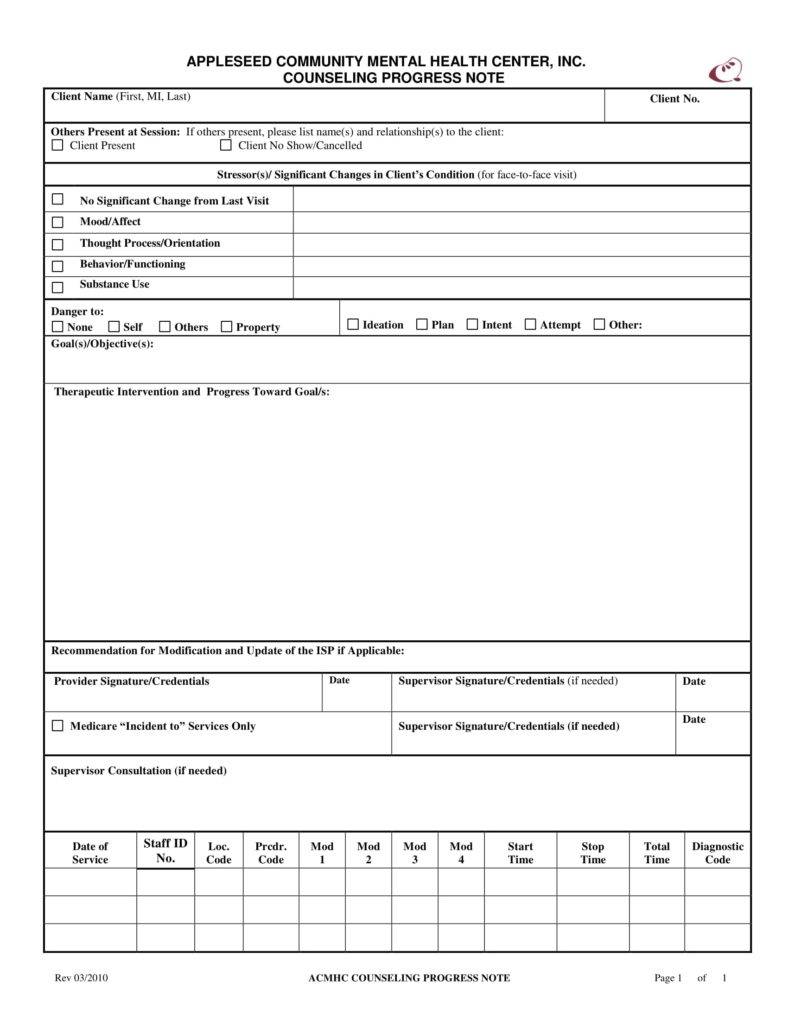 From their clinical history, diagnosis, down to the person's most private revelations during the sessions in therapy, these things may find its way to people and organizations who would not think twice to subject a person to malice and ridicule. Worse, there is a risk of having this information posted on social media. While it's nice to believe in the inherent goodness of people, keeping a secure and good record or psychotherapy note is still better to have your client protected from the worst.
Remember that people seek therapy service and counselling to determine early signs of depression and help them keep track of their mental well-being. This involves confronting their ugliest feelings towards another person, no holds barred. If a company, for example, finds out about an employee's misgivings towards the job on the records, he or she may lose a place at work. It can also affect professional relationships between colleagues where the psychologist will be led to recommend another therapist. You may also see therapy note templates.
In some cases, it can put someone's life on the line as sometimes a husband doesn't really like the idea of a wife going to therapy, spilling out dirty laundry for the therapist to hear. There are many possible scenarios that bad record-keeping in psychotherapy may lead to, each one worse than the last. You don't want to risk your career and reputation for an honest mistake in your profession that could have been avoided. You don't want to throw your work ethics down the gutter because, at the end of the day, this is also about being ethical, and simple notes that are not properly secured is a sign of being unethical. In many cases, it's also illegal as it is below professional standards to do so.
Psychotherapy Note Policy
Morality and professionalism aside, while it is important to assure clients that confidentiality holds a big weight in the treatment and sessions, they also need o understand that information can be requested by the courts and people related to the client to help solve a case or simply find out a loved one's whereabouts if the general meetings were also kept from family members. Oftentimes, the wish to access the records are paved with good intentions and not necessarily pointing harm and damage to the client's reputation with the people he or she knows. Then again, requests of those who seek the service and those who represent them may be at odds with an organization's policies and professional code. In this case, it s best to keep a reference to the right documents or seek simple legal advice. It doesn't have to be complicated and no party will be left dissatisfied.
Psychotherapy Notes
Well-kept notes and records help therapists in their promise to offer and provide quality care by having the continuity where they would not need to be extremely dependent on their memory or recollection of each patient's life and the type of treatment they planned and provided. In the event of inevitable circumstances where the treating therapist is not available for general service anymore, becomes disabled, dies or cannot continue with the therapy for other personal reasons, the clinical records stored can serve as the next therapist's point of reference when he or she continues with the same patient's psychotherapy sessions.
Store and organize printed copy records in a safe place and keep them locked so that they are reasonably protected from the threat of theft, intrusion calamities and accidents like fire, earthquake, flood and any form of unauthorized access. For your computer records, use a password at all times and secure the device with virus protection, firewall and access log so that you can properly monitor who accessed the files and when. And always, always keep copies as backup in a personal storage device in a safe location. You may also like briefing note templates
Progress Psychotherapy Notes
Enter information that are meaningful and clinically relevant for future reference. Write down important contacts including phone calls and other collateral contacts that may hold significance. Always include the type of services provided and corresponding results or findings so that you have a record of significant progress made for your next sessions with the same patient. Also put the type of services and corresponding payments, fees and charges. Make sure that the records indicates basic demographics, mental status, important diagnosis, presenting problem and possible relevant risk factors. You may also see concept note templates
Progress Note
Psychotherapy has been cast in various different lights and became the subject of many intellectual debates among scientists and experts who have studied and analyzed its art, science and history for years. To some, it is an old fashion way of healing going all the way back to ancient Greece. To others, it is but a result of a short moment in history where certain democracies have been founded on. Then there are those who considers it as something that provides a way into describing and experiencing a stronger sense of self awareness, of being, if you may. You may also like application note templates
Progress Psychotherapy Notes
Criticisms in the theories surrounding psychoanalysis and psychotherapy methods have always been there. Others even only recognize it as a form of spiritual or religious method hiding behind the language of science and intellect. Even Freud's works was viewed to have various flaws and deemed limited or selective at most,  as groundbreaking and as historically and scientifically valuable his contribution may be. It cannot be denied that the early studies of psychotherapy helped establish a greater understanding of why people should not treat mental health issues as taboo. You may also see procedure note templates
Regardless of whoever's side you're on, or whether or not you prefer to sit on the fence for this, it is important to consider Psychotherapy as something that can be treated both an art and a science to those who choose it as a profession. Understanding the relationship between these two elements and gaining a proper balance in therapy sessions and psychotherapy note making or record-keeping is essential in having positive therapeutic results. You may also like Note Templates in PDF