Whether you're into a clerical job or have been appointed the President of some Board, the one thing that can never go off your agenda is making Note Templates . And to make this arduous task simpler, meeting notes template word comes in handy. And before you know it, you're actually saving the task of "remembering it all" on your fingertips.
Meeting Note Format
foodaddicts.org
Committee Meeting Summary Note
aamc.org

Meeting Note Taking Template
tasha-harmon.com
Attendance Note of Business Meeting
 cairngorms.co.uk
Meeting Members Refund Request Note Form
weightwatchers.com
Club Meeting Note Report Form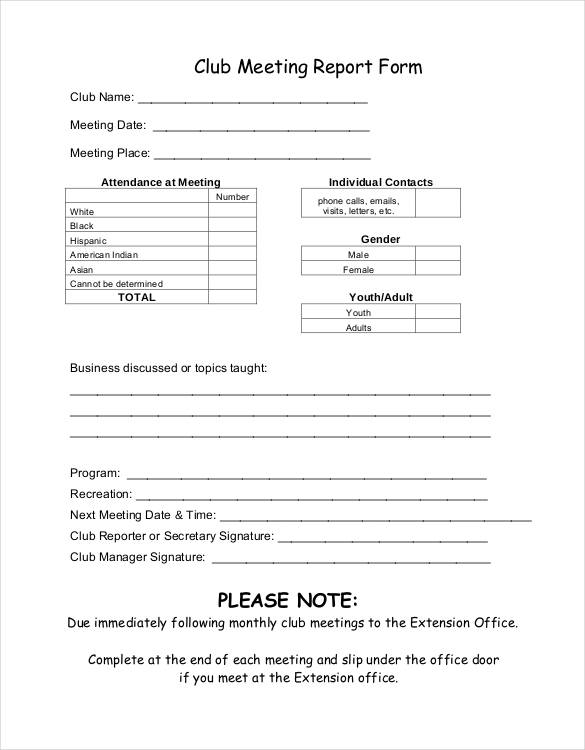 counties.agrilife.org
Example of a Email Meeting Note
swdevelopmentplan.org
Professional Meeting Recap Note Template
gracelutheranescondido.org
Sample Medical Meeting Note
nrc.gov
Child & Family Team /Planning Meeting Note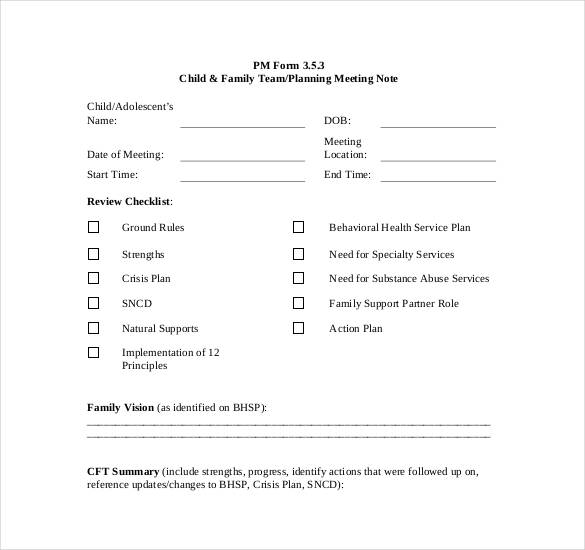 cenpaticointegratedcareaz.com
Status Meeting Note
infrastructure.planninginspectorate.gov.uk
Annual Meeting Note
rbcpa.com
Foundation Meeting Notes Template
ed.gov
Office Meeting Note
tucsonaz.gov
Template for School Meeting Note
cne-siar.gov.uk
Simple Meeting File Note
fccenvironment.co.uk
Engineering Note of Meeting
gla.ac.uk
Post Interview Meeting Note
csl.mtu.edu
Meeting Note Outline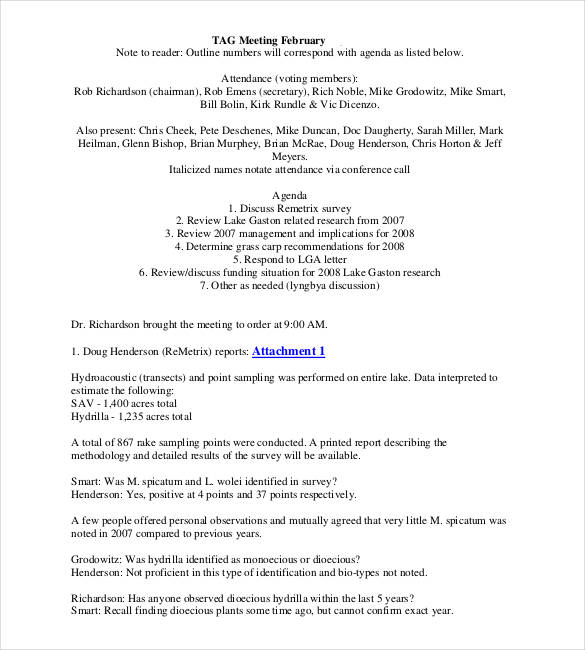 lgwcc.org
Formal Collaboration Meeting Note
manzanitaseed.weebly.com
Employment Meeting Note Template
phoenix.gov
Welcome Meeting Note
colchester.gov.uk
How to Take Meeting Notes?
Taking notes in a meeting is a good practice as this helps you ponder on all the important decisions and directions of the meeting. Using Meeting Sheet Templates would make it easier for you to align the meeting notes in an organized manner such that finding the relevant information becomes easier. Here is how you can take meeting notes.
Instead of trying to make the notes during the meeting, try to focus on the discussions and arguments.
Write down the notes immediately after the meeting, when all the points are still fresh in your mind.
When writing the notes, make sure not to be biased. Instead have an objective approach towards the whole proceeding.
Use an active tone and the same tense throughout the notes.
Review the notes to ensure there are no errors.
What does Post Meeting Note Mean?
A post meeting note is one that you make after the meeting gets over. While making these notes, you review the whole meeting in your mind and list down all the things of consequence. According to experts, post meeting notes are better than taking down notes in the meeting as this would mean that you can focus on the proceedings and actively participate in the decision making process or presentation of arguments. You can easily design the format for these notes by taking some cure from the Thank You for Interview Notes templates. Of course, you can make changes to these as per your requirement.

Why is it Important to Take Notes during a Meeting?
Using Meeting Minute Templates to design a meeting note document is one of the best ways to list the details of the proceedings. However, there are a lot of people who think that taking notes during a meeting is futile and thereby refrain from the practice. According to experts, this is actually a good practice and an important one at that. Wondering why? Take a look.
Taking notes during a meeting ensures that you would not forget anything important that happened during the meeting.
Sharing the information of the meeting with people who could not make it to the meeting becomes easier if you have the meeting notes handy.
By taking notes, you become more focused about achieving the results and steering the meeting to that end.
It has been seen that by taking notes you can actually steer the participants towards unanimous agreement over matters.
By taking notes, you can actually make everyone feel important, heard and trusted.
What is the Purpose of the Minutes of a Meeting?
Though a lot of people make use of the different Meeting Notes Template in order to take down the minutes of the meeting, there are still a few who do not believe in this practice. However, time and again it has been seen that the meeting minutes can actually prove useful. Let us take a look at the purpose of minutes of a meeting.
Helps to record the proceedings, decisions and arguments
Becomes a proper evidence of the various arguments and decisions during the meeting
Becomes handy for the absentees to understand what happened in the meeting
Comes in handy when planning future meeting
Proves useful when deciding agenda for future meetings
Benefits
Whether you are using a Sample Safety Meeting Minutes Templates or any other template to take down the minutes or notes of a meeting, you should be rest assured that this would surely prove beneficial for you. Wondering what these benefits could be? Take a look.
Gives a clear picture of all the people who attended the meeting and the other who didn't
Proves beneficial in figuring which arguments were made by which person
Comes in handy for future references
Gives the absentees a clear idea of what happened in the meeting
Adds a touch of efficiency to the meeting
show your company uses them to share and distribute depends on a number of tools that are provided. From cloud-based membership management systems to sharing tools, sharing a Promissory Note Templates with Action item was never this simple. If you have any DMCA issues on this post, please contact us!