Business
19+ Permission Request Letter – PDF
There will be an instance in your life where you will be required to come up with a request letter. The situation in which you are required to make the letter templates may vary, but if you want to look professional then that means you must come up with one that is polished. Some examples of situations where you might need permission would be making a letter to your boss to be allowed to study while working for them, authorization to enter premises, consent to do an interview for research/thesis, or doing a business event in a sports ground.
Business Permission Request Letter Template
Free Request Letter to Boss For Work Permission
Request Letter to Principal for Permission to Take a Class
And that is the main reason why everyone must learn the proper format and the tone of making an official request letter. So if you plan on creating an appointment request letter that allows you to properly ask for permission to use someone else's library, use facilities, or even to avail another's services, then this article will help guide you.
Permission Request Letter to Enter Premises
Permission Request Letter to Use Facilities
Police Commissioner Permission Request Letter
Interview Permission Request Letter Template
Event Permission Request Letter Template
Travel Permission Request Letter Template
Authorization Permission to Access Records Request Letter
dredf.org
Permission to Request for Recommendation for Transcript Letter
ths.ac.in
Asking Permission to Request for Leave Letter
ots.gov.ph
Permission for Holiday Absent from Work Request Letter
cambriansd.org
Permission to Request for Academic Reference Letter
ed.ac.uk
Sample Thesis Research Permission Request Letter
ibrary.georgetown.edu
Steps for Making a Permission Request Letter
Before you make the sample letter, you must know that there are certain things that you'll need to do as well as things that you have to learn so that your it contains everything that it needs. You may also see Formal Letter.
So the following are steps that will allow you to create a  permission request letter:
1. Identify Who You're Making It For
You won't be able to make a request if you have no idea about the person from whom you should be asking. The only way to know who you should be communicating with is if you put in the time and effort to contact the right people to help you. For example, let's say that you're writing a transfer request letter to a company because you're trying to ask permission to avail a particular service. Seeing as you don't know who you should address the letter to, you always have the option to contact the company and ask one of the secretaries or information support to help you figure it out. Although this will take some time and effort, it's best that you do it to ensure that you'll be asking the right person.
2. Learn the Format for a Business Letter
If you want to make your letter look like a professional request letter, then you'll need to learn how to create it with business letters. Whether you're sending the permission request letter via email or hard copy won't matter as both benefit from you having followed the proper format.
If you don't know how to structure the letter, then here are a couple of pointers:
Make sure that you place your name, title, and your address at the top left corner of the letter
Place the date right underneath them
Write down the name, address, and title of the person whom you're addressing the permission request letter to
Be sure that you're addressing the person properly. Start the letter off with either "Dear Mr." or "Dear Mrs."
Make sure that your request letter of intent has a 1-inch margin on all sides as well as single spacing. Don't intend and just use a double space in between each paragraph
Use a font that makes it easy for the reader to go through your printable letter. Good examples of which would be Arial or the standard Times New Roman
End the letter with "Sincerely" and leave at least 4 lines so that you can manually input your name into the letter
3. Remember to Use a Proper Greeting When Writing Your Letter
Now that we're on the topic of actually writing your permission request basic letter, the first thing that you need to take note of is the kind of greeting that it should have. The recipient of the creative letter should be greeted and addressed properly as this alone can show that you're someone who respects those you would be making requests from. The most common form of a proper greeting would usually start with "Dear" followed by either "Mr." or "Ms." and the recipient's last name. If you aren't really sure of the recipient's gender, then you can always go with "Dear" followed by the recipient's complete name. You may also see Work From Home Request Letter.
Remember that you should never only use someone's first name as that will just be considered rude. Always use either the last name or the person's complete name.
4. Introduce Yourself to the Recipient
If you're going to ask someone for permission, then that person will want to know who you are before he or she can even decide. Make a brief introduction of yourself, such as your job/position or affiliated organization so that the recipient will have an idea as to who you are. When making your introduction, make sure that it's only a sentence or two as you wouldn't want to make it too long to the point where it becomes inconvenient to your reader. Just give him or her enough information about yourself. You may also see Business Apology Letter.
Remember that the person you're asking from isn't exactly required to accept your request, he or she can easily turn it down. This is why a proper introduction is a sign of good manners and that you've put effort into actually making the letter layout. While to most that may not seem like such a big deal, it's actually very helpful as a proper introduction may just influence the recipient's decision in a positive direction. You may also see Reference Letter.
5. State What You're Asking Permission For
Once you're done introducing yourself, the next part is to actually write down what it is that you're asking for. When doing this, you must make sure that you're asking in a polite manner so that there's a higher chance that your request will be approved. Also, you'll need to be a little detailed as to what it is that you're asking for. If you already know what it is that you're asking permission for, then write it down in the letter. you may also see Introduction Letter.
You should also include other important details such as the date or time in which you would like to have whatever you're asking for.
6. Don't Go Overboard With the Details
Remember that you should go into this without being too detailed as to what you're asking for. Just state what you want, when you want it, and how you would like to get it all in a polite manner and that should be good enough to get the reader to consider your request. Be sure that you're clear on what it is that you're asking for and that everything can fit in a few sentences or at least just one page. You may also see Request Letter in Word.
7. State Why the Request Is Important
This is especially important if what you're asking for permission is from someone who holds a high position. You need to be able to convince the recipient to approve your request and that's only going to happen if you state why he or she should do so. By proving how important it is, you're creating a sense of urgency that will make the recipient decide as to whether not you should get what you're asking for. To help you with this, try to support your claims of the requests' importance by providing supporting evidence as well as a statement as to how it can benefit both you and the recipient. You may also see Information Letter in Word.
8. Show Your Willingness to Assist
If you want to make the recipient learn just how important it is that you get your request approved, then one of the best ways to do that is if you tell that person that you're willing to assist him or her with anything. Even the statement templates such as "if you would like more information, then you may always contact me with the number I've provided" can show that you're willing to work together and that you're willing to be as helpful as you can.
9. Close the Letter in a Polite Manner
Now that you've pointed out what it is you wanted to ask and just how important it is that you get your request approved, the last step is for you to close the letter as politely as possible. What you will want to do is thank the recipient for the time that he or she has invested into reading your request letter and that you're hoping to hear from him or her back. Then end with a proper salutation such as "Sincerely." You may also see Request Letter in Pages.
10. Proofread Your Letter
Before you send it to the recipient, you have to make sure that you've polished it to the point where there aren't any mistakes pertaining to grammar, spelling, or even the information about your request. Which is the reason why you'll have to proofread your letter before you send it as this shows that you've put a lot of thought and effort into actually making it. Never send a letter that you haven't proofread as even one mistake will make it look unprofessional and that could diminish your chance of having your request approved letter in Word.
Society Secretary Permission Request Letter Format
ptes.org
Sample Copyright Permission Consent Request Letter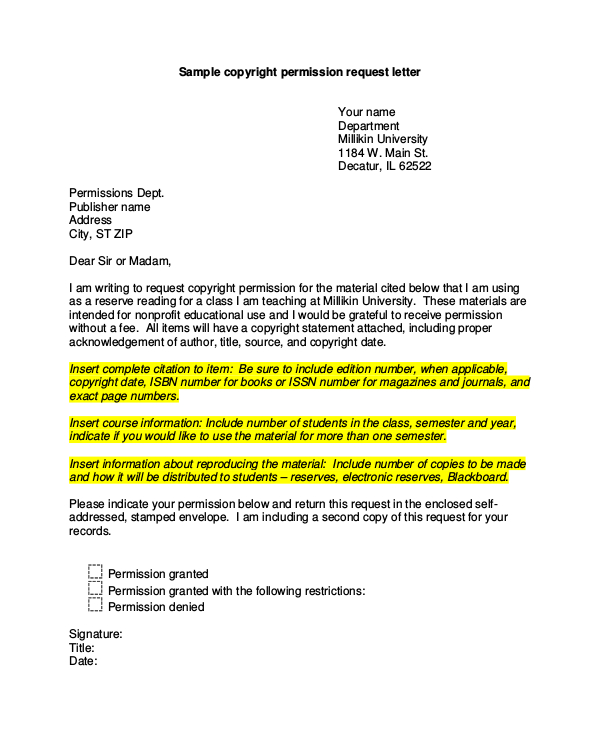 millikin.edu
Go through your request letter at least two or three more times so that you can immediately spot and fix any mistakes that you may have missed. Once that's all done, then you may proceed to send the letter to the person who should receive it. You may also see Letter for Leave.
Permission Request Letter for Faculty to Use Library
cdn.mc.cake.syntya.com
Sports Ground Request for Letter of Permission
registrar.uwo.ca
Study While Working Letter of Permission Request Form
fhd.athabascau.ca
If you would like to learn about the other types of letters outline that you can make, then you always have the option to go through our site. It has all the articles you need that contain information that could help you in certain situations. Whether it's a permission letter to be absent from work for travel, asking to take a class, or meeting with a society secretary/police commissioner, we've got templates suited to you. Just make sure that you thoroughly go through whatever you have gathered to guarantee that you are able to use them all effectively.
More in Business