Businesses who want to increase their number of sales will need to develop the right strategies to ensure their success. That is why it is important to know how to come up with a proper sales plan. With this article, you will learn how you should go about in coming up with a sales plan that best suits your business. You may also see Plan Samples.
318+ Sales Templates in PDF, Word, Excel, PSD, Google Docs, PowerPoint, InDesign, Apple Pages, Google Sheets, Publisher, Apple Numbers, Illustrator, Apple Keynote, Google Slides, HTML5 - START DOWNLOADING
6 Steps for Creating a Sales Plan
Step 1: Start With the Sales Goal
When you start making your basic sales plan, the first thing that you will need to think about is the sales goal that needs to be reached. Just how much should be earned? When do you expect to reach the sales goal? These are the questions that you'll need to answer so that you can point it out in the plan.
Step 2: Name the Team
The next thing that you will need to do is to input information on your sales team. This will help you keep track of who is tasked into doing what and if they're meeting expectations. Make sure that you include their complete names and job position titles when putting them into the document.
Step 3: Share the Target Market
It is important that you know exactly who your target market is supposed to be. This would be the type of customer that you will be focusing your strategies on and one that you know you can attract. Be sure to specify what that type of customer is and other details such as buying patterns and sales potential.
Step 4: Develop the Marketing Strategy
This is where you will need to point out what kind of marketing strategies need to be done in order to successfully attract customers into buying what your business has to offer. Provide clear descriptions as to what these strategies are and how they should be implemented when writing them down into the plan.
Step 5: Put in the Action Plan
Once you have figured out how to market to your target customers, next is for you to point out what actions need to be taken. Think about what it is that you and your employees will need to do in order to increase sales. Be sure that these actions can be done within the given time and that they are reasonable.
Step 6: Know the Budget
Since you'll need to implement marketing strategies and conducting certain actions, there's no doubt that you'll need to figure out a budget for them all. Come up with a budget plan that will allow you to do everything that needs to be done in a manner that's cost-efficient and effective.
13+ Sales Plan Templates
Hotel Sales Plan Template
Simple Retail Sales Plan Template
30-60-90 Day Sales Plan Sample
Sample Real Estate Sales Plan Template
Simple Software Sales Plan Template
90 Day Sales Action Plan Template
There are hotels that need to focus on the sales of their products to ensure that their brand instantly becomes a hit with their intended audience. So if you're in charge of figuring out how to do that, then you will surely find use out of this template as it can help you point out your entire sales plan.
There are businesses who need to need to meet sales goals within 30, 60, or even 90 days time. If you find yourself in a position where you have to come up with a plan to meet these goals within that time frame, then know that this template can help you in sharing what should be done.
In the event that you only have 90 days to come up with a sales plan that will allow your business to reach its intended goal, then you'll need the right document to help you. This 90-day sales action plan should help you show what actions need to be done to ensure that the intended sales goal is met.
Simple Sales Business Plan Example
Businesses that have just started out and that have already a sales goal in mind will need further details on things like how the goal can be achieved. This template should help you come up with a sales business plan that will cover all the different things that need to be done to meet the sales goal.
Sales Business Plan Template
Remember that the purpose of a sales plan is to help a business reach whatever sales goal it has set out for. Should you wish to make use of this template, then know that you may utilize programs such as Microsoft Word or Apple Pages to allow you to open and customize it.
Sales Action Plan Sample
Whenever you come up with a sales plan, then you will also need to know what actions need to be taken to ensure that the sales goal is met. This sales action plan template will help you share with your team about all the actions which need to be done to guarantee successful sales.
Personal Sales Plan Template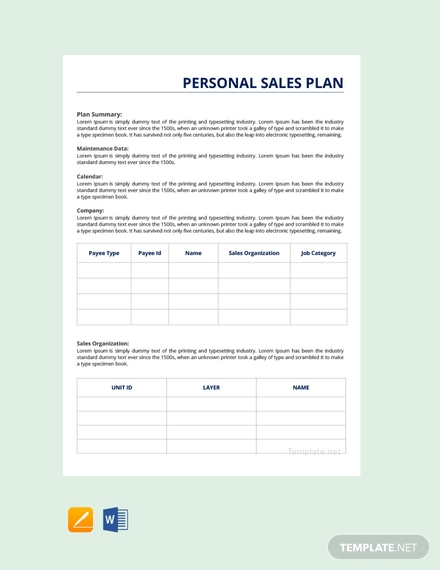 There might be times wherein you have your own sales goal that you would like to focus on. Should you wish to remind yourself exactly how you should go about in reaching it, then use this template to help you come up with the document which can do just that.
Monthly Sales Plan Sample
If your business is required to reach a specific sales goal at the end of every month, then that just means you'll need to come up with a monthly plan to ensure that it's reached. Use this monthly sales plan template to help you create a document which outlines everything that needs to be done.
Annual Sales Plan Template
There are businesses who come up with a sales goal that has to be reached by the end of the business year. If you are the person that is required to come up with a plan to reach that goal, then this template should be of use. With it, you will always point out what needs to be done within the year's time to reach that goal that has been set.
Basic Sales Plan Template
There are instances wherein those in charge of making the sales plan will want to convey all of the information in a quick and easy manner. Should you be one of those people that wish to do so, then this template is what you'll need to come up with a clear and simple sales plan.
Sales and Marketing Plan Template
When it comes to running a business, marketing and sales go hand-in-hand in ensuring that it becomes a successful one. So if you want to show how you intend to properly market your the business and improve sales, then you'll find that this sales and marketing plan template will be very useful.