Sales
5+ Sample Boat Bill of Sale Templates
Now that you wish to sell a boat to a potential buyer, you need to switch your attention to that potential customer first and think about a boat bill of sale template. You see, not every buyer out there will accept to buy a boat if you are not willing to sell out your ownership rights too. They are not interested in you buying shares. They are interested in buying the whole boat plus the ownership rights. As such, if you must sell the property, then you must prepare a bill of sale for the boat to meet the interests of the potential buyer. Here are a few helpful templates to do this.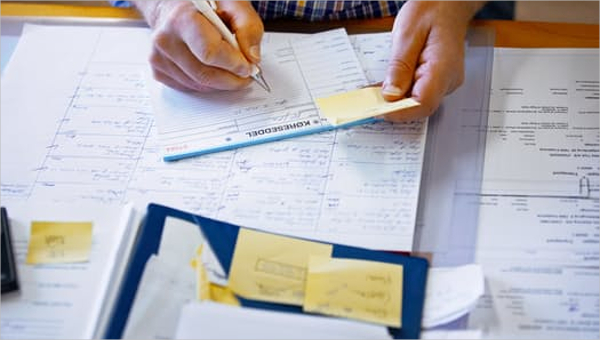 Sample Blank Boat Bill of Sale
rya.org.uk
Download this form and use it to fill in the details of the boat that you are about to sell. The file is easy to fill up and you don't need to change the structure of the design. Simply download and use it as is. You can also see Car Bill of Sales
Boat Trailer Bill of Sale Template Example
dmv.ny.gov
If you want to sell a boat trailer, you must have a bill of sale with you to get a customer to buy the trailer. At the end of the day, this file is pretty much a determinant which influences the purchase decision of a buyer.
>

Who should use a Boat Bill of Sale?

Any business deal that involves an exchange of money and items is always a serious engagement. At the end of the day, you want to make sure that a transaction starts and ends successfully, without even a shred of complication in between. While using a boat bill of sale, you must observe the following rules.
Make sure that the item you want to sell belongs to you.
If you intend to sell the boat on behalf of someone else, that other someone else should be aware first.
Make sure that the item on sale, the boat for that matter, is in good condition.
Watercraft Boat Bill of Sale Format
cecuknox.com
Do you know you can download a sample boat bill of sale template and customize it with ease? All you have to do is to download the file and then work on the content by filling out the blank spaces and putting your signature on file. You can also see Trailer Bill of Sale Templates.
Free Public Boat Bill of Sale
wlf.louisiana.gov
Even if a sale is going to be public, a buyer will still want full ownership of the property. The best way to give a buyer what they want is to issue them a bill of sale with all truth and sincerity. You can use this template to do that.
Boat Bill of Sale Word Template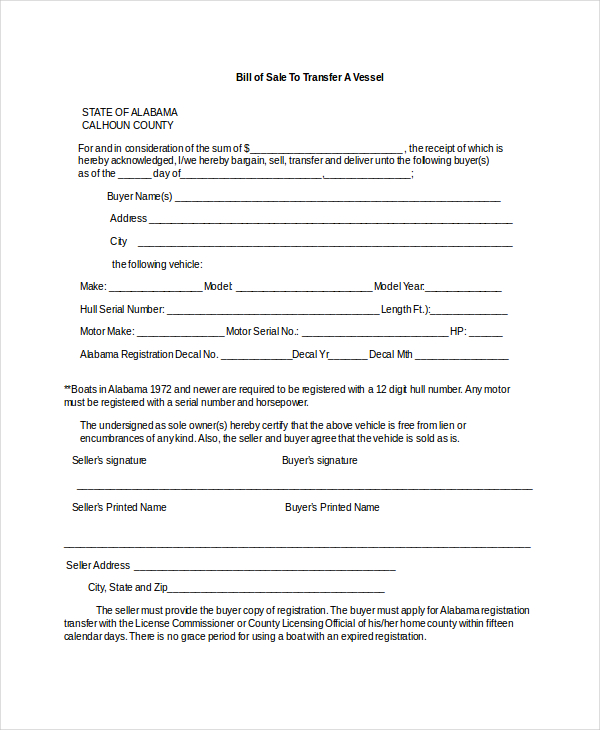 calhouncountyal.org
At the end of the day, we all want to use sample templates because they make work easier. That is exactly why you should consider downloading this sample template to prepare a bill of sale.
Notary Boat Bill of Sale in PDF
transportation.wv.gov
>

The Benefits of Boat Bill of Sale Templates

The bill of sale template gives a customer the confidence to buy an item without having the doubt about the product. Remember, a bill of sale transfers the rights of ownership from the current seller to the apparently new buyer. The buyer then has the full rights to own the product for as long as they like, until the time they decide to sell the item. At the end of the day, what you are trying to do is just sell the item using the right approach, an approach that many buyers out there see as the most effective way of accruing a boat item. You can also see Watercraft Bill of Sales

There are many bill of sale templates that you can download for free from this website. That means you don't have to spend a lot of time on your computer trying to create the sample files from scratch. The best part of it all is that you can download the file with a single click of a mouse.