It is always wise to account for the revenues and expenses in a business. This way, the business is able to know how much is going where. At the same time, accounting helps the business how much profit it is earning back from the business. Profit and loss statement forms are therefore a necessity, as they make tracking revenues and expenses over a given time period clear and easy.
Profit and loss statement templates can be of great help to the accounts department especially so that it gets easier for them to make the right statements for the organization. Whether it is a single person or a team, profit and loss statements help accountants make sense of the revenues and expenses incurred by a company in a stipulated year or any given time-frame.
11+ Profit and Loss Statements - Word, PDF, Google Docs, Apple Pages - START DOWNLOADING
Profit and Loss Statement Template
A company's destiny is often decided by its ability to generate profit and loss. You can do so with the help of the above template, which will definitely be of great use to you. Produce a summary of your revenues, costs, and expenses in a specific period to assess your company's profit or loss generation. Help managers decide whether to reduce costs or increase operating income to generate the target profit. Properly gauge the performance of your business using this financial statement. Get a solid reference document that you can use for tax and planning purposes. Try it out now!
Simple Profit & Loss Statement Template
Get a summary of your revenues, costs, and expenses made in a chosen time duration through the use of the above business profit and loss statement template which comes in Word and Excel file format. Have an idea on how to manage your expenses through results from our template. Increase revenue or profits by analyzing how and where sales are generated from. Have a record of your revenues and expenses when assessing taxes on profits earned that you are required to submit to the revenue service.
Restaurant Profit and Loss Statement Template
Do you wish to create a tool that will enhance your ability to analyze and understand what is going on in your restaurant and how it's affecting your profitability and success? If you are, then we got you here. Check profit and loss statements in Excel as well. This file is perfect for helping restaurant owners keep track of their restaurant's progress and to reflect on its revenue and costs during a specified period of time. It is very easily editable and can be customized to suit your preferences easily. Download now!
Profit and Loss Statement
Get a clear view of your business finances with the help of this profit and loss statement template mentioned above. All you have to do is download the template, edit and customize it the way you like and suits your preferences. It is not just limited to a computer, but you can download it on any electronic device. Simple profit and loss statements available online will be of great use to help you create the perfect financial statements for your company. It is also available in various file formats. Customize it according to your business standards.
Simple Profit and Loss Statement
Properly record your revenue and losses with the help of the above profit and loss statement template. All you have to do is download the template, edit and customize it to suit your preferences as needed. There are many statement templates in Google Docs that can be of great help to you while creating the statements you need to make of any kind, no matter which industry you work in.
Profit and Loss Statement Template in Excel
Creating a Profit and Loss Statement:
Step 1: Choose a Template
The first thing for you to do would be to choose the right template to create your statement. There are many statement templates in Word that will help you create the best statement for the organization you work for. You can either make spreadsheets or make a word document statement. Enter the values, subtract expenses from the revenue that you get. This way you can make the right statement you need to be made.
Step 2: Create a Basic Structure
You need to write down the details of your company at the top of the document. The basic structure of the statement should be very simple and understandable to all those reading it. The document should have a base headline with subheadings so that it is easier for others to understand the document easily and effortlessly. Remember to keep things simple and precise. Make sure that you add rows and columns for the calculations you need to calculate.
Step 3: Mention Your Revenue Sources
It is very important that you mention the sources of your revenue without fail. This way, you will know where you get your incomes from and how are they spent as well. It helps you keep a check on any debts or loans you have taken from others so that you can pay them back before it gets too late to do so. Do not miss to mention even the smallest source of revenue you could possibly get.
Step 4: Calculate Net Income and Expenses
The next step would be to calculate the net income and expenses you have as an entity. This means that the money that comes into the organization in the forms of funds, revenue, etc. and also, the money that goes out in the form of different expenses, salaries, etc. Tax invoice templates will be of great use as you also need to mention how much tax are you paying, which includes any tax, rent, etc.
Step 5: Calculate Profit and Loss
This step would be to calculate where the money is going and how you would possibly try to manage it. Now that you have the total expenditure and income figures of your organization with you in hand, calculate the difference and figure out whether your company is running a profit or experiencing a loss. This way you will have an idea of where to cut down on expenses. Sample profit and loss statements will help you get a better idea of how to create the right statements.
Sample Profit and Loss Statement in Word
Simple Profit and Loss Statement Template
Excel Formatted Business Profit and Loss Statement Template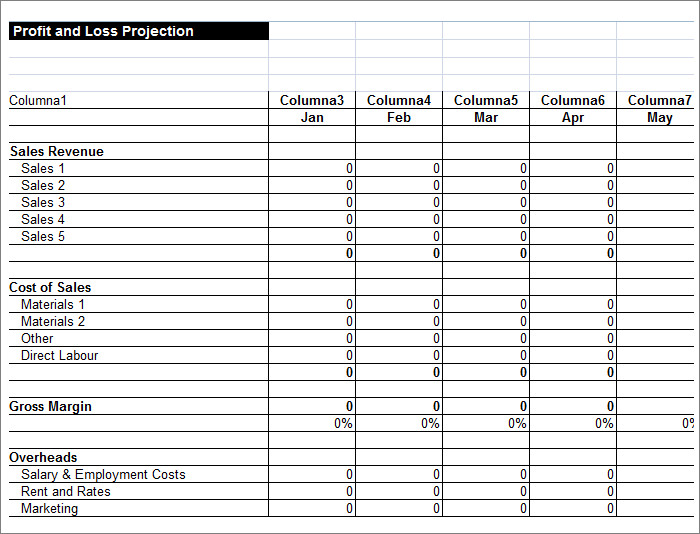 Profit and Loss Statement Template
Profit and Loss Statement Example
Blank Profit and Loss Statement
Using these Templates:
When there are ready-made profit and loss statement templates samples available for use, why should one go through the hassle of making one on their own? The templates are available in multiple variations and different formats. Each one of them is simple, fully editable and you can customize them easily. Check business profit and loss statements, that might be useful for your business to know where you are experiencing profit and where there is a loss.
All you need to do is to replace the same figures with your own because you cannot use the pre-included data as is. You want to make sure that the data available relates to your company but you can be sure that you are just a few clicks away from downloading the best templates that can help you through the accounting process.