Back in the days when social media still wasn't a thing, or when the internet mainly served to communicate with people conveniently as well as for doing research, there was this collectible item that kids and teens were into. Depending on what they were a fan of, these collectibles came in various themes ranging from sports to comic books. These collectibles were generally referred to as trading cards.
There is virtually any trading card for any type of collector, though we will be focusing more on baseball-themed trading cards for this article. Whatever your purpose may be, if you are planning on making your own trading cards, we have a collection of trading card templates below which you can download and use. Just like the authentic trading cards itself, there are different themes and styles for the templates below, so be sure to check all of them first.
Free Baseball Trading Card Template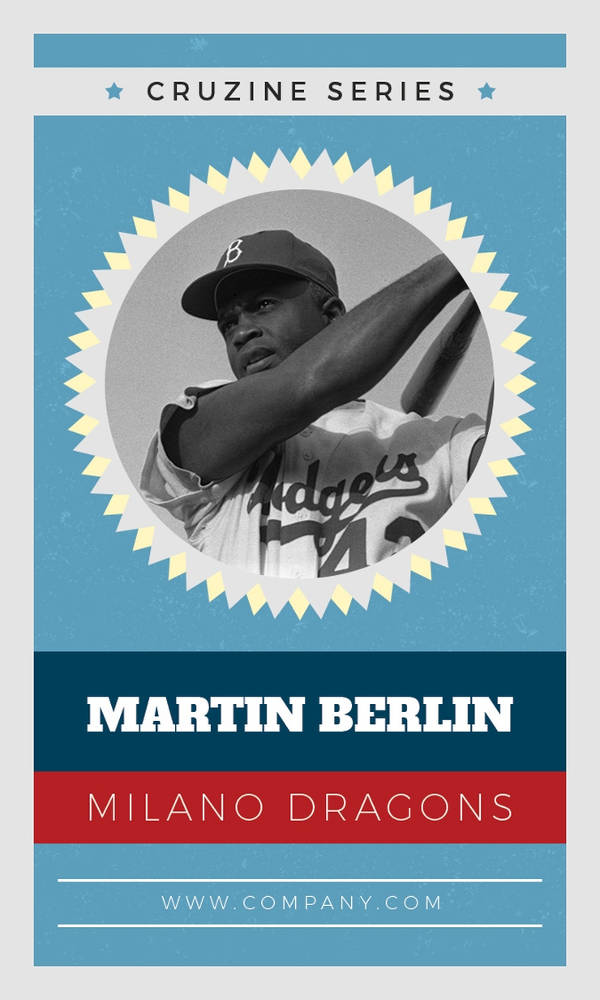 FREE DOWNLOAD
Senior Baseball Trading Card Template
FREE DOWNLOAD
Baseball Trading Card Bundle
If you like your baseball card to look exactly like an authentic one that you can buy from stores, then you may find the card design above an ideal pick.
Artistic Baseball Trading Card Template
However, if you prefer something on the more vintage side, then you may want to check out the artistic card template above and see if it works for you.
Vintage Style Baseball Trading Card
What Is a Trading Card?
A trading card—otherwise known as a collectible card—is a small card which contains an image of a notable person (or location in some cards) printed on one side of the card, and a short description of that person on the opposite side of the card. The person or location featured on the card may either be real or fictional, depending on its theme. You may also see free baseball card templates.
As mentioned before, there is a huge variety of trading cards, some of the more modern ones even go as far as including some sort of memorabilia, signature, or anything from that person or location that is quite valuable. The most common type of trading cards are those that are associated with sports, particularly baseball. But today, there have also been trading cards that are associated with comic books, cartoons, and television series. You may also see baseball line-up card templates.
For trading cards that feature fictional characters, their descriptions would usually elaborate that character's skill set and attributes. For trading cards that feature location, the back side may feature a trivia along with the description of that location. And in sports-themed trading cards, the description side may be somewhat similar to that of comic book trading cards, but with a slight variation. Along with the player's description are their statistics and maybe some trivia as well.
Mock-Up Baseball Trading Card Template
Retro Style Baseball Trading Card
If you're looking for a single-paged baseball simple card template, then the one above may be the perfect one. Though the description and other details are written on the front side, it doesn't entirely mean that you can just leave the back empty. Feel free to improvise, you may want to add a matching texture or pattern on the back to keep it from looking dull.
Abstract Pattern Baseball Trading Card
Minimalist Sports Trading Card Template
Vintage Baseball Trading Card Template
What Is the History of Trading Cards?
During the Victorian era, one of the most favored pastimes by children were collecting sample cards that were illustrated with advertisements and the like. Over the next generations, these cards evolved significantly and were made as a major way of advertising products and services. Some of the most common products that were being advertised on trade cards included food, medicines, tobacco, clothes, kitchenware, and even farming.
After another few generations, the focus of trade cards shifted from nature to war, and then to sports, and the images on these cards were already printed using lithography. By the 1900's, the most common manufacturers of trade cards were the tobacco industries, considering that the topics being featured were those that appealed to individuals who smoke. But as a result, many children who collected trade cards waited outside of tobacco stores to ask customers if they can have their share of the trade cards.
The success of these tobacco trade cards made other industries decide to follow suit. They started manufacturing their own trade cards and included it in the product after being purchased by the customer. However, due to the limited resources of paper during the World War II, the production of tobacco trade cards were stopped, and was never able to make a comeback. You may also see free baseball line-up card.
Photographic Baseball Trading Card Template
Retro Baseball Trading Card Design
Love retro styles? Then you will surely adore this genuine-looking baseball card design templates.
The Earliest Baseball Cards
During the late 1860's, around the time when baseball just became an official professional sport, the first set of baseball cards were printed by a sporting good business. During these times, the baseball cards were included in the packaging of candy and tobacco products. Also, during this generation, the most valuable baseball card was printed, and this is the baseball card that featured Honus Wagner of the Pittsburgh Pirates.
According to collectors, the T206 card set—the one that included Wagner—is said to be the most popular set of trading cards in history, and this was distributed by the American Tobacco Company back in 1909. By 1933, a candy industry in Boston called Goudey Gum Company distributed simple baseball cards which included the player's biography on the back side of the card. To this day, the 1933 Goudey card set remains to be one of the most popular as well as inexpensive vintage sets of all time.
Custom Baseball Trading Card Template
Make yourself a hilarious baseball card which features your child along with their physical attributes, similar to those on baby announcement cards. In fact, you may even want to use this template to make not only baby announcement cards, but also baptism invitations or naming ceremony invitation cards.
Interesting Facts about Baseball
Most Popular Baseball Players of All Time
1. Cy Young
Debuted as a pitcher for the Cleveland Spiders in 1890, Young became well known for achieving numerous pitching recorders, some of which he still holds up to this day. He retired as a player in 1911 under the Boston Rustlers, and died in 1955. A year after his death, the Cy Young Award was created in honor of him, and this award was given to the best pitcher of the previous season. You may also see free volley ball trading card.
2. Lou Gehrig
Nicknamed "The Iron Horse" by the Major League, he earned this nickname from his batting skills and his durability. Gehrig played under the New York Yankees from his debut in 1923 to his retirement in 1939. The reason for his early retirement is due to an incurable neuromuscular illness called amyotrophic lateral sclerosis (ALS), now known as "Lou Gehrig's disease". You may also see free tennis trading card.
3. Hank Aaron
Also known as "Hammerin' Hank", he is a right fielder under the Atlanta Braves from 1954 to 1976, and under the Milwaukee Brewers from 1975 to 1976. For 33 years, Aaron held the MLB record for the most career home runs, but still holds several offensive records up to this day. Since his retirement in 1976, Aaron has since held office roles with the Atlanta Braves. You may also see free football trading card.
4. Barry Bonds
The person who broke the record for most home runs which was previously held by Hank Aaron, Bonds is a retired left fielder that played under the Pittsburgh Pirates from 1986 to 1992, and under the San Francisco Giants from 1993 to 2007. Considered as one of the greatest players of all time, he was also regarded for being an exceptional batter. You may also see basketball card templates.
5. Babe Ruth
He earned several nicknames throughout his career, and this included "The Bambino" and "The Sultan of Swat". Debuted in 1914 as a pitcher for the Boston Red Sox, he became famous for being a slugging outfielder for the New York Yankees, which he was a part of from 1920 to 1934. But aside from that, Ruth also achieved a lot of defensive and offensive records including career home runs and slugging percentage. Ruth retired in 1935 after only one season under the Boston Braves, and has been regarded as the greatest baseball player of all time. You may also see supplier score card template.