Card Templates
15+ Hotel Rack Card Designs & Templates – PSD, EPS, Word, AI
No matter how big or small, hotels, motels and other lodging businesses still have a purpose for employing the use of print advertising. For one, they serve as a cheap way of marketing the place. For another, their distribution model makes it so that they can easily be put in the hands of their intended target audience. Two examples of print advertising that are fit for promoting hotels and destinations are brochures and rack cards.
The former is perfect for those bigger institutions with an extensive list of facilities while the latter is made for those smaller building with limited amenities. These pieces are critical and necessary to keep up with the competition when prospective guests stop by and ask any questions about the property. You may also see rack cards in PSD.
 Grand Hotel Rack Card Template
Sample Catering Menu Rack Card
Catering Rack Card Design Template
Editable Food Catering Rack Card
Free Hotel Rack Card Template
Spa Resort & Hotel Rack Card
Hotel Rack Card Flyer Template
Rack cards are forms of straightforward print advertising. They are one of the best at whatever they do and what they do is marketing. They are very efficient in informing the targetted audience about your business' products and services. Thus, they are very popular print marketing materials that are only surpassed by the brochures. This popularity brings with it a challenge. That is, in order to have your hotel's rack cards be picked up by the audience it must have an eye-popping and attractive design. The appearance of your design will define the strength of your rack card.
Essentials in Your Rack Card's Design
As mentioned above, your rack card strength lies in its design. It is imperative that your rack card's design be magnetic enough to draw attention to the message it carries. However, the problem with rack cards is that it has limited space. The usual size dimension of a rack card is 3.5 inches x 8.5 inches. You might want to cram as much information as you can in what little space you have but that would probably be a bad idea.
Your rack cards will be more efficient if you can communicate your message clearly and concisely. It is imperative that you present your key points and main ideas in seconds. To help you with doing making a rack card that can do all these things, here are a few rack card essentials that you should implement on its design. You may also see InDesign rack card designs.
1. Visuals
Rack cards thrive with visuals. Things like eye-catching photos, phrases, and slogans make for a stimulating design. As their name implies, rack cards are placed in card racks for potential audience to pick up. However, your hotel rack card will not be alone in the card rack, rather, it will be competing with other rack cards for the attention of the audience. Striking colors, images, and texts that grab attention. It's the graphics that is what will mostly catch the eyes of the audiences first, it will be the memorable headlines and slogans that will keep them from reading.
2. Incentives, Features, and Benefits
Once the visuals have enticed your audience's attention and your rack card have been picked up, it is time to let the rack cards show what your product, in the hotel, is all about. Your rack card's design must carry with it the unique selling point (USP) of your hotel and reiterate what makes your hotel special. However, it is not advisable to use a wall of text to push this agenda. Implying such a thing usually turns off your audience and is a sure ticket to the trash for your rack card. You may also see restaurant rack cards.
If you really want to make your audience keep the rack cards while availing of your service, one way would be to include incentives in your rack cards. You can attach coupons for discounts or even make turn the rack card itself the coupon. Not only this gives a higher chance of the audience keeping your rack cards, it can also be a great way to monitor their success and compare said success to the rest of your marketing campaign.
3. Call to Action
All paper or print marketing materials include a call to action. In fact, all efforts should include a call to action. It's like an unwritten regulation in making promotion materials. Rack cards are no exception to this regulation. How else do you think will your audience connect with you if you do not show them the way. One of the more visual ways to communicate this element is to include QR codes that when scanned, redirect your audience to your hotel's website. A call to action is the last nail in the coffin to close your deal. It basically is the key to reeling in your audience.
4. Company Identity Basics
This includes your company name, logo, and contact information. The company name cements the fact that this rack card is for your hotel and not for other like-sounding establishments. Similarly, the logo serves the same function, except, it does this visually. Logo designs not only carry and condense the company's identity in a single image they also make the brand easier to remember.
Adding the contact information is a no-brainer. One might argue that it would be redundant and it should be placed in the call to action section. However, if you are going with the QR route, it is important to remember that not all people have an access to the Internet all the time. It is important to include the contact information in your rack card as an insurance policy.
Business or Hotel Rack Card Design
Rack Card for Hotels & Restaurant
Hotel Rack Card Example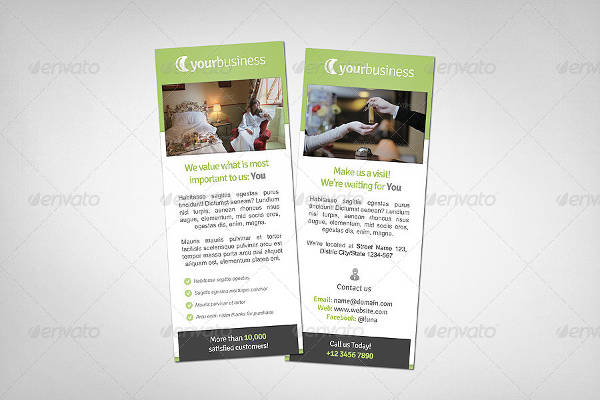 Printable Hotel Rack Card
Possible Design Mistakes in Your Hotel Rack Card
When you are just starting to design something, chances are you will be making a lot of mistakes. Not that mistakes are a bad thing, they can accidentally create a goldmine of ideas, but in terms of designing rack cards, mistakes can be a waster of your hotel's resources. As such, here are some common design mistakes that pepper a lot of rack cards. Avoid them like the plague. You may also see medical rack cards.
1. The non-existent connection between content and demographic
Different strokes apply to different folks. A rack card will do wonders if it can reach its intended audience and be able to talk in his language. Having a hotel rack card that does not include anything that can stimulate the interest of its intended audience will bomb and it will bomb hard. To avoid this, it is imperative to do research and decide beforehand as to which audience will your rack card be distributed to. If you want to appeal to a younger professional audience, using a direct and straight to the point content might be far better than using a conversational tone that is fit for an older audience. You may also see minimalist rack cards.
Hotel Rack Cards Flyer Design
Vacation Rack Card Design
Designer Hotel Rack Card
2. Vague Goal
All your advertising should have a clear end game. Yes, you would want to include as much information as possible in your rack card. However, you risk losing your audience this way. It is never a good idea to cram as much content into your rack cards as possible. Doing this removes focus on your content, making your readers confused as to what they are supposed to do. Your rack cards should be consistent in its content. You may also see daycare rack cards.
If you want to use it to promote your facilities, use it to promote your facilities. If you want to use it to talk about the upcoming events your hotel has to offer, use it to promote the said event. You can use your rack cards to promote anything for your hotel, but you must be consistent when doing so. You may also see photography rack cards.
3. Messy Content
In addition to producing a vague goal, cramming too much information in your rack cards will also produce a very cluttered piece of marketing. Rack cards that have too much going on just aren't appealing to people. It is just tiresome to look at. This clutter is usually born from having too many pictures or too much wall of text. When designing your rack cards, try to avoid doing those things. Furthermore, it is never a bad idea to remember the advantages of white space. Masterfully using white space can give off an elegant rack cards design, a well-organized content. Do not be afraid of leaving in white space. You may also see coffee shop rack cards.
4. Not Having Time Limits
Limited edition products bring with them a sense of exclusivity. Same goes for your rack cards and any incentives, coupons, and promos. If you do not put a time limit in your promotions, chances are your potential customers would take them for granted. If your promotions have no sense of urgency, your marketing materials might be put on top of the pile of things that a person plans to get to in the future but will ultimately never do. You may also see business rack card designs.
Creative Hotel Rack Card Design
Hotel & Business Rack Card Example
Conclusion
Although online and electronic promotion is widespread and prevalent, one might think that promotion through brochures and rack cards are dead. Nothing could be further from the truth. They might not be as prominent as they were once before, but they can still serve their functions well. Rack cards, which are perfect for smaller establishments with lesser amenities, should be designed well in order to reach its audience's hands. A lot of careful deliberation should be done in deciding the rack card's design. One should take note of the design elements and the common mistakes when making rack cards to craft one that is effective, succinct, and persuasive.
More in Card Templates