Flyers are single pages which give you information regarding some event or some new shop opening etc in the town. A gaming flyer template is again the same flyer particularly for games like PC as well as Xbox and others coming to your town in some shop or online. These flyers let us know the details as to what types of games are available online, what do they contain and which h age group they are made for. You can find numerous gaming Free PSD Flyer Templates that are specially designed for game developers who want to market their games to the world. Whether you have a 2D or 3D game, you can easily find suitable flyers for just about any kind of games. All you need to do is add relevant photos and content to the template and you can then distribute it to your target audience.
Printable Casino Gaming Flyer Template
American Football Flyer Template
Beach Volleyball Flyer Template
Cricket League Flyer Template
Baseball Flyer Template in Indesign
Basketball Tournament Flyer Template
Vintage Boxing Flyer Template
Tennis Player Flyer Template
Soccer Tournament Flyer Template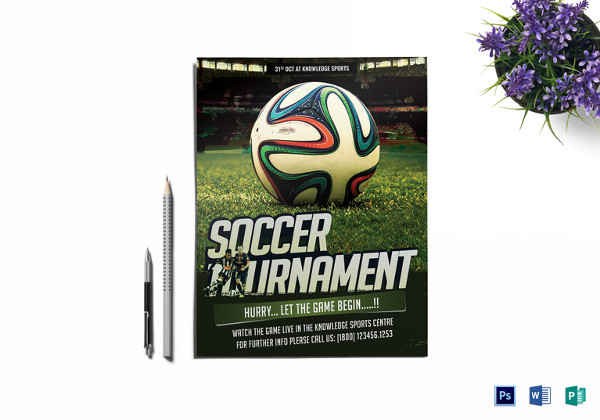 Soccer Video Game Flyer
In this type of flyer, you can use your font also. This is a great for prints flyer and has got everything included. The game's date, venue and other details are mentioned on it.
Retro Video Game Overnight Event Gaming Flyer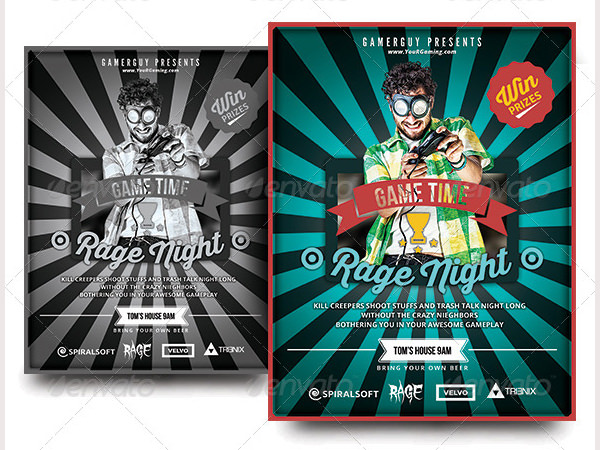 This gaming flyer template is based on a retro theme and has got pictures like that only. This is colored as well as black and white. It is for sleeping over at friend's house playing all night.
Dudeguy Video Game Flyer
This is a game to fight with the forces of evil, either alone or with friends. Dudeguy protects us from Satan and stops the evil's plans. Enjoy the game in different colors.
Video Games Event Flyer Design
When some event for video games is going to be hoisted, this template works out. It is also useful for video games competition or costume party or game event in your city or locality.
Vector Video Game Flyer
This type of gaming flyer template allows you to put your image on the flyer. This template is brought to you by Shutterstock. The date and venue of the event are mentioned.
Save CoH Flyer
This type of gaming flyer template allows you to put your image on the flyer. This template is brought to you by Shutterstock. The date and venue of the event are mentioned.
Video Game Tournament Flyer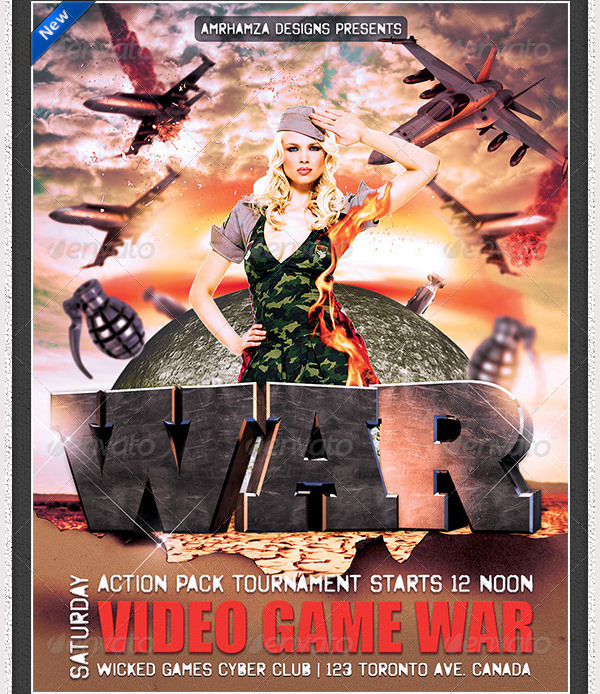 This is a flyer with 3D text. It can also be used as a poster as its size is big. This is a full action pack war game. It is not a one day game but a tournament.
Video Games Event Flyer
This type of gaming flyer template is used for a championship or a game event, tournament, convention or expo focused on video games. This includes the dates on which the event is going to be held.
Warfare Gaming Event Flyer Template
It is a template for the fighting game lovers. It has got passports, pistols and parables. This has got an entry worth $25. This will give you highest quality presentation.
Gaming Flyers
This game has got $5 entry fee for competitors and $2 for general admission. The tournament comes in different levels hosted at retro gaming store right before Halloween, the season of fun.
Gaming Style Flyer Template
This template is an easy to edit template where you can change colors, styles and text. It comes with layered PSD and is well organized in folders. Along with free font download link every other thing is also included.
The gaming flyer templates are such tools of advertising which are cost-effective and productive along with offering strong service. This is targeted mainly to game lovers and has a wider audience reach.