Flyer
23+ Modern PSD Party Flyer Templates – PSD, AI, Word, EPS Formats
Before the much awaited night of the weekend when party animals burn the stage with their dance moves, a lot of effort needs to go into making the party a hype that people find hard to resist. Spreading the word about an upcoming party night in the town is something that's best done with a killer party flyer template. When the flyer evokes the sense of adrenaline rush that the actual party intends to bring about, it is then that the party becomes a real success.
Modern Party Event Flyer Template
Block Party Flyer Template
Bowling Party Flyer Template
Cocktail Party Flyer Template
Karaoke Party Flyer Template
Pizza Party Flyer Template
Modern Party Flyer Template
Holiday Party Flyer Template
Dj Party Flyer Template
Cool Party Flyer Template in PSD Format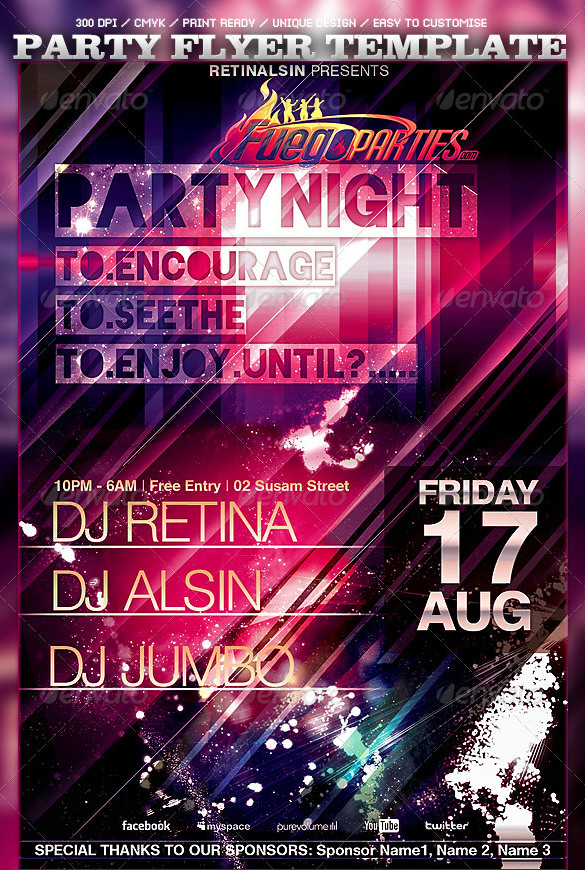 Party heart

This flyer includes PSD templates and layered files besides the varying contact forms. One can customize the interfaces and menus whereas the multiple color schemes and Footer text renders additional support.
Beautiful Summer Party Flyer Template
Wet wild

A party inspired template which includes an extended color palette besides the print ready interface! CMYK compatibility comes in as a handy option followed by the customizable layout and logo uploads.
St. paddy's
Here comes a template with some well-organized files and folders besides a layered interface. Stock images are included in addition to the featured font sets and varying bleed margins for the professionals.
Beach party
Meant for the memorials, this template projects a print ready interface for the designers in addition to the downloadable fonts. Varied dimensions are supported besides the multiple color schemes and traditional designs.
Vintage
This template provides a retro look with the colored graphics and an editable interface. High quality images are up for grabs whereas the digital output and fantastic designs come in handy for the designers.
New year
A classy template which provides the needed customizable support besides the multiple color selections! One can modify the backgrounds in addition to the colored graphics which come as handy inclusions.
White affair
One can modify the flyer sizes with this usable template which also includes downloadable files and feature font sets. PSD layered approach provides the needed support in addition to the assorted folders.
Silver sparkle
Stock photos are included which are set against a dark and alluring backdrop thus making this template an instant hit. Other specs include an extended color profile besides the CMYK compatibility and custom posts.
Taxi
Make use of this template for enhancing the online business as leaflet designs and multiple color schemes are included. Edge to edge scaling is allowed besides the customizable interface and print ready layouts.
Nightclub

This is one captivating template which includes basic template designs and editable textual support. Photos can be included whereas the customizable interface renders additional support besides exclusive the professional layout.
Hudo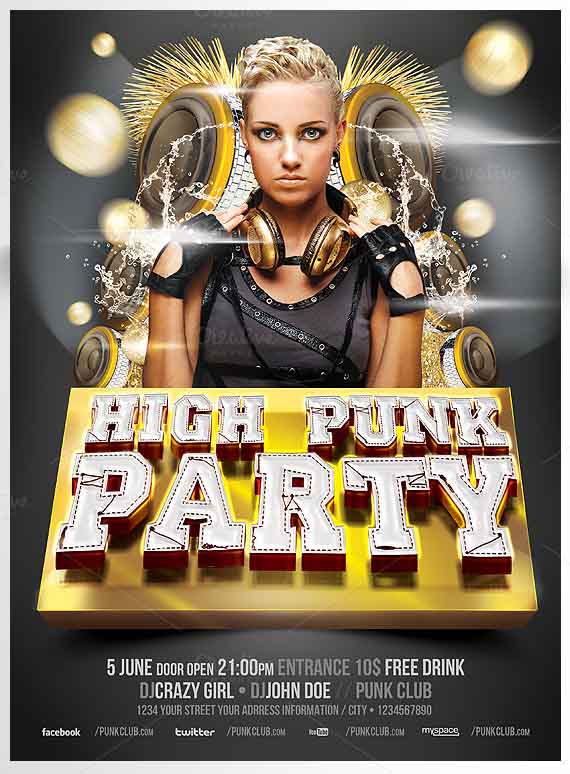 This template features a scalable interface which provides added flexibility for both commercial and personal use. Organized layers are included in addition to the free font sets and an editable interface.
Multiple folds, varying margins, customizable colors and print readiness are some of the routine features that these HTML5 and CSS3 empowered templates bring to the designing table for you. Moreover, you can use different images and backgrounds to create your party flyers in the way you want. Here is a list of some best rated party flyer templates that help you crate stunning flyers to spread news about any parties being organized by you or your organization.