Flyer
21+ Revival Flyers – Free PSD, AI, EPS
Revival marketing flyers are all about reaching your target customers in an exclusive and original fashion. With these flyers and posters, buyers will respond quickly and in a positive manner. Browse through our huge selection of templates. These Free Flyers are easily adjustable and come with 100% responsive, and fully layered options.
Revival Flyer Template
Revival in The City Church Flyer Template
Revival Worship Concert Flyer Template
City Wide Revival Church Flyer Template
Fall Revival Flyer Template
If you want a cool and exciting design to signify your occasion, then you've come to the right place. This attractive fall Revival Flyer is perfect for various thanksgiving events and church celebrations. It comes with a completely editable and 5 1-click color modes.
Church Revival Flyer Template
In case you need a peppy flyer template that will entice people to your church celebrations, then your search ends here as Church Revival Flyer Template is an exhilarating, colorful and trendy flyer design. It's best used for Christian events and celebrations that take place in churches.
Redeemed Revival Church Flyer
If you want an unsurpassed presentation for your event, then this is the right place. Redeemed Revival Church Flyer can be used for numerous types of events and is easy to use and well organized. It comes with a loaded set of features such as high resolution, 100% responsive, CMYK color mode, easy to print options and much more.
Revival Vintage Party Poster Neon Flyer
This professional and well-designed revival vintage template comes with high resolution and amazing colors and sizes. It gives you the option to include details about the retro party in the adjustable portion below.
Silent Revival Flyer
This eye catchy flyer is the best way to advertise your project and features taglines to grab the attention of the customers. Available in high-resolution and several sizes, it can fit the requirements of your project.
City Wide Revival Church Flyer
City Wide Revival Church Flyer Template has a contemporary design that is best used for church celebrations, recitals or any occasion that needs it for advertising purposes. Their designs and colors are fully editable.
Christian Revival Flyer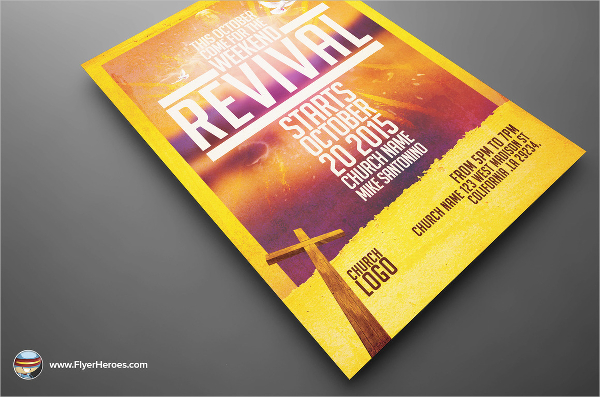 Saturday Night Revival Flyer
Saturday Night Revival Flyer template is perfect for your Disco parties and retro special occasions. With a vibrant and colorful dancing background, this flyer comes with a retro style theme. They are simple to edit, ready to print and are 100% responsive.
Disco Revival Flyer Template
This Disco Revival Flyer template comes with best quality designs along with unusual graphics. The layouts are labeled, color coded and systematized in groups for simple navigation. It comes with A4 size, CMKY color mode, and 300 DPI resolutions.
Revive Conference Church Flyer
Revive conference church flyer template has just the right amount of sizes and colors to make your promotion larger and perkier. With a minimal design, attractive colors and 300dpi resolution, its best for endorsing any events or invitations.
Community Praise Revival Flyer
This beautifully designed template can be downloaded easily by the users. The theme of this template is a cheery one and can be fully customized.
Citywide Revival Flyer
If you are looking for a flyer or a poster design template for church celebration or church events, you can make use of this beautifully designed citywide revival template. It will help you in reaching out to your potential guests or customers. It comes with editable text and 300 dpi resolution.
Reggae Revival Flyer
Creative and skillfully designed, this multipurpose Reggae Revival Flyer template suits best to promote musical events like performances, concerts, or parties. This print-ready template comes with PSD files and CMYK color mode.
Holy Ghost Revival Flyer
This Flyer is modified for Church Events that needs a contemporary and exclusive look. It comes with organized layers, high resolution and CMYK color mode that is gaining popularity rapidly.
City Revival Church Flyer
This is a clean, trendy and smart city revival business PSD Flyer Template that is used to showcase numerous products related to all-purpose corporate. This template is fully editable and comes with best designs and background.
Reconciliation Revival Church Flyer
Light of The World Revival Flyer
A church flyer is a low-priced and extremely successful way to take hold of the customers' attention in a very busy place of the market. Our website has a huge collection of quality revival flyers that are inexpensive, aesthetic and responsive. If you wish to go for traditional designs, you can select to download the best range of revival templates as per your needs and requirements.