Hosting sporting events can be a good source of income for a lot of businesses. That is why if you are running a fitness center or if you just want to support the health and wellness of your customers, employees, family, and friends, you can try out the use of sports banners to convey your message of encouragement.
So if you are looking for a good way to promote your fitness or sports business, make sure to check out all the sports banners that we have included in this article. More information on how to create and choose your own sports banner templates are also written below.
194+ Sports Agency Templates in PDF, Word, Excel, PSD, Google Docs, PowerPoint, InDesign, Apple Pages, HTML5, Google Sheets, Publisher, Apple Numbers, Illustrator, Apple Keynote - START DOWNLOADING
Take a Look at these Printable Sports Banner Templates
As promised, we start this article with examples of downloadable sports banner templates. These printable templates may be used for both print and digital marketing so you surely are covered for whatever kind of marketing campaign you like to do. As a tip, do not forget to have a compatible graphic design software program installed on your computer before you download and edit the banner template of your choice.
Sports Ad Banner Template
Colourful Sports Banner Template
Climbing Banner Template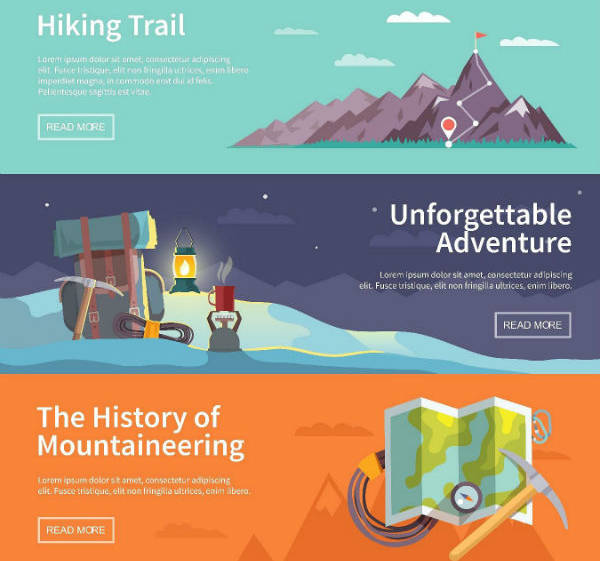 How to Create a Sports Banner
A banner can mean both the advertisements shown in a website and the printed flags or signs that includes a symbol or message. And if a banner contains graphic design elements, text, or symbols that pertain to a specific sport, athlete, business, or anything about a certain sport, that banner is called a sports banner.
We also further narrow down this article as most of the tips and guides that we will share here will focus mostly on the promotional aspect of using sports banners.
There are two main approaches that anyone can use in order to create a sports banner. Just like how you can create personalized handmade greeting cards, you can also do that if you want to create your own sports banners. With this approach, the conceptualization of your banner design to the type of paper or card stock to be used will be decided by you. This banner-making approach is preferred if you are only creating one or two original banners and if you have a lot of time to create the banner.
However, if you intend to use your handmade banner designs as a marketing tool and you intend to put up a banner in a lot of public places, you may need to ask for other people's help in creating the banners.
The next banner-making method that we can suggest is the use of pre-made digital templates. Examples of pre-designed sports banner templates are embedded in this article. It is best to use these pre-made templates if you know that you only have limited time to create your own sports banners. A good thing about the use of these printable sports banner templates is that they are already pre-formatted and you do not need to layout the entire banner template yourself.
With this second banner-making method, you will save a lot of time in coming up with a unique banner design template since this aspect will already be addressed by the original template creator. All you have today as the template's end-user is to make minor edits to maintain consistency of your business branding identity designs.
Now that you know what sports banners are and you also now know the two main ways of creating a sports banner, it is now up to you on what sports banner-making method to choose. Just choose the template that you seem to like best and one you are most comfortable in doing. Also, do not forget to enjoy the banner-making process. You may also see creative banners.
Be sure to read until the end of this article since we will be sharing helpful tips on how you can choose the best sports banner template that will fit the business, event, or sport that you want to create a banner for. You may also see outdoor banner designs.
Elegant Sports Banner Template
Customizable Sport Shop Banner Template
Elegant Sports Banner Example
Fitness & Sports Banner Example
Flat Design Sports Banner Template Pack
Modern Sports Banner Template
Sports Banner Template Selection Guide
Choosing just one sports banner template design can get pretty overwhelming especially when you are presented with a lot of equally well-designed printable banner template designs. That is why we want to help you with your sports banner template selection process. Listed below are the questions you need to ask yourself so that you will have a clearer mind when you make that purchase decision. Read more about them below.
1. How is my graphic design skills?
One of the most important questions that you should ask yourself prior to purchasing any digital template is whether or not you know how to edit. When you are honest with your own editing skill level, you can make a better decision. You may also see banner design templates.
To illustrate, if you do not have an inkling what sports banner templates are or how to use them, then perhaps it is time to just delegate the task of creating a sports banner to a more knowledgeable person. Or, you can even take the time to learn about different graphic design by watching Adobe Photoshop or Illustrator tutorials online.
Factor in your own graphic design or editing skills into your own decision-making process and you will not regret the banner template that you will eventually choose.
2. How much is your budget?
Marketing a business needs a lot of money. And if you are creating sports banners to help promote your fitness gym or a sponsored sporting event, you will need to shoulder the cost of buying a printable template and also the printing of these templates.
If you have to work with a limited budget, you may opt to choose a sports banner template that features fewer design frills and one that does not require an elaborate printing format. This way you will save on the printing cost of the sports banners.
An unlimited advertising budget, on the other hand, will give you free reign as to what kind of pre-made sports banner template to choose from and the elaborateness of your banner printing method.
Always keep this factor in mind especially right before you purchase that sports banner template.
3. Is this banner template customizable?
Before you purchase any graphic design template, you should always check if the template can be edited or not. You should ask (and answer) this question especially if you want to add customizations on the sports banner template itself. For example, if you want to add your own business logo on the banner template, you will need to add this to the template yourself. And to do that, you will need to have a banner template that is fully editable.
As a rule of thumb, banner templates that are available as Adobe Photoshop, Illustrator, or InDesign templates are often fully customizable so it is best to choose a template that is available in this file format.
4. How much time do I have to create the sports banners?
Another important question to ask yourself prior to purchasing a sports banner template is the amount of time you have before you need to use the sports banners. This means that you need to make sure that you create a finished sports banner well before you intend to use them. You may also see school banners.
For example, if your sports center is hosting an upcoming taekwondo tournament, you need to finish creating and printing those sports banner a few months before the tournament. This is needed because you need those sports banner to advertise the event well before it occurs. This is also done to ensure that a lot of people know about the event and they can purchase tickets beforehand. You may also see social media banner designs.
If you do not think you can deliver the finished sports banners before the deadline, then perhaps it is best to delegate the banner template editing to a professional. Or, you may have to use a banner template design that does not need a lot of editing. Carefully think about all these factors so that you will have a less stressful time leading up to your business' big day.
So those are the top three questions you need to ask yourself and should always factor in before you press the purchase order button. Keep all these things in mind and you will be on your way into creating the most compelling sports banners for your business or event.
Fitness Sports Banner Template
Printable Sports Banner Ads Template
Running Sports Banner Template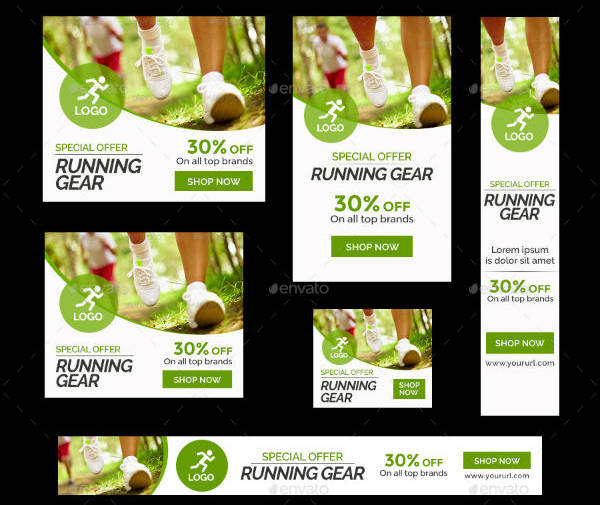 Sport Banner Ads Template Set
Simple Sports Banner Template Set
Simple Sport Banner Template
It's Your Turn…
If you want your business to succeed in the sports and fitness industry, promoting a business should be done with zeal and sincerity. One way you show this is by designing and creating compelling business advertising materials just like a sports banner. These forms of advertising are essential even in the digital age since you need people to be visually aware of your brand wherever they go to.
For instance, by plastering your sports banners that conspicuously showcases your gym logo design, you are getting giving your business more chance to be seen by more people. It is important to have this mindset especially if you are an entrepreneur. You can apply this lesson right away just by simply using any of the printable sports banner templates found in this article.
For more banner design inspiration, look no farther than the rest of our website. You can find anything from website banner templates to baby shower banner templates here. Also, never forget that you can share this article with your social media friends and followers at any time.