Fact Sheets hold a company's shareable data (such as technical and product information, statistics, etc.) as a list of the most important points and are distributed for emphasis purpose. Fact sheets are always engaging the material, provided they are woven with that gripping element. Many are interested to know about smoking fact sheets and alcohol fact sheets. Fact Sheets are presented as reversal pyramids-upside down. They cover high-level stuff to less valid points. But how to sort out the importance? These Fact Sheet Templates will tell you that.
Blank Fact Sheet Template
Product Fact Sheet Template
Company Fact Sheet Template
Subway Fact Sheet Template
This Factsheet template is full of numerical representations. Those who want to have beautiful pictorial fact sheets with less content or no content can go for this. Color green signals the positive vibes.
RCNC Recycling Fact Sheet Template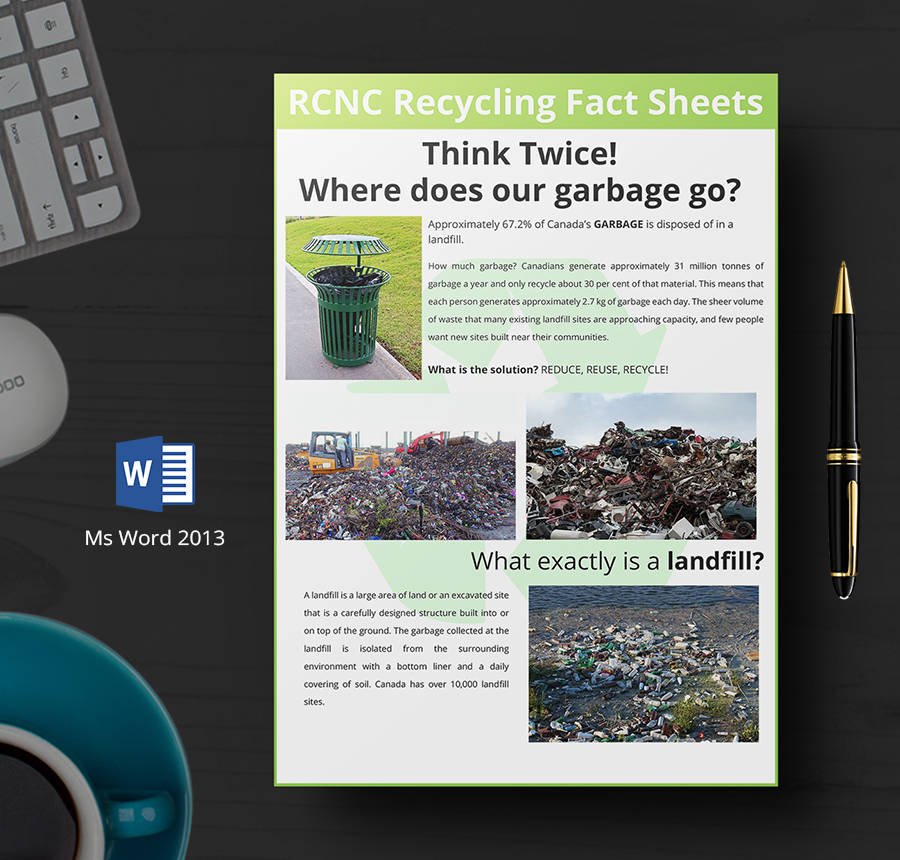 NGO companies and those that promote environmental friendliness can go for this fact sheet. The existing images strongly oppose the usage of polyethylene and other plastic bags. You can swap or change the imagery as per your business.
Fact Sheet Template
As you can see, the template is quite contrary to the first one. Any mid-level company or client that is interested in content based fact sheet can go for this. Though such kind of templates is a dime a dozen in the market, one good reason to opt for this is that it is 'free!'
Well-Defined Fact Sheet Template
There are damn good reasons to select this template for your debut fact sheet. As a nascent, you first need to introduce yourself, and this particular write-up helps you get well-established in the most appropriate way.
Campaign Fact Sheet Template
How about this fact sheet template for your biodiversity business campaign? It's a wondtacular prototype that perfectly syncs with all kinds of Word (well, 2016 is an exception).
Plant Survey Fact Sheet Template
Are you conducting any botanical surveys and looking for the right content vehicle? Use this Fact Sheet template for a better reach. With a single image, the word document seems to be spacious enough to write the whole life cycle of a plant.
Guide to use Fact Sheet
A picture depicts a thousand words. But one shouldn't overdo the practice. Especially, when there is a lot to be presented, try to restrict your report to one graph. If you are poor at the know how, use this Fact Sheet template.
Endangered Species Fact Sheet Template
If your fact sheet is something related to the endangered species, then this fact sheet template helps your version pull its weight. Besides, the balanced ratio of images and content makes the template approriate for any industry.
> How to use these Templates?
These templates are ridiculously easy to use. One need not practice any complex mnemonics to know the process. A basic computer knowledge is what needed to use (edit and apply) these templates. However, we are going to document the steps for the novice readers.
To use these templates:
Download the template
Save it in your device
Double-click the document to open it
Do the necessary modifications
Save it with a proper naming convention.
> Benefits and Advantages
For instance, take the first template in the bundle as an example. How many work hours do you need to draw the infographics? How much brainstorming does it require? Having said that our sheet templates are ready to use ones, you can save a lot of time and effort in that context. The one-pagers restrict you from providing exceeding information. Also, you have multiple templates to choose from, and this gives you the flexibility to select various ones for different requirements. You can easily convert the templates to any other format that supports Word. Hurry! It's raining Fact-sheet freebies. Stop shooting the breeze and avail the offer.