Free Templates
49+ Free Invitation Templates
Invitation templates can be quite handy documents when you have to plan a party, a gathering, an event or an exhibition. More than often we are so caught up in arranging for the actual event that creating a well designed and a well written invitation card from scratch can seem quite a task. However, the importance of presenting a well curated invitation card is extremely important for the success of any event or program. The below invitation templates can help you design invitation cards in the most convenient of ways.
Baby Shower Invitation Template in PSD

Download
Gender Reveal Party Invitation Template

Download
Chalkboard BBQ Invitation Template in Word

Download
Bachelorette Party Invitation Template

Download
Editable Housewarming Invitation Template

Download
Sample Family Reunion Invitation Template

Download
Vintage Farewell Party Invitation Template

Download
Classic Bridal Shower Invitation Card Template

Download
Birthday Party Invitation Template

Download
Classic Funeral Invitation Template

Download
Baby Gender Reveal Invitation Template

Download
Ushering in a baby in the house is always filled with happiness and anticipation. If you are planning on a baby shower for a friend or a family member where you also intend to reveal the gender of the little one, here is the ideal template to use.
25th Birthday Party Invitation Template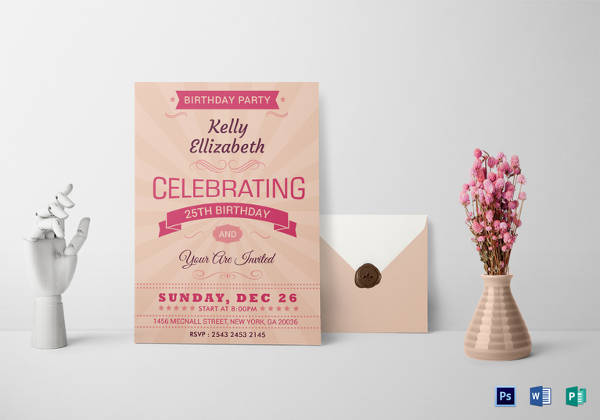 Download
This beautiful birthday invitation template is ideal to be used for evening parties. A stunning layout over the back background speaks volumes about how much fun is to be expected at the party.
Awesome BBQ Party Invitation Template

Download
The Barbeque party invitation template is a professionally designed free downloadable template for you to simply edit it with your details. The eye catching images coupled with the attractive fonts makes for a fabulous invitation template.
Family BBQ Reunion Invitation Template

Download
Summer barbeque parties are so much fun and this template brings out the flavor of the season. Downloading and editing this template for your party will ensure that you do not have to design an invitation from scratch and save time to plan the other aspects of the event.
Chalkboard 25th Anniversary Invitation Card Template

Download
The retro party invitation template is a simple but superbly designed wedding anniversary card you can customize to invite your friends and family on the occasion of completing twenty five years of togetherness.
50th Birthday Party Invitation Template

Download
With the fully editable birthday invitation card templates, you can celebrate any of your friends or family member's birthday with full fledged enthusiasm. Download this card template and woo your invitees by creating a professionally designed invite.
Baby Naming Ceremony Invitation Card Template

Download
Free Elegant invitation Template
Blank Event Invitation Template
Sample Wedding Invitation Template
Free Simple Graduation Invitation Template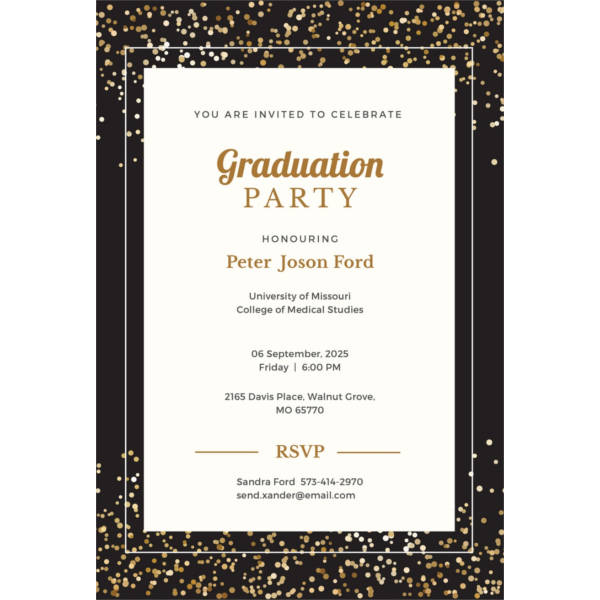 Meeting Invitation Template
Free Princess Baby Shower Invitation Template
Here is a simple black and white birthday invitation card format available for easy download and printing in the least amount of time. The minimalist design coupled with the bold fonts makes for a neat read.
Family Retro Reunion Invitation
Family reunions are memorable and so much fun, especially if it is a themed party! With this customizable template you can create a stunning whacky family reunion invitation card and let your near and dear ones know about all the fun planned!
Family Reunion Invitation Template
The Family Reunion template comes in a smart and happy design and apart from a dedicated space to put your family picture, you can create an appealing write up and enthrall your invitees.
Birthday Party Invitation Card Template
This birthday party invitation card template is an ideal document for the birthday party of your sister or best friend who is full of life! The combination of white and pink looks cute and promises that the party will be lots of fun!
Invite your friends and family for your little one's baptism with the help of this template. An interesting feature of this template is that you can add a portrait of the child to personalize the invitation.
This professionally designed baptism invitation template is an exquisite document you can customize to let your closed ones know of the baptism date of your child and request their presence during the ceremony.
Farewell Invitation Card Template
This farewell party template can be used especially if there is a farewell party which has been organized on the account of the end of an academic season or if someone is leaving the town or country in search for a better opportunity.
Farewell Party Invitation Card
Bid farewell to a good friend, a senior or a colleague with this farewell template. Apart from a catchy font layout and style, you can also include a fun photograph to commemorate the good times.
Vintage Farewell Party Invitation
This is an excellent party farewell template. This fully editable and customizable document comes in a stunning black background with textured designs to make catching farewell invitation cards.
Free Sample Dinner Invitation Template
Rehearsal Dinners are considered to be an important aspect of weddings and therefore, this rehearsal dinner invitation template is a professionally designed invitation which can be handed over to your guests requesting the pleasure of their company during your rehearsal dinner.
Birthday Party Invitation Template
This Birthday Party invitation template is a professionally designed layout suited to customize invites for young and old alike. With minimal colors i.e. dark brown and ivory and fonts and looks pleasing to the eye.
Celebrate your little one's birthday party in a retro theme using this retro birthday party invitation template which you can download and customize and request the gracious presence of your friends and family.
Summer Party Invitation Template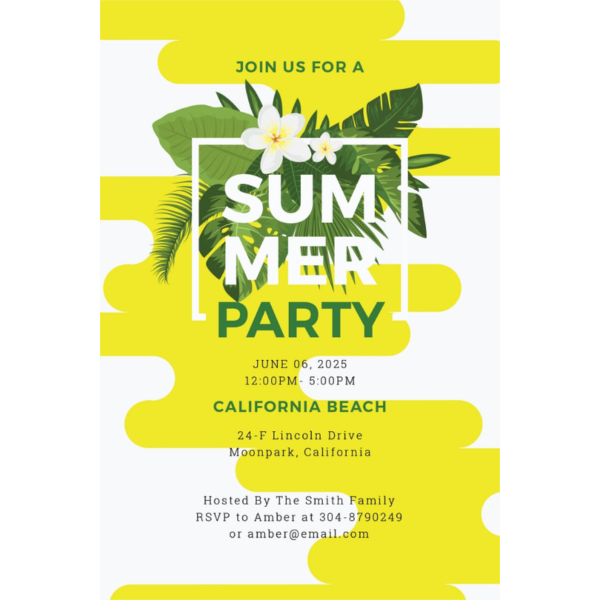 If you are organizing a beach party on a bright summer afternoon, you can use the summer party invitation templates to create a stunningly designed summer party invitation for party goers and peeps.
> How to use Invitation Templates?
These Invitation templates are extremely handy documents to be used as invites for birthdays, weddings, anniversaries, farewell, family reunions, parties and proms. Equipped with a professional designed layout, smart combination of colours and sizeable fonts to include your text, designing invitation cards will no longer require you to seek help from a professional anymore. All you have to do is simply download the template of your choice, add your desired information and print them out in bulk to create stunning invitation cards for one and all. These templates are free of cost and the high quality images render a fine finish to the look of the invitation cards.
> What are the benefits of Invitation Templates?
Gone are the days when you had to keep looking for the ultimate professional designer who would take a considerable time to design an invitation card for you for an upcoming event or party. With these free formatted easily customizable templates, you can now create stunning designed invitation cards from the comfort of your own home. These templates have been designed keeping in mind your myriad needs of celebrations and get togethers and you can easily find a template which will best suit your requirements. You can also add your own images to customize the invitation cards and add a personal touch.