Graphic Design
50+ Certificate Ideas & Examples 2022
Table of Content
Certificates are documents that officially recognize a person's achievements, completion of something, and status. Therefore, they're special, not just ordinary documents. You have to create them with care and with some artistry. Luckily, certificate templates are available to make your task easier.
To create a certificate of your very own, follow the following steps:
Browse through several certificate designs for inspiration and ideas for your own certificate.
Customize Online or Download in your preferred File format and Print As Required.
Certificates are works of art. And they can be a challenge to craft. But with a healthy dose of ideas, inspiration, and references, you'll do just fine. So check out our long list of ready-made, high-quality certificates.
1. Cool and Simple Margins
Margins are key visual elements of certificates. So make sure to choose the right margin style for your certificate. The margin of our Training Completion Certificate blends style and simplicity so well. Use it if you want!
Use This Training Academy Certificate
2. Simple Font Styles Will Do
Fancy font styles aren't always necessary for certificates. In some cases, the simple ones fit in better. And our Appreciation Employee of the Month Certificate epitomizes that. If you look at it, you'll see that its texts are clean and very readable.
Use This Employee Appreciation Certificate
3. Experiment with Colors
You can make certificates colorful depending on the occasion. For instance, our Painting Award Certificate celebrates an artist's excellence. So adding a variety of colors to its design doesn't look out of place. In fact, they complement the certificate.
Use This Painting Award Certificate
4. Make Them Appealing for Kids
If a certificate's recipient is a kid, you should set a design for it that appeals to children. You can mirror how we crafted our Kid's Appreciation Certificate template. Make use of some shapes, simple drawings, and other visuals straight from a child's imagination.
Use This Kid's Certificate of Appreciation
5. Goal!
Our Soccer Certificate is perfect if the person you're awarding is an excellent soccer player. Overall, its layout is simple. But what stands out is its soccer ball clip art. It symbolizes the spirit of the award and the recipient's exemplary performance.
Use This Soccer Award Certificate
6. "I Found Myself a Cheerleader!"
If you're a cheerleading coach in your high school, our Sports Cheerleading Certificate is yours for the taking. The design of this template is the perfect way to welcome new members of your team. Just add your name as the coach, your school's name and logo, and the recipient's full name.
Use This Sports Cheerleading Certificate
7. Touchdown!
An MVP football player deserves a presentable certificate. So if your football league just wrapped up and has chosen an MVP, present to him our Football Certificate design.
Use This Football Certificate
8. No Margin, No Problem
Most certificates have margins. However, that doesn't imply that margins are necessary. Our Art Award Certificate doesn't have any margins, but it looks splendid. We just sprinkled it with some minimalist clip arts.
Use This Art Award Certificate
9. Don't Be Afraid to Get Fancy
Sometimes, you have the freedom to get fancy with a certificate's design. Our Choir Participation Certificate shows that you can play with art to enhance a certificate's presentability. Just don't overdo it.
Use This Choir Certificate of Appreciation
10. Professionalism
There's a time to be fancy, and there's also a time to be professional. And for the case of medical certificates, their designs should be simple and professional. They don't celebrate any occasion. So no need to make them fancy. You can follow the way we made our Medical Certificate Letter From Doctor.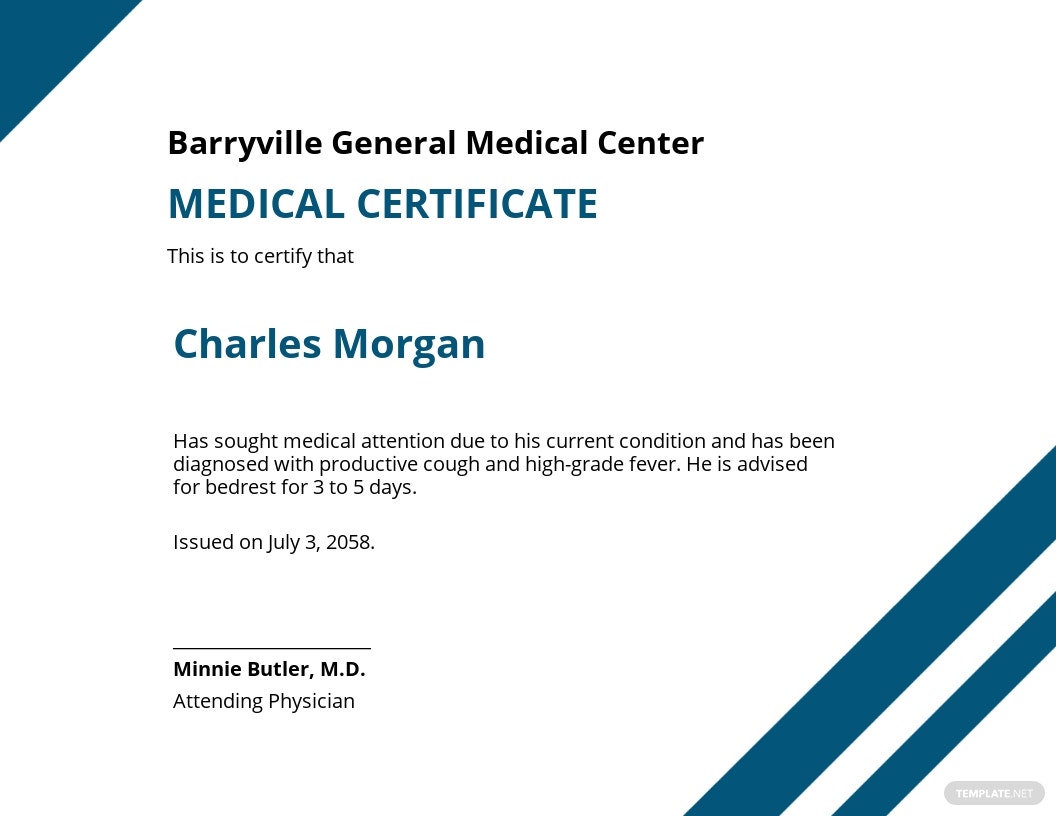 Use This Medical Certificate Letter From Doctor
11. Honor the Graduates
Graduation day is a special event every for every student. It's a day when all their hard work pays off after years of studying. And there's no better way to honor their academic achievement than with a well-designed diploma. A good example would be our Computer Diploma Certificate template.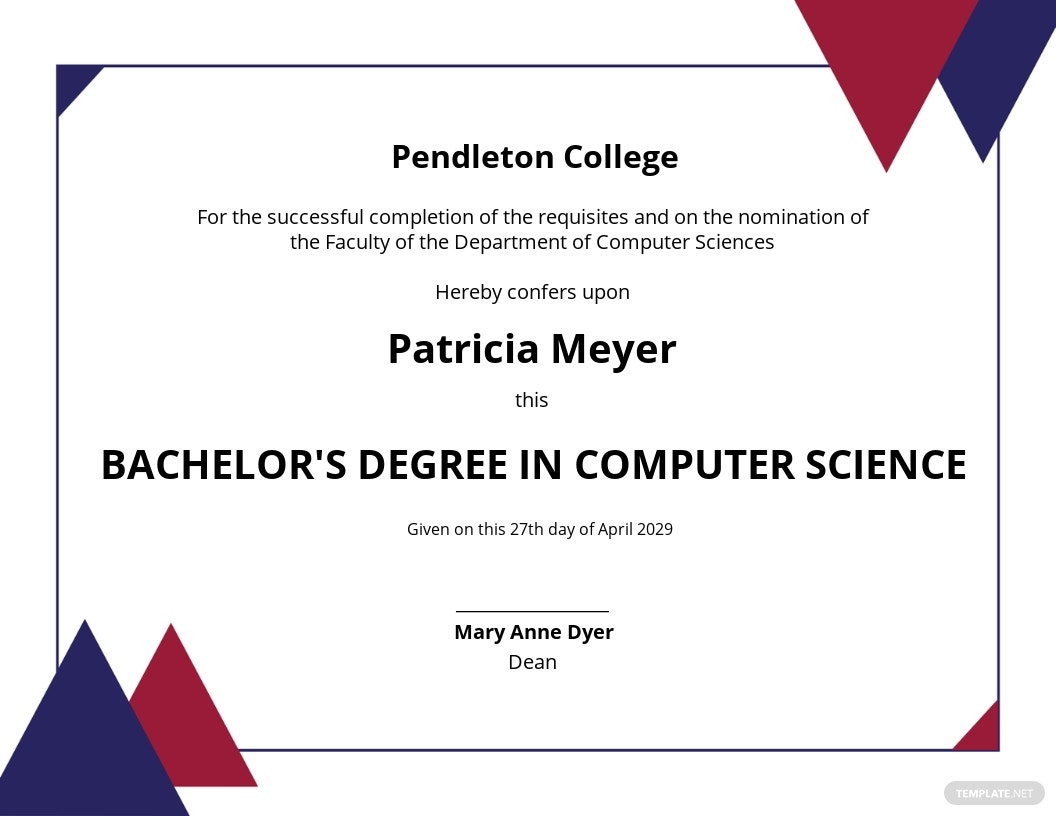 Use This Computer Diploma Certificate
12. Kid's Deserve Recognition As Well
Even the smallest of recognitions puts a smile on the face of kindergartens. Awarding them with a certificate certainly does that. So if you're a kindergarten teacher, save our Kindergarten Certificate on your computer. When your students make achievements, no matter how little, you can always award them promptly.
Use This Kindergarten Diploma Certificate
13. Appreciate Your Employees
If you're an employer, you should know that your employees are your most important assets. So from time to time, appreciate their efforts with our Employee of the Month Recognition Certificate.
Use This Employee of the Month Certificate
14. Respect and Appreciate Artists
An artist's work should be protected. With our Authenticity Certificate with Photo, you can help preserve the originality of your artist friend. Only him or her should claim credit for his or her work.
Use This Authenticity Certificate with Photo
15. Welcome to the World, Four-Legged Friend!
Though they're not official citizens of the nation, dogs deserve to have birth certificates. So if you own a pet shop, you can use our Dog Birth Certificate template. Its design is oozing with canine cuteness that appeals to dog parents.
Use This Dog Birth Certificate
16. Furry Friend Reporting for Duty
Dogs need to have official certificates to qualify as service dogs. So if you have a dog that can be of service, create his/her certificate using our Dog Certificate template. Let your good boy or good girl experience his/her first day of work soon.
Use This Dog Certificate
17. Got Game?
A high school baller who has the potential to be the next Lebron James, Kobe Bryant, Michael Jordan, or Candace Parker deserves our Basketball Certificate template. If your HS basketball league has chosen an MVP, award this to him or her.
Use This Basketball MVP Certificate
18. Keep Hoopin'
Aspiring basketball players have a long road ahead to go pro. But with every training, they get better and better. If you're a basketball trainer, uplift your trainees' spirits with our Basketball Training Certificate.
Use This Basketball Training Certificate
19. Good Job, Coach
Aside from players, coaches should be appreciated as well. So if you're a school athletics director, let your coaches know of their exemplary work with a certificate. Start making one using the design of our Basketball Coach Certificate.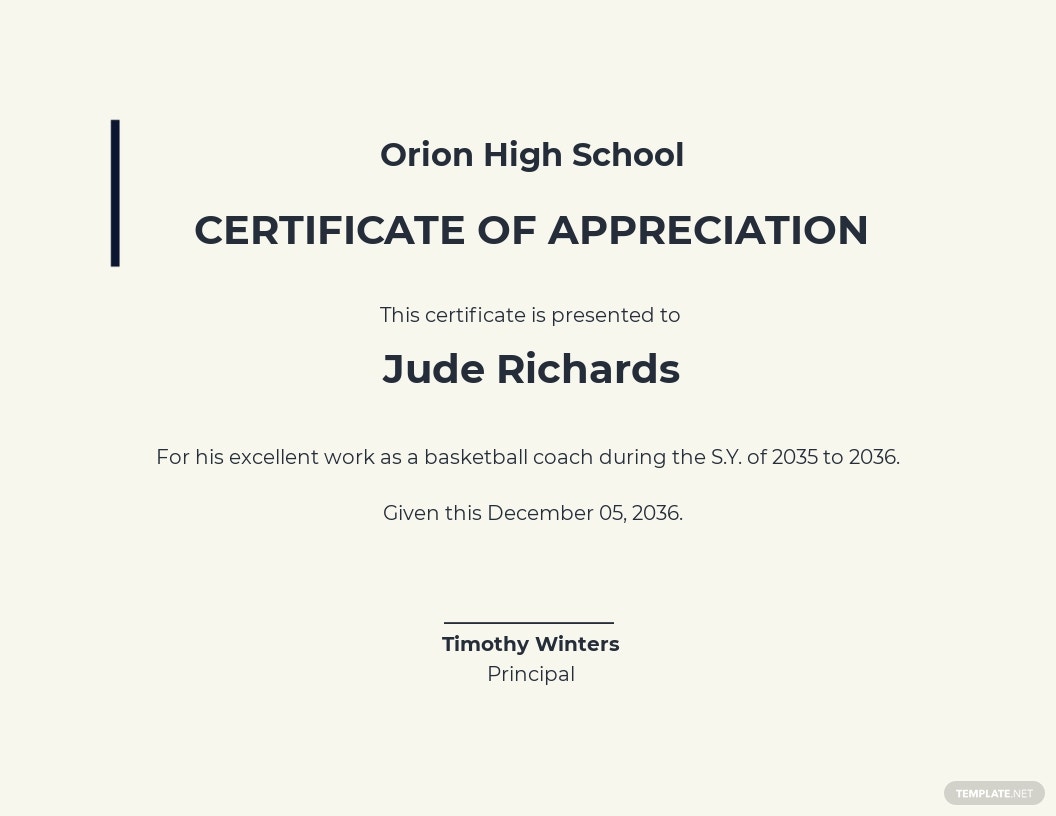 Use This Basketball Coach Appreciation Certificate
20. Appreciate Interns
Interns are paid very little or not all. As a manager, the best you can do is appreciate their short stint and contributions to the company. When their internship is over, express your gratitude with a certificate of completion. You can use our Summer Internship Certificate as your reference.
Use This Summer Internship Certificate
21. Welcome to the Club!
If you're a golf club president, welcome new members with an eye-pleasing membership certificate. Take inspiration from our Golf Club Membership Certificate template. Its design and simplicity combined make for a perfect aesthetic.
Use This Golf Club Membership Certificate
22. Welcome to the Christian World, Child
A newborn's baptism certificate is important to his or her civil identity. As a pastor or priest, you should craft a decent baptism certificate for every child you baptize. It needs to have a simple and solemn design, just like our Christian Baptism Certificate.
Use This Christian Baptism Certificate
23. Inspire Future Leaders
Good leaders inspire, but to become better leaders, they need to be inspired. Our Student Leadership Certificate can help you to uplift the spirits of young leaders and encourage them to continue their great work.
Use This Student Leadership Certificate
24. "We Are the Champions, My Friend"
Champions deserve a champion-quality winning certificate. So make sure to award such a certificate to the recent champions of your sports league. Get started with our Champion Certificate of Winning Competition design.
Use This Champion Certificate of Winning Competition
25. Zumba!
Zumba is a fun and excellent weight loss activity. So encourage your Zumba students to keep coming with our Zumba Fitness Certificate.
Use This Zumba Fitness Certificate
26. Appreciate Volunteers
Just like most interns, volunteers don't get paid. They offer their services out of compassion, and they should at least be repaid with utmost gratitude. Among the best you can do is by awarding with our well-designed Volunteer Certificate template.
Use This Volunteer Certificate
27. Appreciate Musicians
Aside from a round of applause, an appreciation certificate can put a smile on a musician's face after a wonderful performance. So if you're event has musicians, gift them our Music Performance Certificate to inspire them to continue their craft.
Use This Music Performance Certificate
28. High-Res Background Image
Most certificates don't have a full background image. But don't let that stop you from putting one on your certificate. A full background image can work as evidenced by our Music Achievement Certificate template.
Use This Music Achievement Certificate
29. Experiment with Unorthodox Margin Styles
You can get creative with your certificate's margins. Play with different placements of the lines until you discover one that works. Or, you can mirror the margin style of our Creative Certificate template.
Use This Creative First Haircut Certificate
30. Highlight the Recipient's Name
Make sure to highlight the recipient's name on the certificate. You can use bright font colors for it to stand out. Our Creative Prize Certificate uses pink, which makes the Douglas Frances name noticeable. You can use other colors such as yellow, green, violet, or blue.
Use This Creative Prize Certificate
31. Ensuring Safety
Safety should always be a top priority. Our Safety Certificate template can be used to ensure that a product, a service, or an establishment is safe for people. Its design has zero fanciness. Just simplicity and straightforwardness in conveying important details.
Use This Safety Inspection Certificate
32. Reward Loyal Customers
Preserve your customers' loyalty with gift certificates. Grant them some freebies and discounts to keep them coming. Feel free to use our Spa Business Gift Certificate as your template.
Use This Spa Business Gift Certificate
33. Reward Employees
Incentives can keep employees happy and engaged in their jobs. One way to do that is by giving gift certificates. So if you're an employer or manager, you might want our Company Gift Certificate template.
Use This Company Gift Certificate
34. Pink Color Scheme
Believe it or not, a pink color scheme can work for a certificate's aesthetic. As shown by our Modern Certificate, pink can bring a warm and welcoming atmosphere. A certificate with such a design will be appreciated by its recipient.
Use This Modern Dance Certificate
35. Knot Tied
The shiny wedding rings and the sweet "I do" aren't enough to make a wedding official. The one last thing need to tie the knot officially is a marriage certificate. So if you're a pastor or parish priest, you're welcome to use our Marriage Certificate template to officially wed a couple.
Use This Marriage Certificate
36. Red and White Combo
Red and white is a timeless color combo that countless art forms have used for generations. That said, you're free to use a red and white color combo for your certificate. If you feel doubtful, just watch our Salary Certificate template. It looks perfect in its own way.
Use This Salary Pay Certificate
37. Checkered
If you'll be awarding a motorsport racer, our Motorsport Certificate template would be perfect. Its checkered design at the bottom and top expresses the vibe of professional car and motorcycle racing.
Use This Motorsport Certificate
38. Badge of Excellence
Our Sports Certificate template features a badge clip art on the top left corner. It helps to express the honor and gratitude that the recipient deserves.
Use This Sports Award Certificate
39. All-White Backdrop
An all-white backdrop is one of the simplest and neatest designs for a certificate. So if you don't want to deal with too many artistic elements,  follow the aesthetic style of our Soccer Certificate template.
Use This Soccer Certificate
40. Floral
Floral designs are great for wedding and baptism certificates. They bring out an atmosphere that's both solemn and beautiful. To prove our point, we invite you to have a look at our Sunflower Baptism Certificate template.
Use This Sunflower Baptism Certificate
41. Be Imaginative
If a certificate's recipient is a preschooler, you can get imaginative with its design. Just like our Nursery Graduation Certificate template, you can add images of cartoon-like drawings of planes, trains, planets, landscapes, or any art that appeals to preschoolers.
Use This Nursery Graduation Certificate
42. Symmetrical Patterns
A symmetrical pattern design works for any type of certificate, be it for an award, appreciation, sports, etc. One great example of a symmetrical pattern design is our Soccer Championship Certificate template.
Use This Soccer Championship Certificate
43. "I Was There"
If you're an organizer of a seminar, know that its attendees deserve a decent attendance certificate. In that case, we encourage you to take advantage of our Printable Certificate of Attendance template. The design and layout go well with the professional atmosphere of a seminar or business conference.
Use This Printable Certificate of Attendance
44. Thank You for Your Service
Employees who worked for you for many years deserve elegant certificates of employment. No ideas on how to design one? Don't worry. We have our Employment Service Certificate template to guide you and get you started.
Use This Employment Certificate of Service
45. The Sweet, Sweet Dollar Sign
If what you're making is a gift certificate, make sure to emphasize its value. That would make it sweeter to look at. Something that has monetary value and given for free is a sight for sore eyes, especially if the dollar sign is there. Look at our Elegant Certificate template to see what we mean.
Use This Elegant Gift Certificate
46. Happy Birthday!
Brighten up somebody's birthday with our 30th Birthday Gift Certificate template. That person will certainly appreciate it and you'll be able to put a smile on his or her face.
Use This 30th Birthday Gift Certificate
47. We're in Business!
Business certificates are special to documents for business owners. They're their license to be able to do business. Some of them would even frame it and mount it on a wall as a decoration. That said, if you're tasked to craft a business certificate, make it presentable just like our Business Certificate Design template.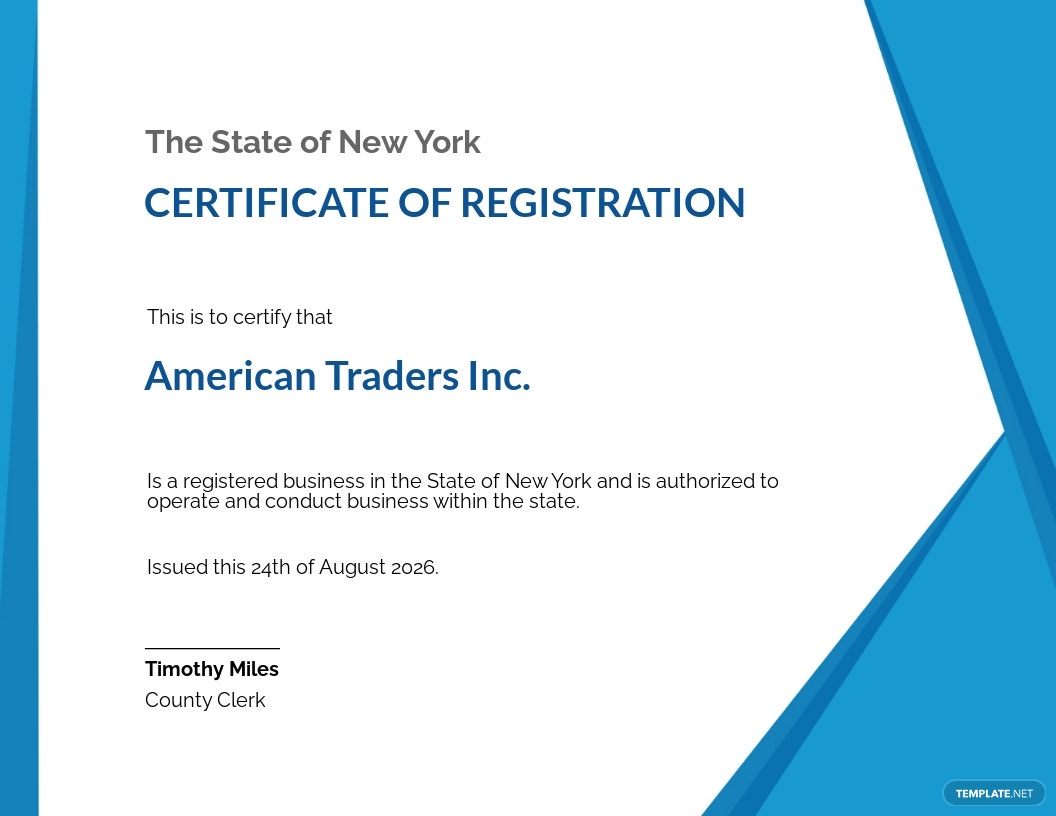 Use This Business Certificate Design
48. Sleek Blue Borders
The borders of our Job Experience Certificate template express simplicity and originality. You don't often see this kind of pattern on certificates. Admittedly, there's nothing too special about it. But it enhances a certificate's aesthetic quality by a mile.
Use This Job Experience Certificate
49. Get Well Soon
If you're a physician, you should give your working patients a presentable and clean sick leave certificate. Just like the one below. Feel free to download it.
Use This Sick Leave Certificate
50. Pet Adoption
Congratulate new pet parents with our Pet Adoption Certificate. Receiving it will make them even happier as they start a wonderful relationship with their new dog or cat.
Use This Pet Adoption Certificate
General FAQs
1. What apps can I use to create certificates?
You can use Adobe InDesign, MS Publisher, MS Word, Adobe Photoshop, Adobe Illustrator, Google Docs, and Apple Pages.
2. What are the most common types of certificates?
These are the most common certificates:
Gift certificates
Award certificates
Employment certificates
Appreciation certificates
Attendance certificates
Birth certificates
Marriage certificates
Diploma certificates
3. What size should an award certificate be?
The best size for an award certificate would be 8.5 x 11.
4. Should important certificates be framed?
Not strictly, but highly recommended. The paper materials of certificates are quite vulnerable to sunlight exposure and other hazards. But not if you frame them.
5. What paper material is best for printing certificates?
Parchment paper is said to be the best material to print certificates. They give certificates a unique and antique-like look, which makes them appear highly valuable.