Family Tree Templates
17+ Family Genogram Templates
A genogram is an organized chart of a person's family background and medical history. It goes beyond a traditional family tree by enabling the individual to illustrate hereditary processes and psychological factors that induce correlations. Genograms contain an abundance of information that scrutinizes the family's background and ancestors and their behavioral inclinations in determining what personal traits their future offspring may inherit. If you need help in making a concise genogram, then we can help you out. Below are some sample Family Genogram Templates at your disposal. You'll find samples for a nursing genealogy, divorce relationship, 3 genogram diagram, social work, online legend, blended tree chart, automatic ecomap, and more. Whether you're preparing a genogram with a 3 generation, 4 generation, or higher format, there are templates perfect for the job.
Table of Content
6 Steps in Making a Detail-Oriented Family Genogram
Step 1: Collect Information from All Family Members.
Collecting information from your family should be the start of your creation as background work. First, it is crucial to decide how many generations you wish to display on the genogram. Next, research your family based on your scope of generations to gather all the names, birthdates, and fundamental relations.
Step 2: Pick a Family Genogram Template.
In choosing a Family Tree Template, you can decide to make your own from scratch or choose from a ready-made one. You can also purchase family tree maker software that can provide you with assistance in making your genogram chart.
Step 3: Prepare the Layout and Format.
Organize the layout of your genogram and measure the size using rulers, gridlines, and guidelines. You need to move the layout gridlines to set the exact measurements of the page's margins or divide the page into sections for a proper arrangement of texts and images.
Step 4: Get All the Vital Information.
Get the information you already know, and once you've exceeded your knowledge capacity, it's time to inquire from family members and relatives. Ask questions about your family history and significant events. Remember to take note of substantial details.
Step 5: Add Content and Proper Symbols and Structure.
Place your content accordingly, and be sure to use the appropriate structure and symbols in your Organizational Chart. The symbols represent a visual indicator of the information gathered in your interviews.
Step 6: Finalize and Print It Out.
Once everything is added and placed in the right order, review your genogram, and scrutinize it to see whether or not the elements are in their proper place. Make sure you don't miss any essential detail. After that, print out your genogram when content with the output.
10+ Family Genogram Templates
1. Family Genogram Template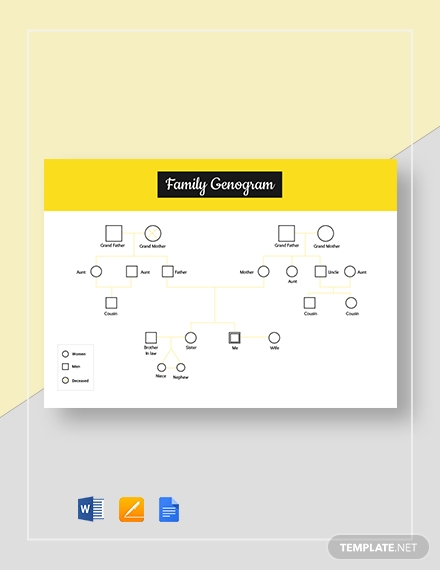 A family tree symbolizes a perplexing line of history ranging down from our very own ancestors. In making a stringent family assessment, we must construct a detailed genogram to help visualize factors that affect who we are today. If you download this template now, you can utilize its editable layout and make your Sample Family Tree look more appealing.
2. Blank Genogram Template
If you're looking for a blank genogram, then we have something for you. With an easy-to-customize feature and ready-made empty boxes to fill up your information in a convenient way, you can generate any genogram for your personal use. So download it now in all versions of Google Docs, MS Word, and Pages (for Mac users).
3. Sample Genogram Template
If you're looking for a precise method of organizing your genogram, then we have the right template for you. Download this Sample Genogram Template now and enjoy its customizable format and stunning visual graphics that you can edit to your style.
4. Free Medical Genogram Template
Medical professionals often use genograms to better understand their patients' medical, genetic, and psychological history.  If you need a template, then we can assist you. With its fully customizable layout and easy to edit format, you can construct several Medical Genogram Templates at ease.
5. Free Standard Genogram Template
A genogram entails a well-detailed and easy-to-read chart that can be understandable to you and other people reading it. If you need help in making one, then we can guide you. With its ready-made blank diagrams and suggestive content to assist you, you can make any family tree at ease. So download it now!
6. Free Family Genogram Template
If you need a straightforward yet creative genogram template for your personal use, then we have the right model for you. Download this Family Tree Template in Apple Pages now and enjoy its fully customizable features and well-formatted layout to make various genograms conveniently.
7. 3 Generations Genogram Template
8. 4 Generation Family Genogram Template
9. Simple Nursing Genogram Template
10. Free Social Work Family Assessment Genogram Template
11. Family Tree Genogram Template
12. Free Basic Genogram Template
Want to trace your family roots accurately? If yes, then download this Free Basic Genogram Template now. With its high-quality layout and simple structure, you can expertly design any genogram chart of your family's background in a less hectic manner.
13. Free Blank Genogram Template
If you're an extended family, then you'll probably need a genogram to help you trace all your family members and their history. Luckily for you, we can give you a recommendation. With its high-quality layouts and graphic files that are editable and customizable, you can make an extensive and organized genogram in no time. So download this Blank Genogram Template now.
14. Family Blended Chart Genogram Sample
In customizing your ancestry tree, you need to understand the basic structure of how a genogram works before placing any of your prepared information on the chart. Good thing for you, we've researched the right document for your convenience. Download this family genogram sample document now and go into full detail and understand the theoretical underpinnings of making an informative family tree.
15. Online Legend Career Genogram
A Career Genogram is your family tree traced back to your grandparents indicating what careers they pursued along with their descendants. It helps you understand potential career options that you may have an innate talent for. Moreover, it also explores your family's influence on your career decision-making. So download this printable document now if you need help with your career choices.
16. Ecomap Genogram Guide
17. Extended Family Genogram Diagram
18. Family Genealogy Divorce Relationship Genogram
Creating a genogram requires requisite knowledge of the usage of proper symbols and their corresponding meanings. If you need a guide to assist you, then don't sweat, we have something for you. Download this portable document file now and have an in-depth insight into the basics of creating a genogram with procedures to guide you along the way.
More in Family Tree Templates