Family Tree Templates
Family Tree Template – 125+ Free Sample, Example, PDF Format Download!
A family tree template is a helpful application for creating an easy way family tree for the whole family. It is used to show creativity concept on how one's family nurture from the beginning of their ancestors. This template provides samples for family tree structure which will guide us in making a good and inspired family tree. These samples are free to download in the format type of preference. With the help of this template, it gives us an idea on how to present family tree in a clear view.
A large family tree template is an ideal template for capturing the greatness of one's family. This includes the characteristics of the family as a whole, culture and traditions as well as their personal differences. This template provides examples for large picture of family depending on the numbers of members that are present. These examples are available for usage or it can make it as a reference guide for creating a unique family tree. These samples are manageable that the only thing you need to do is to fill out the blank spaces for family details.[13+ Large Family Tree Templates]
A 3 generation family tree is a way to illustrate a family with simple inhabitants. This only consists of grandparents, parents and young children. A 3 generation family tree template comes with a lot of samples in diverse layouts and forms which allows us to choose since these are free to download.[10+ 3 Generation Family Tree Templates]
Helping a child to excel in many ways is attainable provided that there is erudition activities and good education system aside from their parents as their first teachers. When a child is eager to know more about his or her family including the descendants and deceased members, forming a family tree is a teaching method that gives fun and enjoyment. This template is made for kids to understand how their families turned out to become several. There are give samples in the template that can be use after downloading it. These samples can be as a guide since these are free for any user who needs it especially designed for children.[10+ Kids Family Tree Templates]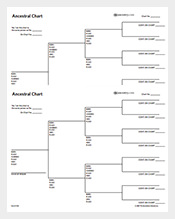 Chart is a common illustration used by many people for their own needs and purposes. Just like in making a great family tree, most of the time we present it in the chart for comprehensible and organize approach. A family tree chart is used to display anything in relation to the family members. A family tree chart template is suitable to construct an easy, creative and with style family tree. The template offers fresh and updated designs for family tree presentation in the chart format. These are simple to complex free samples that you can have after downloading it.[11+ Family Tree Chart Templates]
A simple family can be exhibit in a stunning and professional look by using a reliable source of samples found in family tree template. This template provides a high-quality picture of what does a family look like when presenting it in various layouts and format. The important thing is to make it appreciative and understandable when it comes to family information. There are examples showed in the template for easy creation of your family tree after you downloaded it free.[8+ Simple Family Tree Templates]
The utilization of diagram to display the concept of a subject in a meaningful, orderly and acceptable can also be applicable for family tree. Using a diagram template it will be a great help to show the pattern and connections of family members with their specific description. There are examples for diagram family tree that you can select from this template these are free samples that we can obtain after downloading the tool.[9+ Family Tree Diagram Templates]
A 7 generation family tree is a traditional presentation of all the members of the family including the first living people connected to your grandparents, then passing on to your parents, children and siblings in the present generation. It is also stated those that are deceased. This family tree template is needed to come up a good and well defined family tree. There are samples that are free to download for customization or make it as a background idea.[12+ 7 Generation Family Tree Templates]
A 5 generation family tree is a type of generation in the family that can be seen if you want to know their history and details of growing. This generation contains significant information of a person's life belonging to one class of family starting from the ancestors, grandparents, parents and down to the present ones. The template for generation family tree displays samples that can be utilized after downloading. These are free samples that can give anyone a clear view of how to make a 5th generation family tree in systematic.[10+ 5 Generation Family Tree Templates]
The content of a 4 generation family tree will initiate from the grandparents, parents and children. This generation is best presented with the use of powerful tools such as template and visual graphic representation. Using a template, it will create an expertise and striking family tree for 4th generation. There are samples in the template that can immediately use after downloading. These samples are free to use for customization or guide for your own family tree.[12+ 4 Generation Family Tree Templates]
Book serves as a medium of entertainment and information. Once the topic is interesting, the readers will appreciate every word typed on it. When thinking for a family tree, people can make in the form of book by listing their history, cultures, traditions, and characteristics, type of family and similarities and differences as well. The template for family tree provides list of free samples in book format to show how it is great and cool to place your family information in one collection.[11+ Family Tree Book Templates]
Set of pictures can capture the attention of the readers. Placing a photo in each family member in the family tree can look more gorgeous and appreciative. Aside from the content and using background tree for family information, photos are also a great factor. The template provides samples with pictures to show the difference of this format from the rest of the possible format in family tree. There are free samples that anyone can obtain after downloading it online.[9+ Photo Family Tree Templates]
PowerPoint is a program used when defining and elaborating the details of the subject. For instances, when creating a family tree it can be used as a tool to understand the concept of family and their relationship to one another. PowerPoint family tree template is an effective and professional tool to come up in your own desired family tree based on the layout, format and background to put. There are samples for free after downloading it, an easy way to make a family tree attractive.[10+ PowerPoint Family Tree Templates]