Lease Templates
8+ Sample Rental Lease Templates
When you will rent your assets better to have the Lease Templates so it will stay long for a long time and maximize the income it can generate for a year; you can have it in example format where all of the conditions that will be applied in your renting business can be embedded that you and your clients must follow.
All of the properties that you will lease have their own contracts depending on their use and value, with the template it can produce each document you need for the asset you will rent to others and be able to modify its format. You can also see Lease Invoice Templates.
Blank Residential Rental Lease Agreement
rentalleaseagreement.org
This is a lease template created for landlords who are renting their residential apartments. The templates guide the user on the structure of such an agreement, the style and tone of writing an agreement and all the components that should be included in the template. The template is fully customizable and comes in popular document formats for wide accessibility.
Commercial Rental Lease Agreement Template
nationalparalegal.edu
Equipment Rental Lease Agreement
dcnr.nv.gov
Room Rental Lease Agreement
housing.ucsc.edu
Summer Rental Lease Template
bluewaterinnoc.com
Office Rental Lease Example
imperialcable.com
House Rental Lease Template
e-renter.com
Sample Rental Lease Extension Template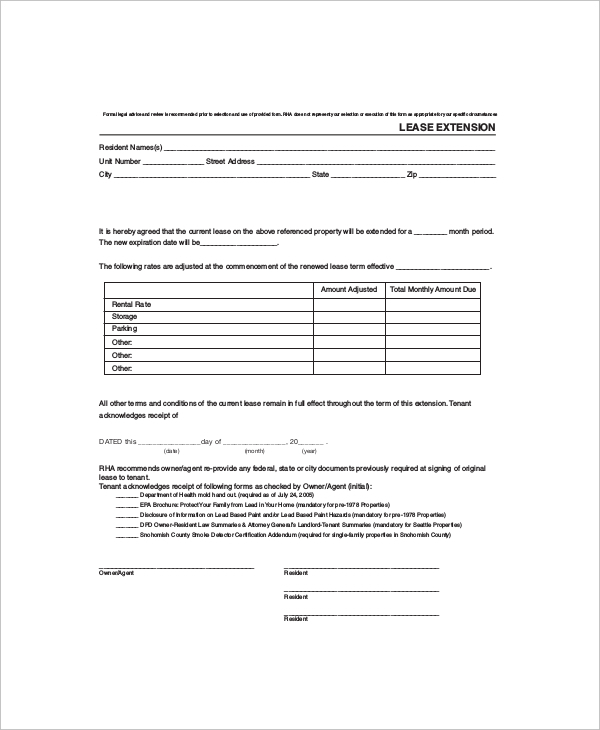 roomsandapartments.com
> Uses of a Rental Lease
A rental lease is a useful document prepared by both the leaser and the lease to ensure that both of the parties have agreed on the same terms and conditions that should be applicable in a certain period which both have agreed. With the rental lease it's hard for the difference between the landlord and the tenant to arise since there is some rules each of the party should follow. You can also see Lease Termination Letter Templates.
> When do I Need a Rental Lease Template?
If you want to rent your property but still don't know how to write a rental lease agreement, the rental lease template is then prepared for you. It guides you how what to include in the document, the structure and the style of writing.
> How to Write a Rental Lease Agreement.
You can write a rental lease agreement by first ensuring you that you know everything that you should include whenever writing such an agreement. The lease should be written in formal tone and style and the two parites should be present whenever writing one. The best way to write such adocument is by downloading one of the template from our site and use it as a guide or customize to raise the chance of the document being efficient and effective. You can also see Apartment Lease Templates.
There a vast of templates on our site which can be used to write a rental lease agreement available for free download on our site. The template comes in various file formats and all are prepared by skilled professional to ensure they are effective and efficient.