Lease Templates
7+ Vehicle Lease Templates – Word,PDF, Google Docs
A vehicle lease agreement takes place between a lessor and a lessee. It basically outlines the terms and conditions that both the parties mutually agree upon, so that towards the end of the contract, the vehicle will be returned to its lessor without any hassle. If you are wondering how you can come up with a lease agreement of your own, you might as well check out our ready-made lease templates that are professionally designed by experts. You can make changes to them just the way you want to, by opening them in various file formats.
Vehicle Lease Agreement Template
Download our professionally designed vehicle lease agreement template that allows you to outline the terms and conditions of your leased vehicle. All you have to do is change the text in the highlighted region of the agreement template. If you want to, you may also make changes to the other content by simply opening this template in various file formats.
Auto Lease Contract Template
Efficiently chalk out the various terms of your auto lease agreement by making use of this above shown agreement template. It comes with ready-content that can be easily modified to suit your agreement requirements. You can download and open this template in multiple file formats.
Car Lease Agreement Template
Check out this car lease agreement template in Word that will allow you to enter the description of the vehicle along with other important information such as unit number, make, model, type, serial number, and other such details of the vehicle. You can also enter the lessee and lessor's details. Download this template for free now!
How to Write a Vehicle Lease Agreement in 5 Simple Steps
Step 1: Open a Word Document
Creating a vehicle lease agreement can be made simple if you follow the right steps. Open a Word document in any of the file formats such as MS Word, Google Docs, or Pages. Once opened, you can create the title page
Step 2: "By and Between" Statements
Next, move on to the next step and start writing the "by and between" statements. This statement basically gives information regarding the lessor and the lessee such as their name, their address, and purpose of the lease. The date on which the agreement is made effective along with the validity of the agreement should also be stated.
Step 3: Terms of the Agreement
Now, enter the terms of the agreement. This shall include the rent, maintenance, repairs, registration, license, insurance, use of operation, and other such details. You should provide brief information for each term of the lease agreement template in Docs and it should be presented in such a way that it is understandable.
Step 4: Signature
After all the terms are stated, towards the end, you can leave space for the signature of both the parties to take place. Underneath the signature space of each party, write the name of the representative and name of the client along with the date.
Step 5: Save and Print
Finally, go through the agreement once again to check if you have covered all of the information. If everything is set, then you can save and print your document.
Employee Vehicle Lease Agreement
leaseplan.com.au
Indicating the fees and penalties whenever there are any damages or late in returning the vehicle in time must be written in the terms of the contract as maintaining the integrity and function of the vehicle is the venture part for this business to last long. You can also see Rental Lease Agreement Templates.
Auto Lease Agreement
in.gov
Auto leasing is the leasing of a vehicle used by the lessee for a fixed period of time in return for several amounts of money for the lease. It is majorly offered by dealers as an alternative to auto buy. However, it is commonly utilized by companies as a process of procuring vehicles for their business purposes.
Uses of Vehicle Lease Agreement
With the use of a vehicle lease agreement, you can stay your choices open. Enjoy full, uninterrupted use of the car or another asset you the agreement for using the terms and conditions. Then, you can simply turn your auto and it's your choice. Leasing a car template is usually means a very low monthly repayment in this lease period. You can use to create your template for using the lease agreement. You can also fix your costs. There are two main ways to get a car to have very different aspects as well as drawbacks. And also, when entering a lease agreement is aware of any clauses in the agreement. You can also see House Lease Templates.
Standard Vehicle Lease Agreement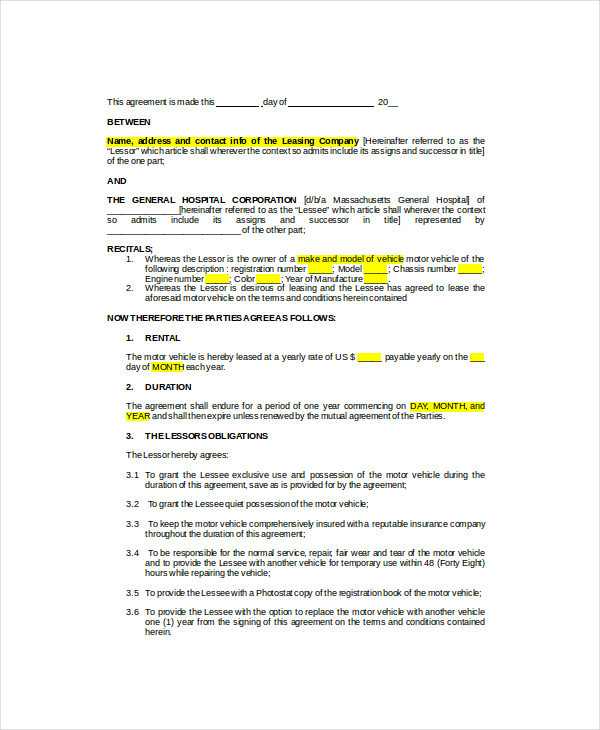 mghcgh.org
A standard auto lease agreement is essentially used while renting out of new or used car. So, when you lease the latest car you are only paying for the portion of the car you are utilizing in the number of years free or pay amounts of an auto lease agreement.
Personal Vehicle Lease Agreement
fairlease.org
This personal vehicle agreement lease agreement template is a well-written contract which permits the leasing of an auto for a fixed duration of time. This private lease agreement is widely offered by dealers for business purposes. There are plenty of vehicles lease agreement templates that include commercial trailers rental agreement, and agreement for trucks.
Aspects of the Vehicle Lease Agreement
Typically, it gives you the right to utilize for an agreed period. According to the period of the lease, you are also obliged to create payments for the use of the asset as set out in the lease agreement. At least, you can also extend the lease agreement or take your ownership of the asset. You can also view our property lease agreement.
Whether you can pick ownership of the asset, they may also be an end of a payment needed but it is based on your template agreement. It is a written contract which permits the leasing of a motor vehicle for a fixed period of time at monthly as well as payments and total of payments. But it is not authorized to create any contract, agreement, warranty as well as aspects of the use of employee relationship.
Free Vehicle Lease Agreement Template
hr.curtin.edu.au
It is a written contract which allows the auto leasing for a specified period of time. However, it is commonly used by the businesses as a process of getting the auto for businesses. You will understand the basic of a vehicle lease agreement before you lease a car will aid you to create informed decisions as well as avoid costly errors.
Targeted Audience for Vehicle Lease Agreement
A vehicle lease agreement is written by a contract which allows leasing auto for a fixed price at a period of time. It is a procedure in which a firm or individuals be capable of reaching the use of positive assets planned includes tax-deductible payments.
It is leasing that uses a motor car for a specified period of time. It is presented by dealers as to car buyers, however, it is extensively used by a business as a high-cost method of obtaining. It will normally be lower than payments on a car loan will be, and also needs is frequently easier. Some clients may lease as it allows them to just to return a car as well as choose a new model for using the agreement template. You can also see Apartment Lease Templates.
Thus, our agreement is widely useful for the vehicle reference leasing letter purpose. In addition, we have some different types of forms are also accessible in some choices. You want to need to choose our best one and then fill out your personal details is also simple as well as easy for you.