Hiring capable and qualified staff is an important part of the agenda for most companies. However, some companies may choose not to conduct hiring procedures themselves. They make written requests to staffing agencies to hire on their behalf to fill up vacant positions. A job order is a document issued by a company giving details about the specific requirements needed to fill up certain posts.
5 Steps to Create a Job Order
Step 1: Leave Space to Enter Employer Details
Use this section to enter all the necessary details of the employer or company on whose behalf the agency is hiring the required staff. Include all information such as the employee's complete address, his contact number, and the date on which the job order will be posted.
Step 2: Provide a Description of the Job
This section can be used to provide a brief description of the job, in which you can also include any specific working conditions under which work will be carried out. This will make the applicants aware of what they will have to handle when they will be working on site.
Step 3: Specify Qualifications and Experience Details
Here, you need to enter the required qualifications and experience required for eligible candidates. Some jobs, such as those for interns may not stress on qualifications and experience as these jobs have been created to help young people gain hands-on experience for various jobs.
Step 4: Specify the Number of Open Positions and Related Details
Specify the exact number of openings available and give details about the number of temporary and permanent positions. If you hire only during particular seasons or only require part-time help you can mention the number of seasonal vacancies, alongside the number of part-time jobs available.
Step 5: Include Other Terms and Conditions
Other information which can be included under terms and conditions is salary, calculated per hour or per day, other benefits and perks which include free accommodation, health insurance, paid holidays, travel allowance, retirement plans and so on. The eligibility for these benefits may vary depending upon the nature of each job.
10+ Job Order Templates
1. Basic Job Order Template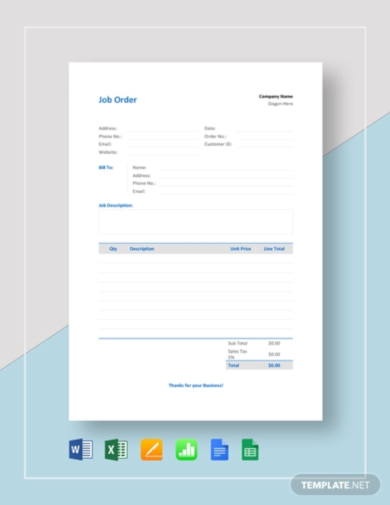 This is a simple but professional document that can be used by clients who avail of the different services that your business has to offer. The job order template is a great business tool that helps in the documentation of business processes. You can customize the entire document and use the suggestive headings and dummy content to guide you as you write.
2. Sample Job Order Template
This sample work order template can be used by a work supervisor or those in charge of getting a particular job completed. In this document, we can find the job particulars as well as all information about the employee who will be assigned the job, such as his training, salary, transportation, tools, and equipment.
3. Job Order Format Sample
This job order form template has been created to fill up vacant manpower resources in a different country. A table specifies the number of required posts, job title and preferred gender of the candidates, alongside terms and conditions regarding food, accommodation, transportation and visa fees.
4. Printable Job Order Template
This is a printable job order template created to employ trainers who can provide guidance and training to young people during summer jobs. The template includes the job details such as the number of positions available, total working hours and remuneration that will be paid to the selected candidates.
5. Job Order Form Layout
This is a simple job works order template layout that can be used by a business house to place job orders to complete a particular project. The blank document can be used to enter employer details as well as job details, which would include the job title, it's description, employee qualification, and skills required, the number of openings, salary, and other benefits.
6. Job Order Template Sample
This is a simple but elegant job order form template that can be used to recruit candidates to fill up several posts. Further details regarding the type of qualifications, experience, and skills can be entered in the blank spaces available. The duration of the jobs may vary for different positions.
7. Corporate Job Order Template
Here is a job company work order template that can be useful for job seekers as well as recruiters to increase employment opportunities. Qualification, location, and salary for each post are provided. This being a digital template, more details about each job can be found online by clicking on the respective job order number.
8. Professional Job Order Template
This is a job order requisition template that can be used to fill up certain vacant job posts. The work order template document will be used to furnish further information about the project assignment, it's the length, the date of commencement and payment offered, as well as reasons for the post being created and the responsibilities associated with the job.
9. Editable Job Order Template
This is a domestic job work order form template that has been created to invite applications from students who wish to gain job experience along with their studies. The job order will have to be filled up by the recruiting companies mentioning the number of positions, duties, pay rate, job requirements, and the procedure to apply for the post.
10. Job Order Example
This is a job order sheet template that is has been created to provide work experience to interns who can work with the state agency by doing technical, clerical or research jobs depending on their skill and the need of the agency at that time. Accounting and business students could gain valuable experience by using this job opportunity which does not require any particular qualification or work expenditure.
11. Job Order Template Example
This is a simple job work order template sample that can be used to enter client information, job-related information, educational qualification, and minimum skill requirement preferred, as well as duties and responsibilities of the job. It is a blank template created in Microsoft Word that can be easily modified to suit your business needs.