Word Templates
47+ Work Order Templates – Word, Google Docs
When a customer or a client makes a deal with a company, they will have to take care of every detail and majorly of the information that they send out to the company. A work order software is therefore sent to the company to make sure that they know exactly the details of the work and everything that involves the order form templates.
A work order form template that a client sends to a company usually consists of the company's name and the name of the client's company to start with. There are design samples you can use for a handyman, vehicle, software development, contractor, manufacturing, apartment, computer repair, landscaping, construction, internal IT, and much more. You may also see our order templates.
Editable Work Order Template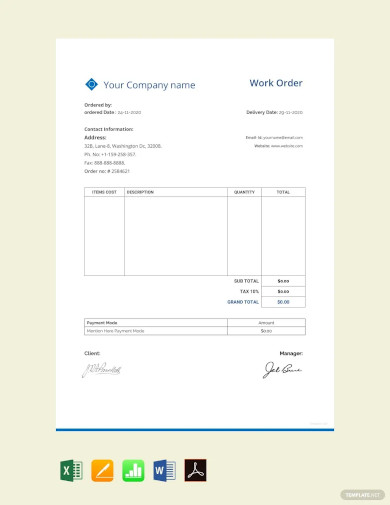 Work Order Checklist Template
Construction Work Order Template
x`Printable Work Order Form Template
Electrical Work Order Invoice Template
Job Work Order Form Template
Subcontractor Work Order Agreement Template
Printable Construction Work Order Template
Basic Construction Work Order Template
Civil Construction Work Order Template
House Cleaning Work Order Form Template
Cleaning Service Work Order Template
Freelance Contract Work Order Template
Work Order Agreement Template
Work Order Letterhead Template
Freelance Work Order Confirmation Template
Freelance Work Order Template
Cleaning Work Order Template
Stop Work Order Template
Extra Work Order Template
Sample Work Order Template
Maintenance Work Order Template
Formal Work Order Invoice Template
Restaurant Work Order Invoice Template
Contractor Work Order Template
Work Order Format Template
Work Order Confirmation Template
Transport Work Order Template
Work Order Templates
A work order template in Apple Pages gives details about your work order, the type of work you are dealing with, payment details, dues, and taxes of the work in an organized way. In any kind of business, work order templates are used to keep track of your work and how you are going to complete it. Some of the benefits of having a work order templates are:
It will help you to keep track of the work process efficiently.

Having a work order template in Word makes it easier to communicate with the clients.

It will help you in making the work transaction simple and easy.

It will also help you in optimizing the workflow and keep track of future projects.
There are ready-made work order templates available on the internet which are incredibly beneficial to the small scale business.
Sample Work Order Template in Word
This basic work order template is free to download and can be perfectly apt to be used as an invoice as well for the materials being used. They are available in Doc and Excel format and can be easily printable.
Order Receipt Word Template
Printable Sales Order Template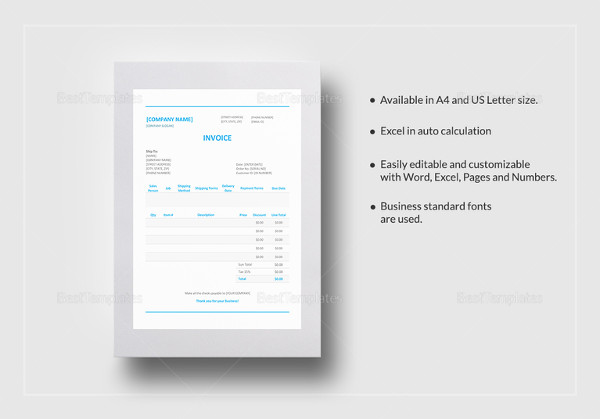 Printable Change Order Template
This garage repair work order template can be downloaded in PDF format for free. The template is easy to use and comes with a simple layout that promises to be fully customizable. Along with that, it also consists of all the details of the work or the job to be done by the company and the deadlines for each work. In conclusion, the maintenance work order and the payment details are also included in the work order in Google Docs. You can also see we have a host of printable order templates each with its columns and details. Choose the work order template that you think will fit your purpose. Download and print work order system. Fill in all the details and send it over to the company that works or has worked for you so that there is clarity in all the details of the work.
Inspection Job Work Order Template Excel Format

public.navy.mil | This is a printer-friendly work order template that comes in Excel format. It features all the necessary elements required to create inspection-based work orders sample. The template is free to download.
Automotive Work Order Template PDF Format Download

formville.com | This automotive work order template in Google Sheets comes with an easy customization option. There is an option to include various types of charges, subtotals, taxes, the total number of laborers used, etc. The template also features space to include contact information.
Stop Work Order Template MS Word Free Download

th.gov.bc.ca | Available in MS Word format, this stop order template features quite a few columns to convey information regarding stopping of the order, details of the simple order, labors involved, and time frame. Send and email options are also available.
Service Work Order Request Form Template Word Download

swc2.hccs.edu | This work request form template can be used for creating service request forms with separate sections highlighting details of the services, the employee involved, time duration, payroll, and the guidelines. It can be downloaded in word doc format.
Download Maintenance Work Order Form Template PDF Printable

thelpa.com | This sample work order template in Excel can be used for creating maintenance reports in PDF format. IT comes with a sample format that can be edited as per the requirement. It is printer-friendly and downloaded for free.
Editable Construction Repair Work Order Template PDF Format

lacrosseareaapartments.net | This work order template is editable and available in PDF format. It has a niche yet simple layout that can be used to create repair work-related reports and work orders for office purposes.
Simple Auto Repair Work Order Template Word Format Download

utdallas.edu
Auto Shop Work Order Template MS Word Download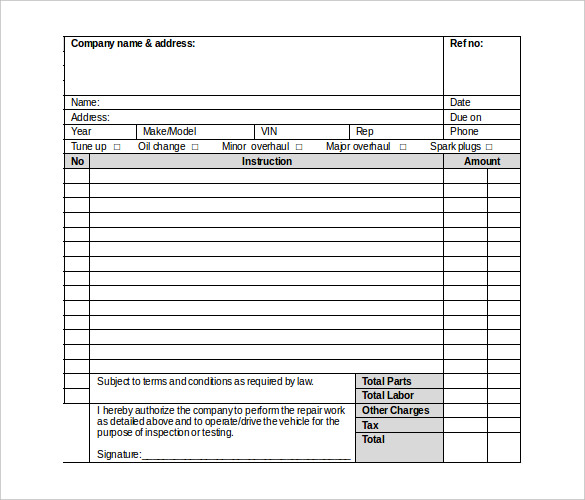 businessformtemplate.com
Basic Vehicle Work Order Template Free Editable Download

work-order-template.soft112.com
Shop Work Order Template Excel Format Free Download

atyourbusiness.com
Internal IT Work Order Cheatsheet
nlc.bc.ca
Asset Management & Work Order Software Development Agreement
midvalecity.org
Handyman Work Order
thevillageatrockville.org
Design Manufacturing Work Order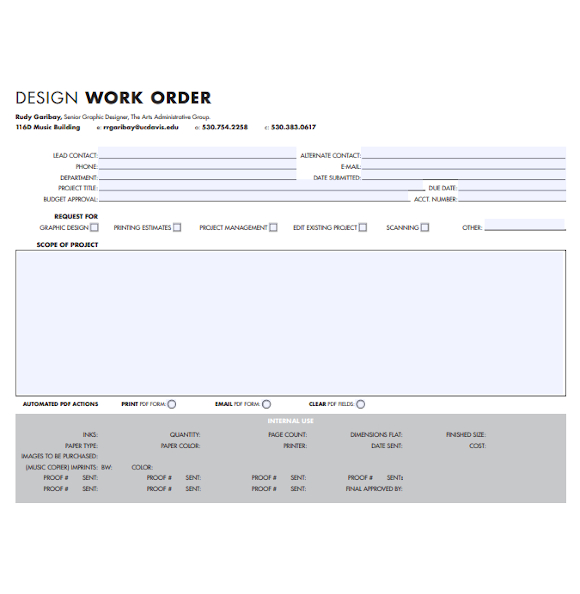 arts.ucdavis.edu
Landscaping Work Order
nabrnetwork.com
Computer Repair Work Order Form
slpa.lk
For any business network, the importance of Work Order cannot be ignored. Work orders are nothing but documents generated internally for the company for authorizing some specific set of work. They can be easily generated by the sales department while being in connection with the purchase order or by some other department that asks for some specific set of tasks. You can see also blank order templates. With the technologies going digital, the emergency of work order templates has made it easier for businesses to make things fall in the perfect places while maintaining the best routine charts possible. Using the work order forms, it becomes clear enough to scale the importance of the project.
> Why Is it Important to Use Work Order Templates
To achieve the highest forms of success along with endeavor, it is extremely important to follow a collective and planned effort. The presence of work order templates adds to the valuation while acting as a kind of routine chart to the business network. This kind of template offers a clear picture of the importance of the project, its purpose, the type of invoice templates to be used, the employees in charge of specific duties, etc. Using the work order templates, the work pattern becomes less monotonous. There would never be lethargy grabbing your mind. The entire approach would be quite interesting. These templates come with samples too for making scenarios even better. These samples are easy to understand since they come in excel and word format. They can be easily downloadable. Get these sample templates printed to make things count.
> The Necessary Benefits Associated with Automated Digital Work Order Templates
Whenever work order templates are generated through digital versions, managing the job order Excel requests becomes easier with higher mobility because of the use of cloud-based platforms.
These templates can automatically group the work orders by project, location, equipment type, or even through available inventory parts.
Automated work order templates in Google Sheets help in notifying employees regarding the work order requests while highlighting the options to use necessary tools and parts to get the job done. You can see also work order templates.
Helps in scheduling and organizing the routine works properly, in an automated way.
Helps in monitoring the maintenance efficiency rate, which ultimately helps in organizing the planning the future maintenance tasks.
Generates reports to administrators on a daily, weekly, and monthly basis.
Easy display of tasks being completed, planned, scheduled.
Helps in tracking the maintenance work status, budget, priority, and location.
Ensure job order forms become available from anyplace, anywhere through smartphones and end users.
Increases the productivity rate by over 20%.
> How Work Order Effectively Serves the Business Purpose
While making a deal with the company, the customer would need to take care of every detail in regards to the information and services being sent to the company. With the help of a Work Order software tool, the entire task becomes easier and perfectly organized. This type of software tool, when sent to a company would ensure that the detailing of the work as well associated detailing is maintained while using the sample order form templates.
> What Does the Components of a Work Order Template?
In most common scenarios, the free printable work order forms are sent to companies by clients comprising of the Company's Name along with the Client's Name. This is not the only part of a work order template in pages. There is more to it. The basic template would comprise every single detail associated with the job work and responsibilities with the deadlines being associated with each work. Also, the template would feature payment details along with maintenance work orders. Most of the work order templates feature a wide range of columns and details. There are different designs and layouts available to make a pick from.
However, while designing a work order template, the basics remain the same. Here, we will be discussing some of the most effective work order templates that can be downloaded for free and are easy to work with. These work order example templates outline can be customized in word and excel software tools and can also be printable without any problem. Using the simple templates is easy and simple. Simply get them downloaded and then print the work order system. Get the details of the page duly filled up as per the instruction and sent it to the company. It's absolutely simple, fast, and effective.
If you have any DMCA issues with this post, please contact us!